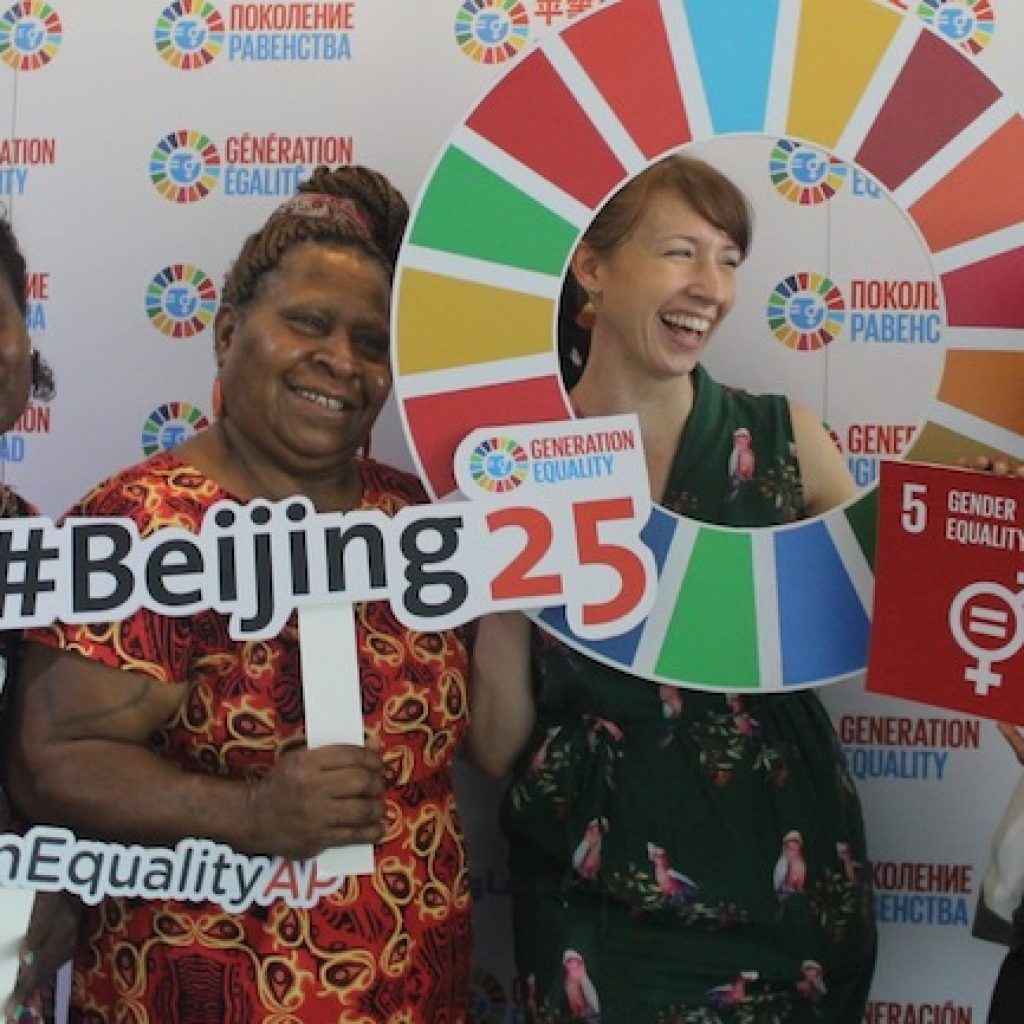 2020: The Year for Women's Movements
Next year, 2020, is a major focal point in the journey towards gender equality for all, with many significant anniversaries and events on the horizon.
Over the past three months, our WAVE Movement Series has explored the power of movements, what makes a movement feminist, and how to build movements. If you've been reading along, you now have a sense of how movements can lead to sustainable social change.
Next year, 2020, is a major focal point in the journey towards gender equality for all, with many significant anniversaries and events on the horizon. Women's rights advocates and movements must seek to coordinate targeted and strategic action to generate long-lasting change. Our Movement Series will continue to explore movement-strengthening strategies, and as 2020 draws near, it's time to put some of these lessons into practice.
2020 Anniversaries
In 2020, the United Nations, civil society and women's rights organisations across the globe will celebrate landmark anniversaries of many fundamental international frameworks for women's rights, including:
the 25th anniversary of the Fourth World Conference on Women, where the

Beijing Declaration and Platform for Action

was adopted in 1995 – for the past 20 years, the Beijing Platform has been a powerful road map for women's rights activists and policy-makers worldwide;
the 20th anniversary of the Security Council Resolution 1325 on Women, Peace and Security – a landmark resolution that addressed the impact of war on women and the importance of women's full and equal participation in conflict resolution, peacebuilding, peacekeeping, humanitarian response and post-conflict reconstruction, as well as calling for special measures to protect women and girls from conflict-related sexual violence;
the 5th anniversary of the 2030 Agenda for Sustainable Development and its Sustainable Development Goals – among this collection of 17 global goals, designed to be a "blueprint to achieve a better and more sustainable future for all", is SDG 5: achieve gender equality and empower all women and girls.
Key anniversary years, such as these, can provide opportunities to review, debate and renew commitment to a particular framework and ensure its relevance in a changing global context. Women's movements whose work relates to each framework can focus their attention on these events to advocate for the necessary policy changes from governments and decision makers. Next year is even more significant than usual.
Beijing +25
The streamlined process of assessing global progress across all three of the frameworks above is generally referred to as "Beijing+25", i.e. 25 years on from the pivotal conference in Beijing. Normal review procedures such as country level or civil society reporting, regional roadmap evaluations and intergovernmental organisation meetings of the Commission on the Status of Women and the Committee on the Elimination of Discrimination Against Women will be used to analyse how we can better implement each framework to achieve the 2030 Agenda for Sustainable Development through a gendered perspective.
As well as usual review processes, governments and women's rights advocates will participate in Generation Equality Forums – civil society-centred, multi-stakeholder, global gatherings for gender equality. These Forums are expected to set the agenda for the next decade of action towards gender equality, leading up to the expiry of the SDGs, which will be brought to the United Nations General Assembly for approval late next year.
What does this mean for women's movements?
2020 is the year for women's movements because the international focus on gender equality gives us a platform to set in motion our vision for the future. Starting now, global women's movements are building alliances, collecting information, identifying strategies, and analysing current global agreements to finalise a global plan to present at the various Beijing+25 review processes. Establishing an action plan early will ensure that the vision for a better world is articulated consistently across different platforms in 2020.
Join us!
Our Women's Action for Voice and Empowerment (WAVE) program will accompany our partners and other women from Asia and the Pacific to international events across 2020, ensuring their unique voices, diverse knowledge, and innovative solutions can inform and lead the next ten-year agenda to achieve gender equality.
If you're a gender equality activist who would like to join this movement, follow WAVE's Facebook page for insights and opportunities as well as updates from the women participating in these events. As this will be the moment where women's movements demand action and partnership from governments and policy makers, we want to share your visions for the future in these spaces. Our goal is to build alliances and networks to ensure diverse women have a say in the next ten years, because our voice is stronger and louder when we work together.
WAVE Movement Series
Given the universal and pervasive nature of gender inequality, the women's movement cannot advocate from just one change, but must advocate for systemic change. This can only be done when women, organisations and causes are both strong and connected. This blog is the third in the WAVE Movement Series which will share different ways to strengthen our movements for gender equality through research, resources, advocacy and much more. Stay up to date by following us on Facebook: @WAVEWomen.