Betty Barkha
Co-Chair
Ms Barkha is a professional researcher with over a decade of experience in research, advocacy and development across the Pacific and Asia. She has been involved with various development organisations in Asia and the Pacific region since 2009 and is currently serving as an elected member of the Board of Directors for the Association of Women in Development (AWID) and the CIVICUS Alliance. Betty also serves as an advisor to FRIDA Young Feminist Fund and the Global Resilience Fund. She holds Bachelor and Master's degrees in Arts and is currently pursuing her PhD at Monash University with the Centre for Gender, Peace and Security (Monash GPS).
Kerry Gardner AM
Co-Chair
Kerry Gardner AM has championed the rights of women and girls for 25 years through contributions in the arts, environment, and social justice. Her focus is shaped by an understanding that a more global and interconnected approach is essential to realise freedom from violence, reproductive and sexual health and rights, political and economic pathways to empowerment and the systems that deliver these for diverse women. Her extensive director experience started with the Victorian Women's Trust and current directorships include: The Global Fund for Women (San Francisco and New York) and immediate Past Chair of Australia at the Venice Biennale for the Australia Council. She is also Patron of the Natalie Miller Fellowship of Women in Film and former Deputy Chair of Heide Museum and the Malthouse Theatre. In 2018 Ms Gardner was awarded a Medal of the Order of Australia and became a member of Women Moving Millions (New York). Ms Gardner holds a Graduate Diploma in Marketing from RMIT and a Master of Film and Television from the University of Melbourne.
 Tinai Colawai
Ms Colawai is an experienced Human Resources professional and a social impact entrepreneur. She has more than 15 years' experience as a specialist and strategic business partner in HR with ANZ Banking Group. She has worked in Australia, Asia and the Pacific in Fiji, PNG and American Samoa in a range of HR roles encompassing governance, industrial relations, change, strategic planning and leading teams. She holds a Bachelor of Arts (Management & Finance) from the University of the South Pacific, Fiji and is an Associate Member of the Career Development Association of Australia.
Carolyn Ireland
Carolyn has over 20 years' experience in a variety of senior Finance and Treasury roles. Carolyn is currently Group Treasurer at Australian Pharmaceutical Industries Ltd. She has previously worked across a number of sectors including accounting, banking and finance, venture capital, funds management, health insurance, and private hospitals at organisations including KPMG, Macquarie Bank, Australian Unity  Ltd, and Epworth Healthcare. Carolyn is a Chartered Accountant and graduate of the Australian Institute of Company Directors.
 Ivy Josiah
Ms Josiah is a gender consultant, trainer and facilitator, writer and producer who lives in Malaysia. She has deep and extensive experience in promoting and advocating for women's human, civil and political rights in the Asia Pacific region and in global forums. Her work has been recognised through many awards including Woman of Courage, U.S. State Department (2007) and Her World Malaysia, Woman of the Year (2008).
Jane Nash
Jane is an independent consultant and board director with expertise in Sustainability, Regulation, Government and Stakeholder Relations, Partnerships and Financial Wellbeing. During an executive career with ANZ Banking Group, she led Australia's first national survey into the money management capabilities of Australians and subsequently the expansion of financial education programs for low income and disadvantaged groups to 21 countries across the Asia Pacific region. Through her work in Asia Pacific she gained a strong understanding of the need to advance the rights and position of women in Australia's neighbouring countries. In a finance industry career spanning 30 years Jane also worked in Economics, Marketing, Strategy and Investor Relations. She holds a Bachelor of Commerce (Honours) degree from Melbourne University and completed the International Executive Program at INSEAD in France.
Shehani Noakes
Ms Noakes is an experienced international strategic leader with a career that has spanned Asia, Europe and Australia. She has a strong commercial and strategy background having worked across the Financial Services, Retail and Technology sectors for some of the largest multinationals globally.  She has a Bachelor of Science (Hons) in Mathematics and Economics from the London School of Economics and an MBA from INSEAD.

Susan Wnukowska-Mtonga
Susan is a human rights lawyer with a deep commitment to gender justice. She currently works for the Clooney Foundation for Justice's TrialWatch initiative, which is focused on monitoring criminal trials of minority groups and advocating for victims of injustice. Previously, she was the Global Public Service Fellow at the Center for Reproductive Rights.
She commenced her legal career in commercial law working in both private practice as well as in-house for an international company. Susan holds an LLM from Columbia Law School, where she graduated as a James Kent Scholar. She also holds a Bachelor of Laws with First Class Honours and a Bachelor of Arts from the Australian National University.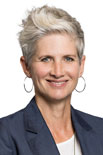 Sharon Parker
Sharon Parker is a Chartered Accountant with over 25 years experience and is currently a Lead Partner at Fordham Business Advisers, a Chartered Accounting Firm which is a wholly owned subsidiary of Perpetual Limited. Sharon provides advisory services to Private Business Owners and Aboriginal Communities located across Australia.   These services include, succession planning, working with clients to improve financial literacy, structuring advice, tax advice, managing growth, assistance with complex family matters and reporting on family and community distribution programs.
Bettina Baldeschi
Chief Executive Officer
Bettina Baldeschi is CEO of the International Women's Development Agency (IWDA). Since 2017, she has led a reconceptualisation of IWDA's strategic role and contribution, articulating a 'third way' that draws on the organisation's roots in both the women's rights movement and the international development sector. Under her leadership, the organisation has taken significant steps towards decolonising its operations and implementing feminist leadership principles in organisational and governance structures. Bettina has also overseen transformative expansion of IWDA's knowledge translation and systemic change work, including co-leadership of the Generation Equality Action Coalition on Feminist Movements and Leadership.
Previously, as IWDA's Director of Communications and Fundraising, Bettina led transformation of brand identity, media profile and fundraising. And, as Director of the Individual Deprivation Measure program, she led the organisation's contribution to this world-first, gender-sensitive measure of multidimensional poverty, which IWDA is taking forward as Equality Insights.
Other recent contributions include: as a mentor with the Department of Foreign Affairs and Trade's Australia Awards Women's Leadership Initiative; membership of Women Deliver 2023's Global Advisory Group; briefing the Australian Parliamentary Group on Population and Development; and, until recently, membership of Criterion Institute's Power of Policy Advisory Committee.
Before joining IWDA, Bettina worked with Oxfam Great Britain and UNHCR. She holds a Masters in Women's Studies – Gender and Development (University of Oxford) and a Bachelor of Arts (Hons) in Communication Studies (University of East London).
Director, Systemic Change & Partnerships: Dr Salmah Eva-Lina Lawrence
Director, Business Transformation: Jacqui Rabel
Director, Knowledge Translation & Equality Insights: Joanna Pradela
Chief Financial Officer: Nicky Kandiah
Company Secretary: Che Bishop