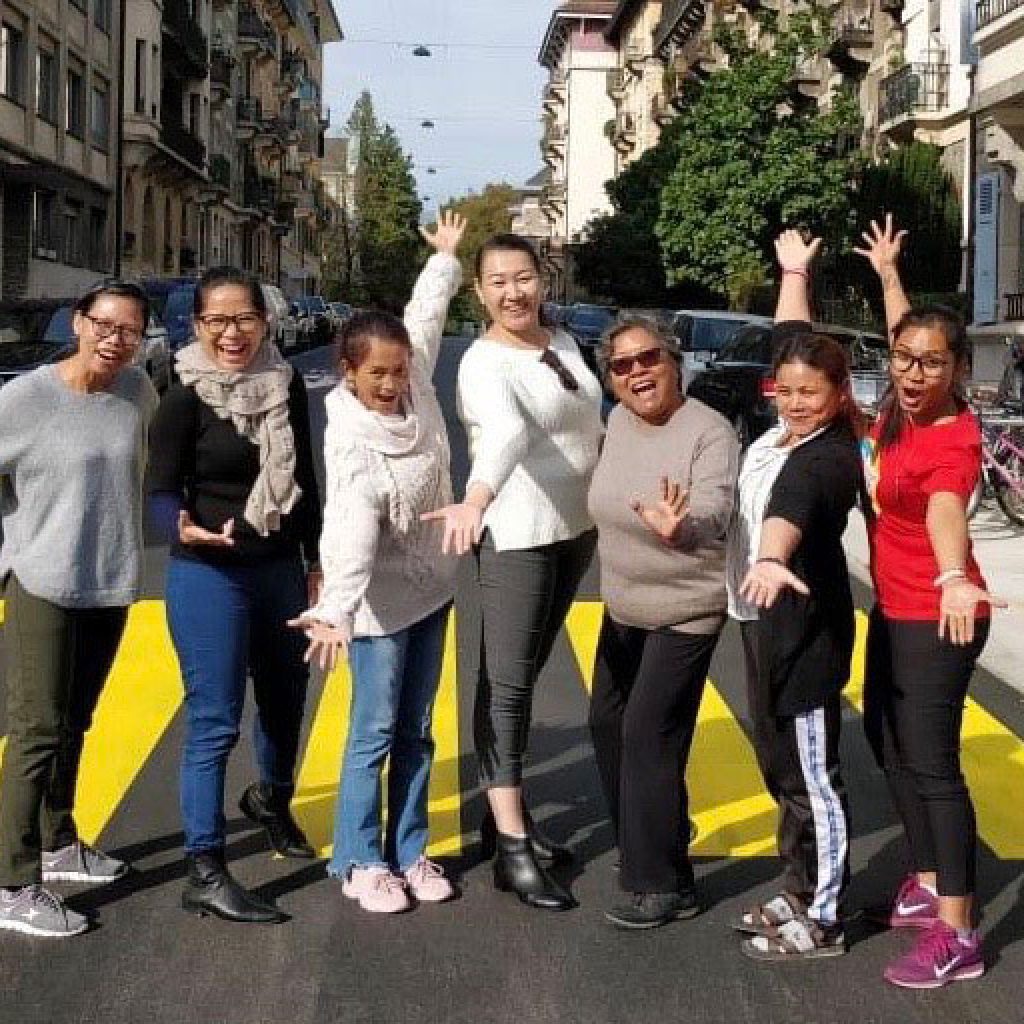 WAVE: Cambodia Partners Present in Geneva
Women from our partner organisations in Cambodia were at the UN this week to advocate for the rights of women in their country.
Six representatives from our partners Gender and Development for Cambodia (GADC), United Sisterhood and Banteay Srei were present at the 74th Session of the Convention on the Elimination of All Forms of Discrimination Against Women (CEDAW) Committee in Geneva. Speaking on behalf of Cambodian NGO's, the women raised important issues facing women in Cambodia and made recommendations for the CEDAW committee to consider.
The three Cambodian organisations are part of IWDA's Women's Action for Voice and Empowerment program (WAVE), which aims to increase the representation of diverse women across Asia and the Pacific.
WAVE representatives were able to speak directly to the committee about a number of issues including women's leadership, cultural norms, labour, sex work and gender-responsive budgeting. Opportunities like this are rare and important for the progression of women's rights across the globe. To understand why, take a look at CEDAW's history and the committee's power, and the role NGO's play in holding states accountable.
What is CEDAW?
The Convention on the Elimination of All Forms of Discrimination Against Women (CEDAW) is often described as the 'international bill of rights' for women. Adopted in 1979 on the basis that gender equality is a human right, the Convention's 30 Articles outline the key principles of equality and establish an agenda for national action to end discrimination against women. Under CEDAW, women are guaranteed equal protection across all aspects of their lives, and equality of access to education, the law, political power and representation, economic resources, social security, health care, and employment.
States who become party to CEDAW commit to take all appropriate measures to ensure women can enjoy all their human rights and fundamental freedoms. The majority of UN General Assembly members have signed and ratified this international agreement, Cambodia included. What this means is that the status of women in their country must be reviewed every four years by the CEDAW committee.
The CEDAW committee is a group of 23 independent gender and human rights experts from across the globe who meet to monitor and review individual country progress towards gender equality. These unpaid jurists, academics and gender practitioners review State Party reports and NGO shadow reports against CEDAW Articles to prepare for in-person examinations and questioning where the Committee can produce concluding observations and recommendations for action.
Gender equality advocates and NGOs attend these examinations with the hope to inform and influence the committee into making specific observations and recommendations for change. This is because the committee's remarks can be used as an advocacy tool to change policy, laws, programs and women's circumstances in their area. Governments often take the committee's concluding remarks seriously and find it an important opportunity to improve national image.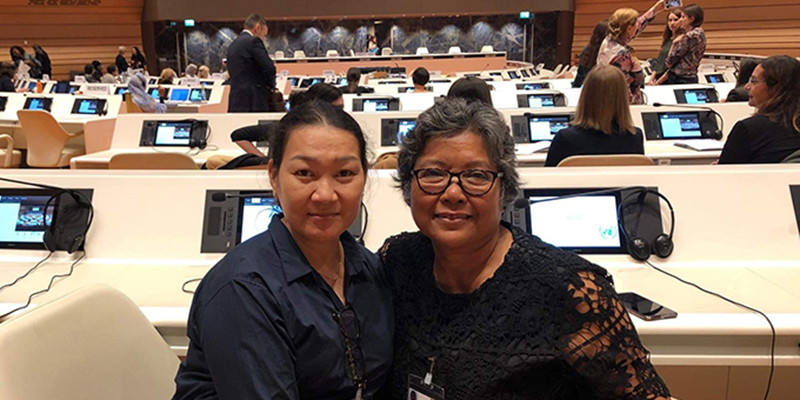 What did WAVE partners say?
NGOs play an active role in monitoring and implementing CEDAW in their areas. One key way they do this is compiling shadow reports that offer additional information missing from State Party reports. WAVE partners GADC, United Sisterhood and Banteay Srei all submitted shadow reports to the CEDAW Committee this year and were in Geneva to present their key findings and recommendations in person alongside the Cambodian NGO committee on CEDAW and its civil society members.
At a briefing, WAVE representatives were called upon by the committee to respond to a variety of CEDAW priority issues. Ros Sopheap and Eng Chandy (GADC) discussed how culture and norms contribute to negative perceptions that prevent the full and effective participation of women at all levels of society, particularly Commune Council or above. Channsitha Mark and Pech Polet (United Sisterhood) spoke about the various labour violations faced by women in the garment industry and structural violence against sex and entertainment workers to highlight the need for regulation and reform. Duong Chansereivisal (Banteay Srei) shared how predatory loans and micro-financing practices disproportionately affect rural women often resulting in the loss of their livelihood and ability to make autonomous decisions about their circumstances.
This briefing prepared the committee for Eng Chandy and Pech Polet's presentation at the following Informal Meeting with NGOs. With seven minutes allocated to the civil society statement, both WAVE representatives spoke authoritatively to the committee about their recommendations for gender equality in Cambodia, including a call for gender responsive budgeting and the social protection of sex and entertainment workers. These recommendations were well received given the committee had context for each recommendation from the earlier briefing.
Across the review, the Cambodian NGO presentations highlighted some of the human rights violations women face in Cambodia due to stereotypes around gender, decent work, family roles, violence, law and justice to ensure the committee addresses them in their concluding remarks. Together, WAVE representatives and allies called on the committee to hold the Royal Government of Cambodia accountable to its gender equality commitments, particularly General Recommendations 5 and 25 recommending the use of temporary special measures such as reserved seats or quotas for women at all levels government.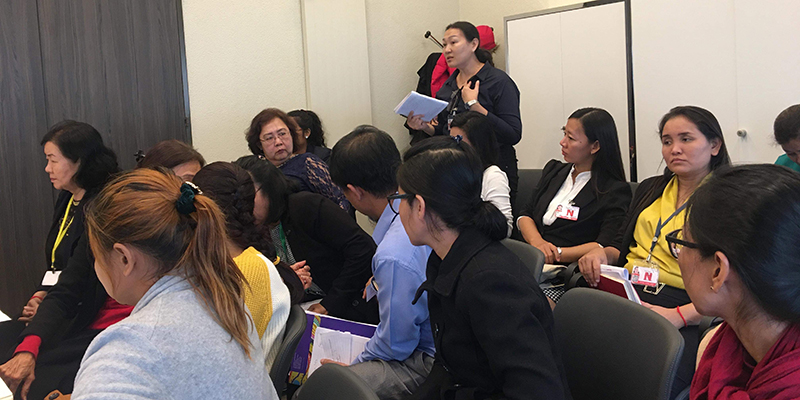 Why does this matter?
IWDA knows that without women's equal representation and leadership at all levels of decision-making, in political, economic and social life, women across Asia and the Pacific will continue to face discrimination and violations of their human rights. Cross-country analysis has shown that when women make up at least one quarter of members of parliament, laws that discriminate against women are more likely to be repealed. Our cross-country research also shows that there is growing public support for women in politics in our region.
WAVE Cambodia partners are not only sharing barriers to equality for women in Cambodia, they are sharing an important advocacy message from women across Asia and the Pacific: discrimination against women can be only solved through strong women's leadership. Women have the right to influence decisions that affect their lives but are drastically underrepresented in leadership at all levels of society. This is why our WAVE program works with young women, women candidates, community and private sector leaders, and Women Human Rights Defenders to ensure women have the necessary support and opportunities like this to advance women's rights.