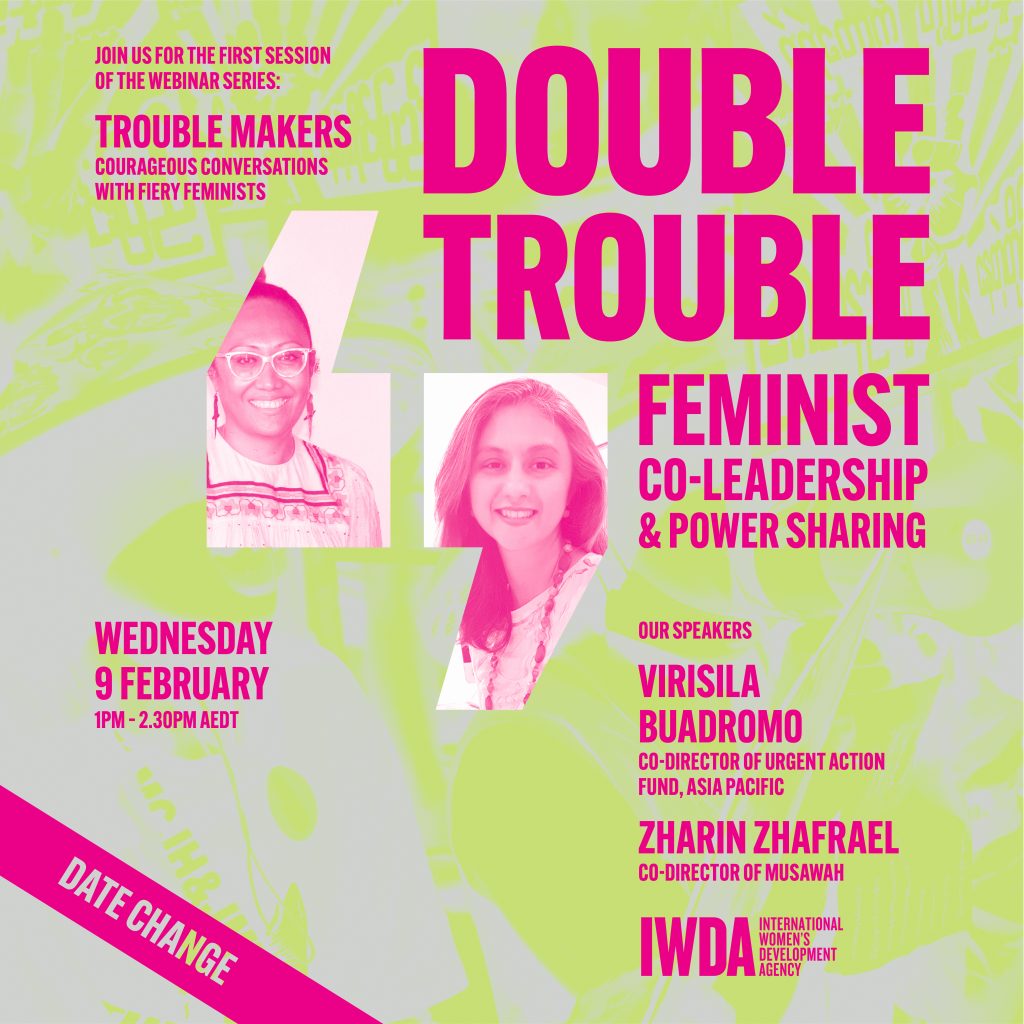 WATCH: Double Trouble – Feminist Co-Leadership and Power Sharing
Deconstructing power and authority has long been a central goal of feminist thinking – but what do those principles look like when applied to our leadership models?
In the first session of our new webinar series – Troublemakers: Courageous Conversations with Fiery Feminists – Virisila Buadromo, Co-Director of Urgent Action Fund, Asia Pacific, and Zharin Zhafrael, Co-Director of Musawah, offered their answer to this question.
Over the course of a conversation defined by their candidness, honesty and straight-talking, Virisila and Zharin shared their personal experiences of feminist co-leadership and why this form of power sharing has been so instrumental to achieving their personal and organisational goals.
"Our co-leadership model is built on the strategy of feminist friendship. It's about co-sharing, wellbeing and the opportunity to collaborate, co-inspire and co-dream with a friend towards a common feminist vision." @Virisila on the power of #feminist friendship in #leadership

— IWDA (@iwda) February 9, 2022
The two openly discussed the struggles they faced in adapting to this new model of leadership, how they grew into their roles over time with the support of their co-leads and how deconstructing traditional ideas of leadership allowed them to better embody the feminist goals at the centre of their organisations – making for a memorable and inspiring session filled with bold truths and a fair share of laughs.
"Because it is a dynamic and fluid state, the co-leadership model breaks the fallacy that one person has the solution from the offset." – Zharin Zhafrael of @musawah #IWDATroubleMakers

— IWDA (@iwda) February 9, 2022
Central to their success as co-leads has been their commitment to open communication, the desire to build towards something bigger and being able to admit when a bit of a help is needed – whether that's learning to rely on their partners more or seeking outside help through a coach.
For Virisila and Zharin, co-leadership may not always be smooth-sailing but both agree that the challenges are far outweighed by the transformative potential for change that power sharing offers. From allowing for greater diversity, creativity and co-creation to improving wellbeing and supporting personal growth, the two are united in their support of co-leadership as the way forward for feminist organisations.
You can watch a recording of the first half of the session below to hear more from Virisila and Zharin's conversation and make sure to sign up for the second session of Troublemakers where we'll be joined by two new speakers to unpack anti-capitalist feminism.