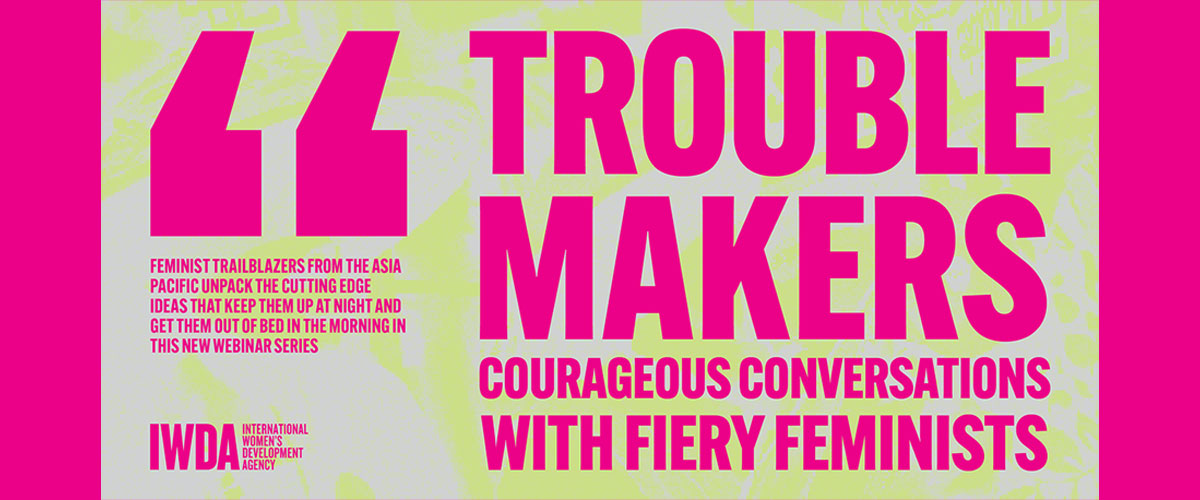 Listen in as two feminist trouble makers unpack the cutting edge ideas that get them out of bed in the morning and keep them up at night.
This webinar series will help you see beyond the horizon to explore the next big ideas in international intersectional feminism, challenge your ideas of what feminist movements can look like and introduce you to the feminist thought leaders that are currently changing the game.
Join us for this monthly webinar series where you will:
Be challenged by diverse feminist thought leaders
Learn about cutting edge ideas and debates
Connect with other feminist troublemakers from around the world; and
Be inspired to join the fight
JUNE 2022: Money Troubles: Resourcing Unregistered Feminist Collectives
In an ecosystem where less than 1% of all gender-focused aid goes to women's rights organisations, there's one thing many within feminist movements have in common- chronic underfunding and a lack of sustained resourcing. For many of these organisations, securing funding for essential programs and advocacy work can be a daily struggle despite their established networks and organisational set-up.
But what if the work you're trying to do does not even exist within this system?
March 2022: The Case for Anti-Capitalist Feminism
What does it mean to fight for gender equality within a system designed to benefit the select few? Is it possible to uplift and empower all women within the confines of such a structure? And what would an alternative system look like?
Bangladeshi writer and activist Sanam Amin and Asia Pacific Regional Secretary for Public Services International Kate Lappin demystify the idea of anti-capitalism and share their exciting, creative ideas for a post-capitalist new world order.
Feb 2022: Double Trouble – Feminist Co-Leadership and Power Sharing
Deconstructing power and authority has long been a central goal of feminist thinking – but what do those principles look like when applied to our leadership models?
In Double Trouble – Feminist Co-Leadership and Power Sharing, Virisila Buadromo, Co-Director of Urgent Action Fund, Asia Pacific, and Zharin Zhafrael, Co-Director of Musawah, will share how they challenge traditional ideas of what leadership should look like through a feminist, co-leadership model.