The Importance of Women's Leadership Post Cyclone Winston
March 2, 2016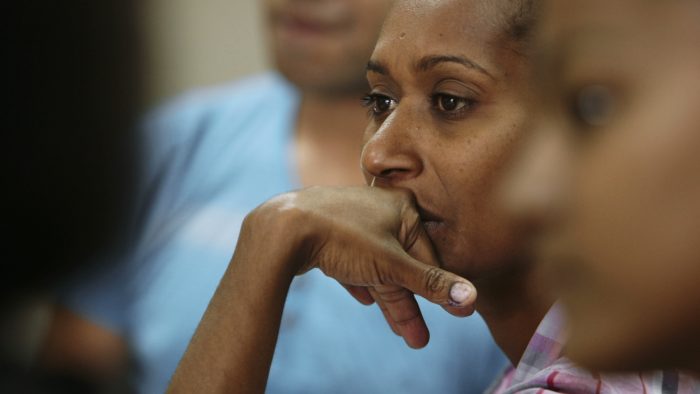 Fiji is one of many Pacific Island countries afflicted by the dual threat of rising sea levels and soaring temperatures; the hallmarks of climate change. The Pacific's developing countries are struggling to resist the effects of a warming planet. They lack the necessary capacity and infrastructure to cope with rising seawater, floods and droughts that are increasingly becoming a way of life for many nations in the Pacific.
It is in this context of high susceptibility to climate change that Cyclone Winston struck. Last week, our CEO Joanna Hayter described how the cyclone has affected the communities in Fiji.
Although Cyclone Winston has affected everyone in some way, the effects of climate change touch people differently. Women in all their diversities are particularly impacted by natural disasters, yet specific consideration of their needs and their leadership in securing family and community survival are often overlooked as a disaster unfolds. Sourcing clean drinking water and food shortages have particular impacts for women given the responsibility for household water collection and food provision typically falls on their shoulders. Women also often face increased insecurity in the aftermath of disaster with women's sexual and reproductive health and rights often being overlooked. Compounding these issues is women seldom getting a chance to participate in important decision-making in relation to climate-related planning and management.
IWDA partners have reacted swiftly to the emergency. For example, the Women's Weather Watch, run by FemLINKPACIFIC, has provided much needed information to rural women in the lead up to and the aftermath of the cyclone. This sharing of women's voices and stories has been central to any disaster preparation and response. Diverse Voices and Action for Equality (DiVA) have also been listening to and sharing the stories of diverse women and communities from urban and rural environments in addition to distributing much needed supplies. In addition, the Fiji Women's Rights Movement has also launched an appeal collecting basic hygiene supplies which have been distributed through networks in affected areas throughout the West and in Koro Island.
In the context of climate change, strengthening the capacity of women to take part in every level of civil and political leadership is critical. Mei Mili is a graduate of the Emerging Leaders Forum program, run by the Fiji Women's Rights Movement. This program has succeeded in engaging young women and encouraging and supporting them to become leaders in their communities. After taking part in this program, Mei holds mentoring workshops for the next generation of girls in a number of villages, including her home village of Naqia. Naqia is located in the Northern region of Fiji's main Island, Viti Levu. With a small population of 350, Naqia has been disproportionately and devastatingly affected by Cyclone Winston.
As a young leader in her community, Mei is determined to make sure that the situation in the village is not ignored. Mei had to hitchhike to another town in order to access the internet and tell her story. Her recount of issues such as lack of transport options and lack of phone network access are only the beginning:
"It's been five days (and) no public transportation. I've been hitching to the nearest town, Korovou, to get (access to a) network.
"(Although) people have been coming with food there has been no clean water for four straight days. We're bathing in dirty water.
"We really need basic stuff like toothpaste, toothbrushes, sanitary pads, diapers…These things are what people forget."
In addition, Mei told us about the continued disregard for women's rights even in the face of disaster, such as the behaviour of the media in the wake of the cyclone:
"I feel so angry…the media has been stopping to take pictures of young girls washing near the road. I was right there…They never bothered to ask if the girls wanted to have their pictures taken… People are still in shock…"
Mei is supporting the girls in her village however she can in the aftermath of the cyclone. Staying together has proved to be the best way forward:
"I'm supposed to leave for Kadavu (outer island) for work but right now I'm just trying to help everyone at the village with whatever they need… our house wasn't damaged… 25 girls are staying with me at home until their houses are okay… (they've been) talking about their experience and just laughing about what they did during the cyclone… it helps."
Fiji is on the front line of climate change, and leadership on this issue is critical for stabilisation and democratisation.
The destruction left by Cyclone Winston has brought these issues to the fore. The participation of women in climate-change related planning and management and the active inclusion of women's views and ideas at all levels of decision-making is key to responding to climate change and acknowledging its gendered impact. IWDA's partnerships promote equal civil and political participation for women across the Asia Pacific region, so that women like Mei can work with the next generation of girls to write their own future and tear down the barriers to equal representation.
You can learn more about Mei's work in IWDA's first documentary, Dance Selina, when it's released on International Women's Day. The first opportunity to see the documentary will be on the 8th of March at Federation Square (Melbourne) at 12 noon.