Standing Against Homophobia and Transphobia with DIVA for Equality
May 17, 2016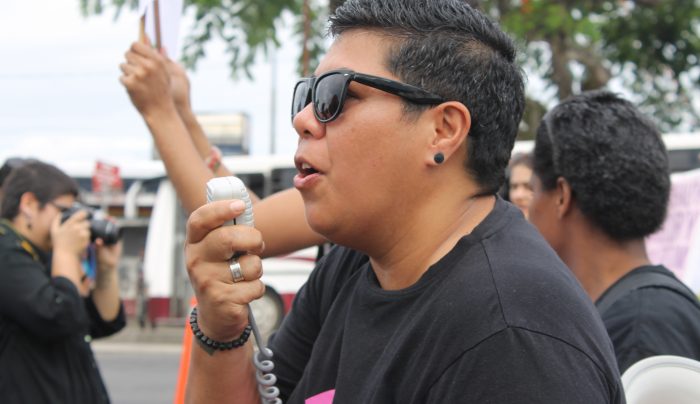 In Fiji, 72% of women in relationships have experienced sexual, physical or emotional violence.
Women from marginalised backgrounds experience an even greater degree of sexual and gender-based discrimination and violence due to ignorance and inequalities around age, disability, sexual orientation, gender identity and expression, ethnicity, where one lives, and more.
Women of diverse sexual and gender identities face additional barriers that deny them basic human rights and access to justice.
Lesbians, bisexual women, trans-masculine (LBT) and gender non-conforming people face disproportionately high rates of violence, and economic disadvantage due to education and employment discrimination. They also experience increased stigma and ostracisation, sadly often by their own families and kinship networks as well as the wider community and the state.
Even basic services like water and sanitation, housing, healthcare including mental health, insurance and disaster relief are more difficult to access. During the recent Cyclone Winston, the most severe recorded tropical cyclone in the southern hemisphere, Diverse Voices and Action for Equality (DIVA for Equality), who IWDA works with as part of the We Rise Coalition, noted that many LBT people were not going to mainstream evacuation centres.
During the brunt of the disaster, LBT people were choosing to stay in homes that were hazerdous and remote – because they felt the evacuation centres were unsafe and unwelcoming for them. Those with healthcare issues were unable to reach doctors, and for poor households food, water and housing security immediately dropped.
DIVA for Equality has played a crucial role in bridging this gap and providing critical access to resources, and working with wider partners toward just and inclusive strategies on climate change and disaster risk and response. This is just one example of the crucial role they play in Fijian society.
DIVA for Equality is a growing feminist Fiji LBT national collective of lesbians, bisexual women, trans-masculine and gender non-conforming people working on issues of human rights and social justice, including gender and sexual, social, economic and ecological justice.
Organisations like DIVA for Equality are life-altering for women who are often forced to the fringes of communities and excluded from many aspects of daily life. They organise programs to support women economically, provide safe spaces where women can come together, and advocate for women's rights on a regional and global scale.
According to DIVA for Equality Political Adviser Noelene Nabulivou, "It's both the immediate kind of ways that we can help as a small collective, but it's also the long-term shift…we have a transformative – it's a radical, revolutionary agenda – because for us that's what feminism is about."
So they focus on advocating on big issues like climate change, sexual and reproductive rights and ecological justice.
"Often it's those who are most affected who are out of the rooms and aren't engaged, so for us it's more about finding…small, sharp and strategic ways to intervene." – Noelene Nabulivou