Bringing Women's Rights out of the shadows in Myanmar
July 6, 2016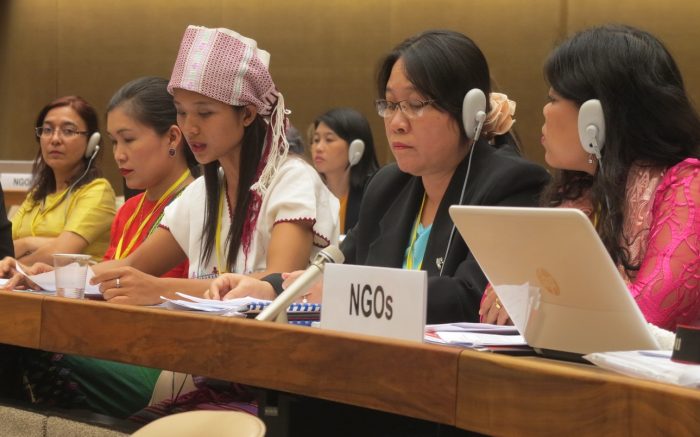 While international frameworks such as CEDAW and Security Council Resolution 1325 may seem quite remote from the everyday lives of women, in fact they can be key to holding governments to account when it comes to women's rights.
In places like Myanmar, where there are very limited opportunities for women to raise grievances regarding human rights abuses, it's up to feminist activists to turn to the international community for support. One way they can do this, is through submitting what is called a Shadow Report, to the United Nations (UN). Despite sounding a little dry, Shadow Reports serve to shine a light on what's really going on, and give women a platform to have their issues heard.
A BIT OF BACKGROUND: WHAT IS CEDAW, AND HOW DOES IT SUPPORT THE RIGHTS OF WOMEN?
The Convention on the Elimination of All Forms of Discrimination Against Women (CEDAW) is the closest we have to an international bill of rights for women. It defines all the different kinds of discrimination against women, and works to articulate and advocate for women's rights and gender equality on a national and international level. So far, 189 countries have agreed to uphold CEDAW, with various degrees of success. It has been 18 years since Myanmar formally signed on to CEDAW.
WHY IS CEDAW IMPORTANT IN MYANMAR?
Following Myanmar's transition to a quasi-civilian government after 50 years of military rule, conditions have slowly started to improve. But women's rights violations in Myanmar are still widespread. Sexual violence, trafficking, domestic violence and discrimination remain common experiences for women and girls. The situation is even worse for women from ethnic minorities living in areas where armed conflict continues. Our partners tell us that women are still being threatened, violated, and murdered.
WHAT HAS THE GOVERNMENT DONE ABOUT IT?
On January 2015, the Government of Myanmar submitted a progress report to the CEDAW Committee on what they have done to uphold their commitment. The Government's report touches on amendments to existing laws and drafting of new laws designed to better protect the rights of women. Yet reporting from officials is only one part of measurement. It only tells one side of the story.
The new National Strategic Plan for the Advancement of Women, for example, has been talked up by the Myanmar Government. Yet according to Women's League of Burma, the plan has so far failed to be implemented. Without the voices of the women who are directly affected, the UN cannot glean a complete picture of the state of women's right in Myanmar.
WHAT CAN WOMEN'S ORGANISATIONS DO TO HOLD GOVERNMENTS TO ACCOUNT?
Prominent non-government organisations in the women's rights sphere now have the opportunity to respond and provide evidence on the current state of women's rights in Myanmar. Women's League of Burma is part of a coalition of women's organisations preparing Shadow Reports examining Myanmar's recent CEDAW submission. These Shadow Reports will give an alternative voice to women's rights in Myanmar based on the personal experiences of the women they work alongside every day.
WHO ARE THE WOMEN'S LEAGUE OF BURMA?
Women's League of Burma, a long-standing partner of IWDA, is an umbrella organisation of 13 women's rights organisations of different ethnic backgrounds in Myanmar working to empower and advance the rights of women for a more peaceful and just society.
WHAT GOES INTO A CEDAW SHADOW REPORT?
To prepare for the Shadow Report, Women's League of Burma supported their 13 member organisations to undertake detailed data collection for over 6 months. WLB also brought together 25 women representing their member organisations for a four day workshop in Chiang Mai, Thailand.  Supported by IWDA and Foundation for a Just Society, these incredible women came together to share their opinions, priorities, data and stories to help provide the UN with a better picture of what life is really like for women in Myanmar.
WHAT DOES THE SHADOW REPORT RECOMMEND?
In a joint statement to the CEDAW committee, the women activists noted deeply-rooted discrimination against women, the result of "entrenched patriarchy, decades of oppressive military dictatorship and the continued power and influence of the military throughout society".
They also emphasised that, despite limited democratic reforms since Myanmar's transition to a quasi-civilian government in 2011, women have in large part not benefited from these reforms. Ongoing conflict with ethnic armed groups has resulted in "unabated human rights abuses against women".
The women encouraged the CEDAW Committee to call upon the Myanmar Government to:
Strengthen the legal system, increase women's access to justice and hold the military accountable for systematic human rights abuses against women
Accelerate women's participation in public and political life, in particular though the use of temporary special measures, such as quotas
Reform Myanmar's legal and policy framework, including the Constitution, to prohibit discrimination and ensure substantive gender equality
Allocate government funding for gender equality, such as resources to implement the National Strategic Plan for the Advancement of Women
Increase focus on addressing the human rights abuses and poverty experienced by rural women
WHAT'S NEXT?
This week a strong, diverse delegation of women's rights activists from Myanmar, including Women's League of Burma, appeared in front of the CEDAW Committee in Geneva to advocate for women's rights. Together the activists represent over 170 women's organisations throughout the country, including over 30 ethnic women's groups.
Tomorrow, the Myanmar Government will appear before the CEDAW Committee and give their account. The Committee will then make recommendations to the Government of Myanmar, based on their CEDAW Report and the Shadow Reports presented by women's rights organisations, on what they need to do to make life better for women.
Thanks to these women, the voices of those on the ground will be heard, and taken into account. The UN CEDAW Committee will have a full picture of what is really happening to women in Myanmar – not just what the Government says is happening.
We'll keep you up to date on their recommendations as they come out.