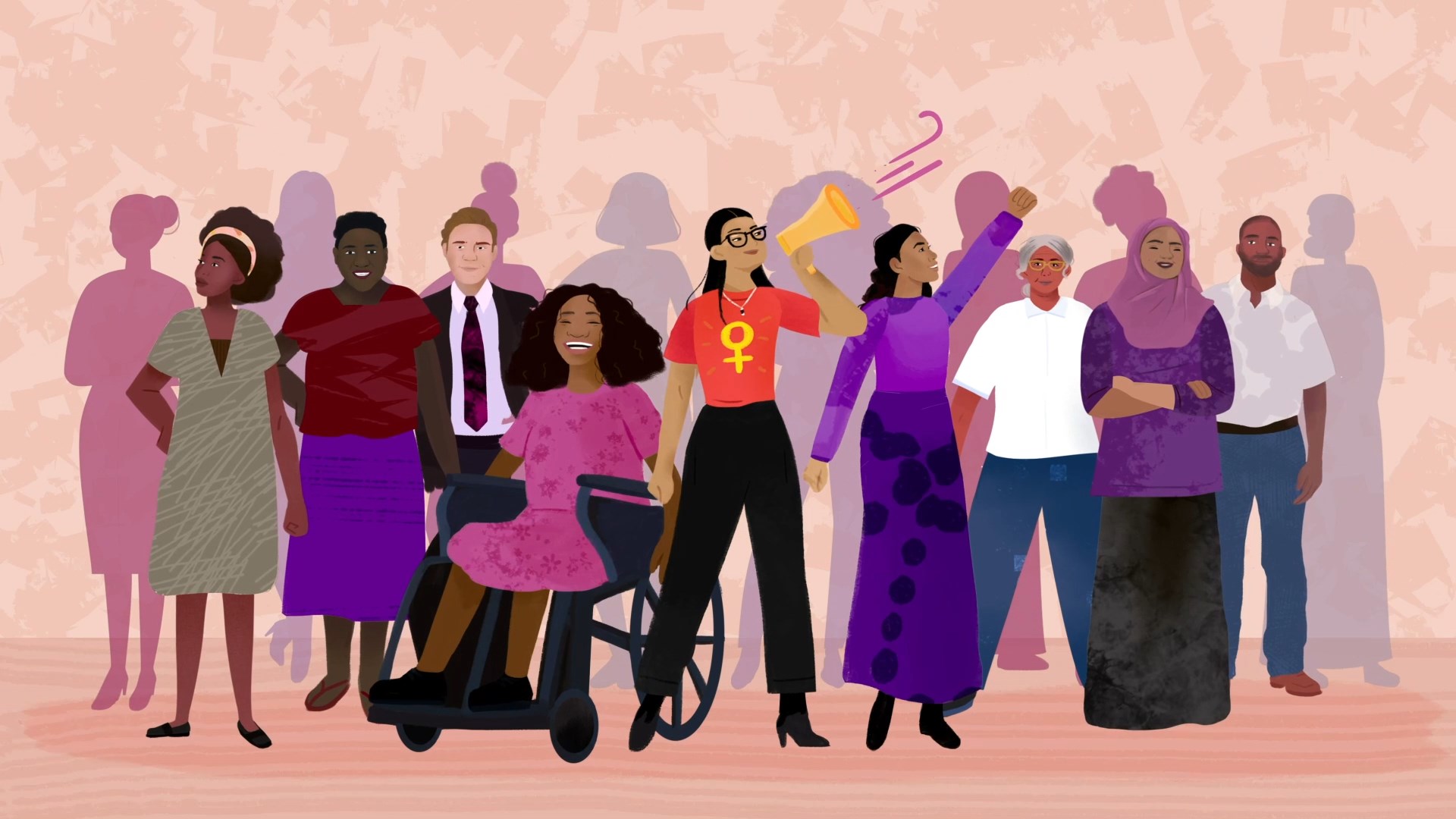 Quick facts:
Over 60% of the world's youth live in Asia and the Pacific

Half of the Pacific's population is made up of people under the age of 23

Young women are underrepresented in leadership, the workforce, schools and universities.
---
Young women have unique experiences and face different challenges as a result of the intersection of age and gender and yet there is little research, data or programming focused on young women in Asia and the Pacific.
Supporting and resourcing the leadership of diverse young women is crucial to achieving gender equality and the sustainability of the women's rights movement. IWDA believes in supporting young women as leaders within the women's rights movement now and into the future.
IWDA works with young women leaders through promoting their meaningful participation in all areas of decision making. This includes ensuring their access to local, regional and global advocacy spaces, their active involvement in the design and implementation of programs and research, and resourcing and supporting their ongoing capacity strengthening.
Young Women's Leadership Strategy
Young women have a unique set of experiences, opportunities and challenges which differ considerably to girls and older women.
The strategy identifies five approaches for organisations to best support young women:
Develop a critical understanding of the unique opportunities and challenges in young women's empowerment work
Integrate self-confidence and identity building into all young women's empowerment work
Support opportunities for intergenerational learning and collaboration
Create safe spaces for young women's participation in existing forums and through young women only spaces
Ensure that explicit recognition, targeting and resourcing of young women's participation is embedded in grant mechanisms and throughout the program cycle.
Read the full Young Women's Empowerment Strategy [pdf].
COVID-19: A Message From Young Women
Across the globe, COVID-19 has negatively impacted women and the fight for gender equality. This is particularly true for young women in Asia and the Pacific, yet too often they are missing from the conversation.
This video is the result of a project bringing together young women leaders from Asia and the Pacific. Together, the women shared their stories to ensure their voices are heard and their leadership is acknowledged and valued.
Over recent months, young women involved in the project shared their stories of marginalisation and leadership during the COVID-19 pandemic through a dedicated Facebook group, WhatsApp messages and interviews with IWDA.
IWDA then worked closely with a group of young women leaders to weave these stories together into an animation that showcases their diverse experiences, stories and the change they want to see.
Watch now:
Their call is clear:
Stand with us – Support and resource young women and their organisations to lead and meaningfully participate in local, national and international responses to COVID-19 and gender inequality.
Work with us – Collect data on diverse women's experiences to ensure that women's empowerment programs are designed to respond to the barriers and challenges that young women face.
Support young women who are stepping up – Ensure that young women's voices are heard by providing them access to platforms to speak out, including their voices in advocacy materials and including them in decision making.
Find out more in this collective statement on COVID-19 [pdf] by the Young Feminist Caucus.
More about the Young Women Leaders
This video was created by the young women listed below, who are working to advance the rights of women and girls in Cambodia, Myanmar, Papua New Guinea, Fiji and Samoa.
Chandy (she/her) is the Advocacy and Networking Program Manager for GADC in Cambodia. Throughout the COVID-19 pandemic, Chandy has continued her work from home and started to prepare for the arrival of her first baby.
Reflecting on the public response to the pandemic, Chandy said:
"I think governments should do country-level research on the impact of COVID-19 on young women, so that they can respond to the real needs with a corrective approach for young women and never ignore or assume that everyone has the same needs."
Chandy believes that young women are leaders, and they can enjoy their fullest potential when older men and women encourage their leadership and autonomy.
Lway Aye Sandar (she/her) works at TWO, an ethnic women's rights organisation, in Myanmar. She has continued to work at home during the COVID-19 lockdown, and has noticed that young women are continuing to lead in their communities, even while they deal with more stress:
"Young women are very active during the pandemic. They raise awareness in their communities and organise youth teams and friends to work with hospitals and the government to protect against COVID-19."
Lway Aye Sandar believes that more mental health awareness and services are needed, especially for young women who are faced with increased pressures, stress and violence during times of crisis.
Doris (she/her) is the founder of Brown Girl Woke, an organisation that supports young people's leadership and community service in Samoa. While leading a local bartering project to support vulnerable families, Doris reflected:
"The pandemic made us realise we need each other, and that [between us] we have everything we need."
Doris believes that older women are important role models who can open doors for the next generation and show what is possible when you lead with confidence and vulnerability.
Kele (she/her) is the Program Manager for femLINKpacific in Fiji. Kele has interviewed young women leaders across Fiji about COVID-19, and she reflects on their resilience:
"The pandemic has exacerbated the lack of job opportunities for young women, but it has also created new opportunities: younger and older women are working together, for example, through the rise in home-based catering businesses."
Kele says that the pandemic has revealed more about the unequal divisions of labour within families, and believes that an increase in government services and greater support from other family members would make sure everyone is looked after during a crisis.
Angela (she/her) works for Voice for Change in Papua New Guinea. Angela reflected that young women and girls in rural areas have experienced extreme hardship this year, due to increased violence at home and isolation from support services.
"During this time I have gathered 50 young women in my community and distributed information brochures about COVID-19, and kept advocating on the rights of women and girls."
Angela believes that young women and girls in rural areas should have support to raise their voices for equal rights and access to government support after during a crisis.
---
Learn more about the organisations supporting young women's leadership:
• Gender and Development for Cambodia, Cambodia
• Ta'ang Women's Organisation, Myanmar
• Voice for Change, Papua New Guinea
• femLINKpacific, Fiji
• Brown Girl Woke, Samoa