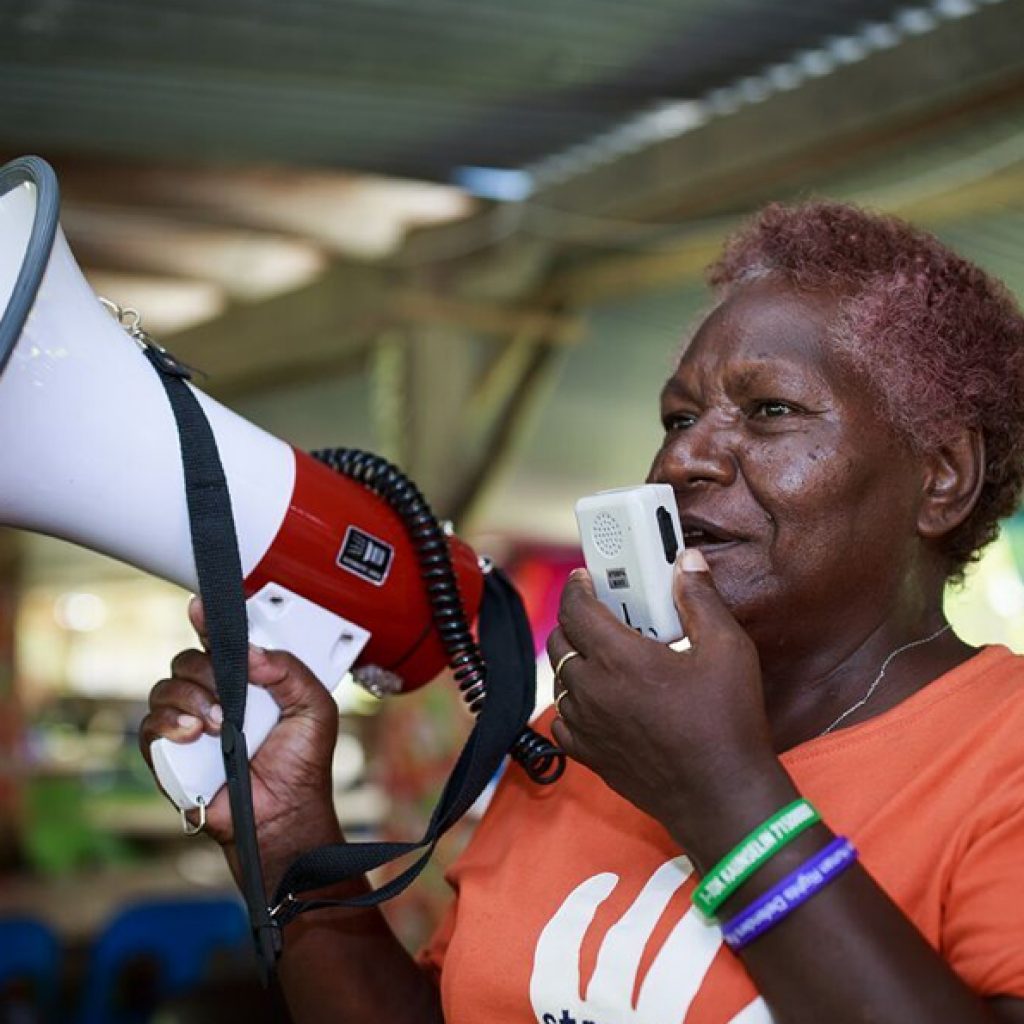 UN Report calls for greater protection of Women Human Rights Defenders
The UN Special Rapporteur for the Status of Human Rights Defenders, Mr Michel Forst, has published his findings on the status of Women Human Rights Defenders (WHRDs).
WHRDs are women, including trans and non-binary people, who advocate for human rights from a broad range of perspectives. This can be dangerous work because WHRDs are often targeted for speaking out.
IWDA would like to commend the Special Rapporteur on this recently issued report. Late last year, IWDA and more than one hundred civil society organisations submitted their recommendations and experiences with WHRDs. The report provides a clear articulation of the challenges faced by WHRDs in an increasingly hostile space.
"In the current political climate, in which there is a backlash against human rights, women who defend and promote rights are often the first to come under attack," said Mr Forst when presenting his annual report to the Human Rights Council.
"In many countries, women who dare to speak out for human rights are stigmatised and called bad mothers, terrorists or witches, silenced and marginalised from decision-making and can even be killed," he said. "It is particularly worrying that the hostility they face comes not only from State authorities, but also the media, social movements, their own communities and even their family."
In a time when misogyny is on the rise and some world leaders freely embrace regressive, sexist attitudes, the Special Rapporteur's report speaks truth to power. This report validates the experiences and concerns of WHRDs and of organisations like IWDA that fund, support and work alongside WHRDs in Asia and the Pacific.
"Women who defend and promote rights are often the first to come under attack." – Michel Forst
Recognising that women face gendered-attacks
The Special Rapporteur's recognition of the decades of work by feminist defenders as well as the recognition of women in all their diversity is particularly noteworthy. The recognition that WHRDs are exposed not only to the same risks as their male counterparts but also face additional risks and obstacles because of their gender and other intersectional factors, is vital in an era when women's experiences are regularly dismissed as fiction.
The report emphasised the social construction of gender and the roles patriarchy and heteronormativity play in creating an environment where abuses of WHRDs are seen as permissible and often go unpunished. Focusing on the systemic nature of gender inequality is vital, especially in a time when far too many leaders blame misogynistic acts upon a 'few bad apples.'
"This report validates the experiences and concerns of WHRDs and of organisations like IWDA that fund, support and work alongside WHRDs in Asia and the Pacific."
IWDA specifically commends the Special Rapporteur for his attention to the ways in which WHRDs are publically attacked and slandered on a personal, rather than professional, note. Our partners in Asia and the Pacific have reported that because of their human rights work, their suitability for motherhood has been called into question. This type of personal attack upon a woman's integrity and suitability for her prescribed social role is gendered. The Special Rapporteur also notes that the private lives and families of WHRDs are often targeted by those who wish to discredit them.
Paving a way forward
The recommendations made by the Special Rapporteur are a testament to the importance of the work WHRDs do as well as the dangerous environment in which they work. The emphasis on addressing systemic and structural discrimination against WHRDs through the monitoring, investigation of and enactment of laws against violations is noteworthy. The recommendations align with those submitted by IWDA, and address the challenges experienced by our partners. These recommendations highlight the importance of considering and including women in all their diversity as well as the importance of expanding the ways the world thinks about abuse.
WHRDs are subjected to more mental and psychosocial harassment than their male counterparts. It is therefore extremely important that we, as a global community, redefine safety measures to include mental wellbeing and health. WHRDs are protected by international law, treaties, resolutions and multi-lateral agreements such as the Declaration on Human Rights Defenders and Convention on the Elimination of all Forms of Discrimination Against Women (CEDAW).
The Special Rapporteur's report calls upon the governments, institutions and civil society stakeholders of the world to protect WHRDs and the vital work they do. IWDA is proud to have contributed to this report and we look forward to a future where WHRDs can advocate for their rights unimpeded by gendered violence.