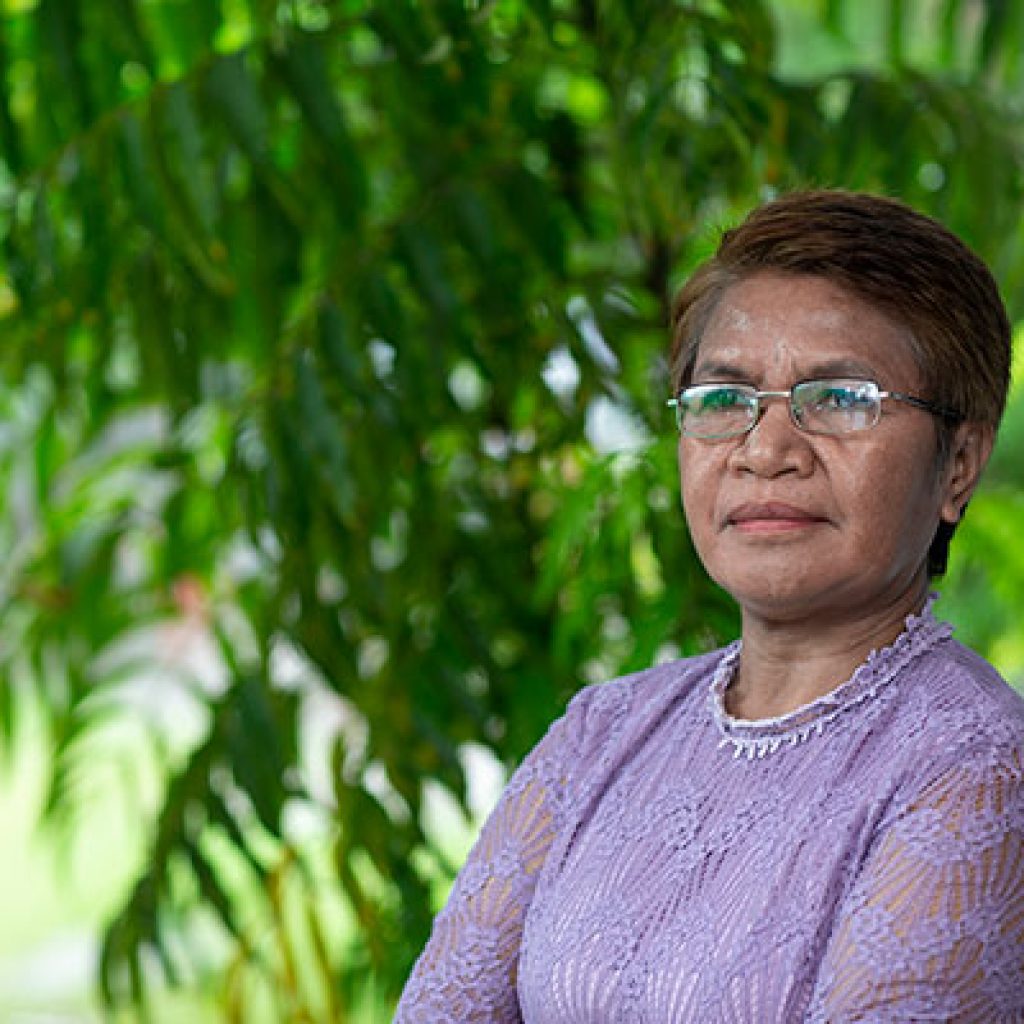 Independent but not yet free: the evolving work of Timorese women
Timorese women struggled in secret to secure their country's independence. Now, they lead the difficult work of peacebuilding as Timor-Leste celebrates 20 years since its vote for freedom.
Timorese women struggled in secret to secure their country's independence. Twenty years on from Timor-Leste's vote for freedom, Sophie Raynor meets one of the women leading the vital work of peace-building.
Imagine, for a moment, that you're a woman in a small coastal village in rural Timor-Leste, 1975. You live an ordinary life – keeping your house clean and tidy; weeding and harvesting a simple garden farm of cassava, potatoes and corn; chatting at the weekly market with your neighbours.
Then, in a minute, the harbour fills with huge, foreign ships and uniformed strangers storm your village. It's the very beginning of the Indonesian invasion, a brutal and bloody 24-year-long saga that will see an estimated 100,000-250,000 people killed, families ripped apart; friends forced into hiding in the mountains and jungles of the country's wild centre.
You have three options. You can join the guerrilla army in the jungle. You can stay in your town, under Indonesian control – reporting your movements every day to an often-violent foreign authority. Or, you can flee to a safe country; not knowing if you'll ever return home.
Aida Exposto, the executive director of the Rede Feto secretariat, stayed in her village. She remembers women in the clandestine network, as they were called, carrying letters, food and clothes to the guerrilla fighters hiding in the mountains, maintaining an armed resistance to the Indonesian military.
"We hid people, carried things at night, hid things in houses, held meetings at night; sometimes, we'd dress people in nun's clothes, to hide them," she says. "This is what women did in this difficult time. We struggled together."
In 1999, after 24 years of resistance, Indonesia granted Timor-Leste a vote for independence. A highly risky exercise – Indonesian soldiers had told people they'd harm anyone who didn't vote for autonomy, the alternative option on the independence ballot – but 78 per cent of Timorese people voted yes to independence on 30 August 1999, and Timor-Leste became the world's newest free country.
"We live free in independence now, but the women's situation… we're not yet free," says Aida, frankly. She's in the neat, yellow-painted building that houses Rede Feto's office in the historic Obrigado Baraks – the former base of the United Nations, which quickly deployed 5,000 peacekeepers to Timor-Leste after the vote to quell the brutal violence that erupted as militia groups refused to accept the referendum result.
Established in 2000 by former president Xanana Gusmão, Rede Feto is an umbrella network supporting 38 registered member organisations who work for gender equality and the rights of women.
"Xanana thought that we Timorese now live free now from occupation; we've gained independence" says Aida. "But that doesn't mean that women now live free from discrimination, free from violence. Women in Timor-Leste continue to live in situations of discrimination, subordination and marginalisation, because our culture doesn't encourage women to be decision-makers."
If you were that woman in your village in 1975, your husband would control your family's money and make big household decisions without question. Timor-Leste's traditionally patriarchal culture enshrines power with men, and while Aida emphasises that women occupied every position during the resistance struggle – as diplomatic lobbyists; carrying weapons in the jungle; as spies and couriers and saboteurs – far fewer women than men fulfil the government's requirements for war veteran pensions: clandestine work, secretive as a rule, made it difficult for women to prove they'd done anything at all.
"We Timorese have gained independence, but that doesn't mean women now live free from discrimination, free from violence."
Aida acknowledges the trauma of war that still seethes close to the surface of Timor-Leste's quiet society today.
"Many people were born and raised in a time of violence," she says. "They need education to avoid becoming violent [themselves]. Many people still live with mentalities like this – quick to anger, unable to control themselves, violent. Many of them are men."
Rede Feto supports its member organisations to deliver training and awareness-raising to thousands of people across the country. It lobbies government frequently – notably leading to the creation of laws against human trafficking and domestic violence, and one requiring 30 per cent of positions on a political party's ballot paper to be filled by women at the national level – and every four years canvasses the country to hear women's issues from the grassroots up. The Women's Congress, as it is known, will happen again in October, and Aida has only just returned from Lospalos, in the country's east, after successfully finishing the last of the 13 municipality-level conferences that precede the national Congress.
"This process isn't easy," Aida admits. "Communities with strong culture… it isn't easy. But we're optimistic. In many places women are rousing themselves. So, our training continues – increasing women's capacity to solve problems. Working with men. Helping women take part in the development process."
Aida believes that development and peace are interchangeable. "Peace isn't just the absence of war," she says. "When there's peace, all people live with enough food, with clean water, children can access good schools, hospitals can provide treatment to everyone with dignity, the roads are good, electricity 24 hours a day… This isn't necessarily everyone's idea of peace, but this is mine. It's not just having no war."
Raising the awareness of men; respecting one another and society supporting women: that's the pathway Aida sees forward for a prosperous Timor-Leste, 20 years on from its hard-won independence. Collaboration is key.
"From the start of our struggle to handing it down, to its end, women have always been together," she says. "It's not easy. The process is slow. But the new generation can raise each other's awareness, continually respect our culture, and not discriminate. [Equality] is not just a woman's issue, it is society's issue."
---
Find out more about the work of our partners in Timor-Leste.