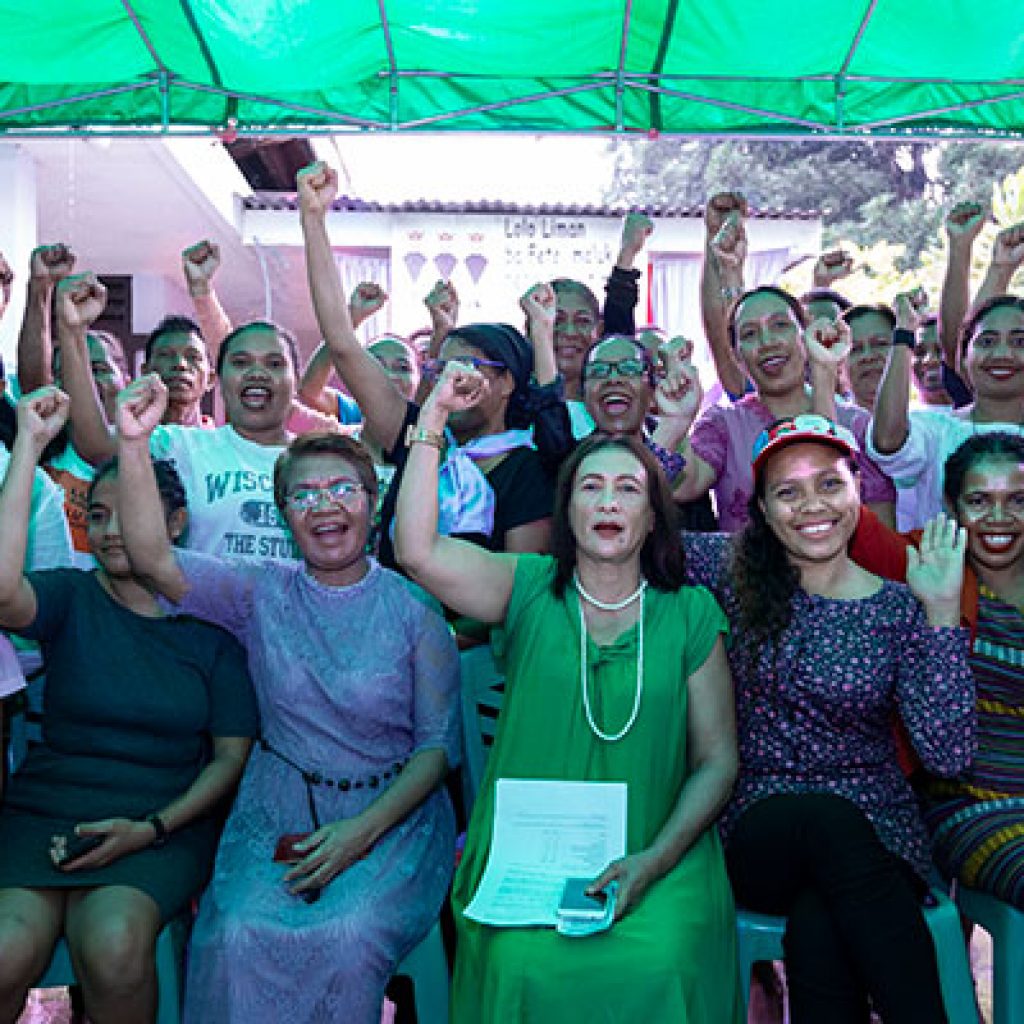 Amplifying women's voices in Timor-Leste
Decades of tireless work from Timor-Leste's female activists have seen women's rights elevated to the national stage and a national NGO network enjoying its 17th year of success. But, given the generations of entrenched patriarchy, deep challenges remain. Here Sophie Raynor meets Rede Feto, the network determined to make women's voices from across the country be heard in halls of power – a partner of IWDA.
Beneath a dripping tarpaulin on a rainy Friday morning, Aida Exposto stands tall, ready. In her hand she clutches a photocopied piece of paper printed with the lyrics to the song Loron Ualu Fulan Marsu – the eighth day of March, International Women's Day. Today. She's here at a press conference, representing Rede Feto, the umbrella organisation for 34 of Timor-Leste's women's rights NGOs, of which she started as director several months ago. She sees I don't have a lyric sheet and, without missing a beat, passes over hers and sings out, clear, from memory.
So let's all come together
For together is unity
Lend hands to all the women of the world 
Rejoice for this day
Rejoice through sufferings
Lift out heads high
For faith and charity
"Today is a really important day for women, especially for us in Timor-Leste," she tells me, standing in the courtyard after the conference. "In many places here, women still don't feel secure. Women don't have the opportunity to decide what they want. People don't listen to them."
She explains that generations of entrenched patriarchy have seen women's voices systemically shut down and women and girls excluded from decision-making. "All power is in men," she says. "All rights are in men, even though women luta, struggle. Rede Feto has the responsibility and trust to amplify women's voices, to advocate, and to fight for gender equality."
"So let's all come together, for together is unity"
She's soon pulled away for a meeting to discuss plans for Timor-Leste's upcoming women's congress – an important, four-yearly opportunity for women from all over the country to share their thoughts and opinions on the issues that matter to them. Coordinated by Rede Feto, the congress canvasses women from all over the country – first in smaller, municipal conferences, organised together with local leaders, and then in the three-day national congress in Dili – and will deliver a comprehensive platform of women's priorities to government at its end.
Women's voices amplified by leadership
Initiated and emboldened by national hero Xanana Gusmão, the resistance hero turned president and prime minister, the first national women's congress in 2000 spoke directly to the country's then United Nations-led administration – UNTAET, the United National Transitional Administration in East Timor – demanding accountability mechanisms for transparency in government, a consultative process for developing the country's constitution, and, importantly, a 30% quota for women in decision-making positions relating to nation-building and government systems. Rede Feto members were there, delivering the congress platform as a policy document, which was eventually incorporated into the work plan of the first government department for gender and equality.
Born of that first conference and now the nation's peak body for women's rights organisations, Rede Feto coordinates, strengthens and supports its member organisations. It also advocates for women's rights on the national stage. Rede Feto members are this year leading the drafting of a shadow report to meet Timor-Leste's obligations to the Convention on the Elimination of Discrimination against Women (CEDAW), which the country ratified in 2003 – the first full year of the country's full independence. This was a significant early step for a then-young nation laying a pathway for future prosperity.
Unity strengthens women's rights
A few weeks after the press conference, I visit Aida again, in the tidy, orange-painted Rede Feto office, tucked behind the sprawling United Nations compound in Dili. She greets me like an old friend and asks, politely, what we'll be talking about. She jots the points down on a notepad balanced on a pile of planning papers and replies promptly, articulately, reciting from memory the nine municipalities which have already held their conferences, the four remaining before the national event happens in May or June, and the thematic areas women have agreed to focus on.
"The areas are: practising traditional culture with traditional justice; women's health; women in education; women and human trafficking; women and economy and working; the decentralisation policy; and finally, we talk about social inclusion," she says. "This includes women who are veterans; women with older age; women who are mothers who have been abandoned; female resistance heroes; victims of past crimes."
She explains that the national congress enables women from varied social, economic and geographic areas to have their voices heard, and provides a commanding pathway for leaders to pay attention.
"When women speak alone, people don't listen," she says. "We must be together in a group, an umbrella, to amplify voices. This is not Rede Feto's congress; this is congresu feto Timor-Leste. The congress of the women of Timor-Leste."
The planning papers sit there, waiting – documents outlining steps and goals and logistics for congress planning, and brief minutes from meetings snatched between events in the rain. It's work that will help realise Aida's dream of a Timor-Leste where all people stand to support women's strength and women's voices; who enable her and her peers to live freely.
"We must be together in a group to amplify voices"
"I want to see Timorese women living free from discrimination, free from violence, so that every person can enjoy life and enjoy their freedom," she says. "Live peacefully, live free, through effort, through luta, Timorese women can indeed achieve their dreams."
Rejoice for this day
Rejoice through sufferings
Lift out heads high
For faith and charity
---
Find out more about the work of our partners in Timor-Leste.