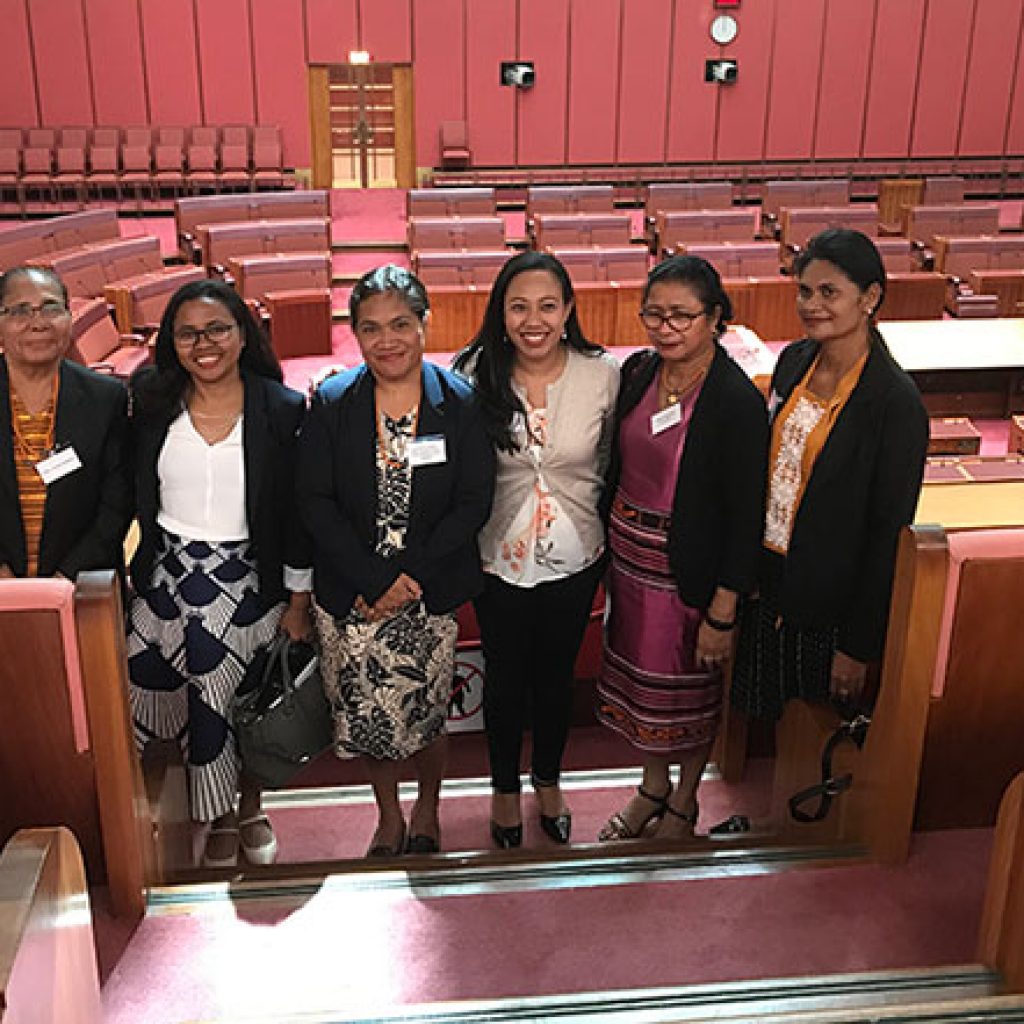 Timor-Leste women MPs visit Canberra

Women supporting women can be a powerful force for change. At IWDA, we support women's leadership, so women leaders can support women's rights.
This week, we were proud to launch Deputada Suporta Deputada, or the Women Supporting Women program, delivered in partnership with Caucus in Timor-Leste and with support from the Australian Department of Foreign Affairs and Trade (DFAT).
As part of the program, six Timor-Leste women MPs, with a commitment to gender equality, are matched with six Australian women MPs with similar commitments. Together, they will share lessons on charting political careers while advocating for gender equality.
The partnerships will be developed and strengthened through face-to-face meetings in Australia and Timor-Leste and through regular email and phone conversations with translation support. The participants are all experienced political campaigners and MPs who have expressed a willingness to share their skills, knowledge and networks.
Bettina Baldeschi, CEO of IWDA, is in Canberra and Melbourne this week with the participants and is proud to see this pilot program underway.
"IWDA and Caucus share an international vision to amplify and advance women's political leadership," Bettina says.
"This program is a blueprint for life-long international connections between women in government in Australia and Timor-Leste. I expect this political exchange and learning between our countries will have influence far beyond the governments of the day and a great impact on women in politics," she says.
"Women supporting women is based on mutual learning and respect, drawing on the different skills and experiences each woman brings to the partnership. We see huge potential for expanding this program across Asia and the Pacific – we're thrilled to be launching the program in Timor-Leste in 2019."
The Australian women MPs involved in the program are Julie Bishop MP, Lisa Chesters MP, Nola Marino MP, Senator Malarndirri McCarthy, Senator Linda Reynolds and Senator Janet Rice.
The pilot Program will draw on lessons learnt through a similar program undertaken by Akhaya Women (a Myanmar-based women's rights organisation) and IWDA. This program matched six new Myanmar women MPs with six Australian women MPs. It has been highly successful and is now in its second iteration.