The new service connecting rural women survivors in Solomon Islands to crisis support
September 15, 2016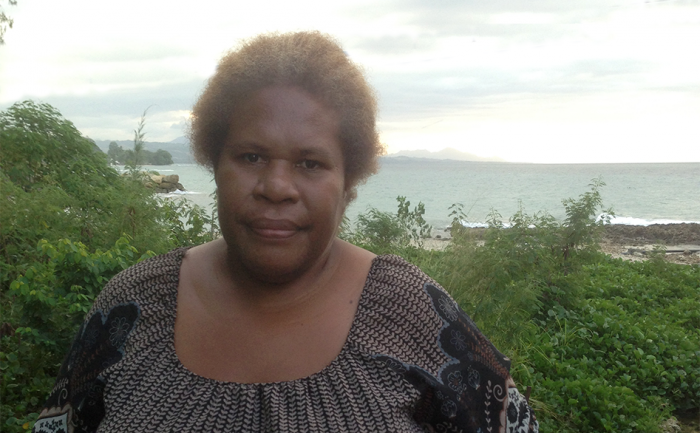 "These women have experienced violence over and over again. It is their last resort that they come here…they couldn't handle it anymore." – Lynffer Wini-Maltungtung, Family Support Centre
Lynffer Wini-Maltungtung lives in Solomon Islands, and works at Family Support Centre, IWDA's newest partner. Roughly two-thirds of women aged 15-49 will experience physical or sexual violence. But social stigma, difficulty accessing justice and rural isolation mean many women don't speak out against abuse.
Solomon Islands is made up of six major islands and over 900 smaller ones in the Pacific Ocean. 80% of Solomon Islanders live in rural locations, but support services are concentrated in Honiara. Travel between these islands is rough, time-consuming and expensive.  For women further marginalised through disability, poverty and age, the hurdle is ever greater. This effectively cuts off rural women survivors from the counselling and legal aid they need to escape violence.
Family Support Centre are a lifeline across the archipelago. They are the only secular organisation in Solomon Islands providing free counselling and in-house legal services to survivors of sexual and physical violence. This year, Family Support Centre are expanding their services to reach women in rural areas who have never before had access to support in the wake of violence.
Through their after-hours hotline and radio broadcasts, they already provide information and guidance for women who many feel unsafe or unable to visit their centre. With support from IWDA, they are now piloting mobile counselling services based in rural communities that will service more of the country than ever before.
Volunteers from rural communities are trained in basic counselling and legal referrals, and go on to act as support services, referrers and advocates. The volunteers are then connected with medical, counselling and legal service providers who are part of Family Support Centres network. The service is designed to be as accessible as possible for women of all backgrounds, with disability, ability to travel and transport taken into account in its design.
In these rural communities, services are less accessible, and many women don't seek medical and psychological help as they can't afford them or do not know they're there. By making the process accessible and inclusive, women are more likely to follow through, and more likely to get the care they need.
So many women experience violence in Solomon Islands, but it's still largely considered a private matter – even by the police. Cases are slow to be addressed, and are not always taken seriously by the very institutions put in place to protect women. Up until recently, there hasn't even been legislation that formally criminalises domestic violence.
This year, that all changed. Solomon Islands passed its first ever Family Protection Act. Lynffer hopes that through the Act, referral networks will more collaboratively approach eliminating gender-based violence and work together to recognise women's rights to safety.
"I want to be the voice of the women that do not have the chance to take their cases up to court. The women that are abused, the women that do not have the chance to have their voices heard. I want to see women participate more in decision-making and have more chances in getting education instead of parents saying, oh I don't want to pay, I'd prioritise the boy over the girl because the girl's place is in the kitchen…I'm not going to sit in the kitchen. That's not my place."
Keep in touch with women's rights
Register to receive updates and stories on women's rights around the world.