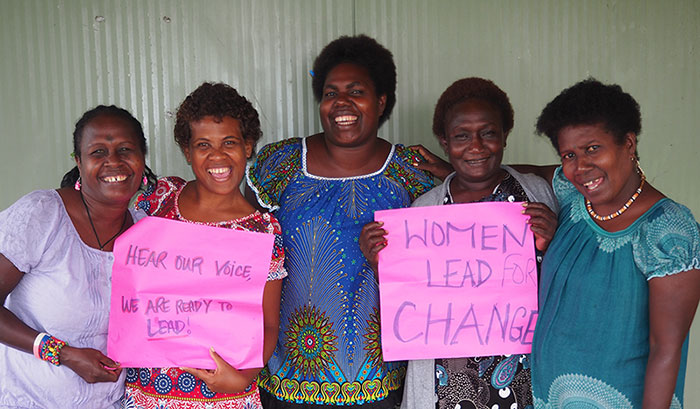 Our Voice is a Women's Action for Voice and Empowerment (WAVE)  funded campaign, working to increase the representation and effective participation of women, with a broad commitment to gender equality and women's rights, in decision making at local levels across Asia and the Pacific by 2020.
Our Voice Fact Sheets & Briefs
Women's Participation and Influence in Local Decision Making – Your Questions Answered
Key Statistics on Women's Political Leadership
Demanding Women's Representation in Local Level Leadership!
Key Legal obligations on Women's Political Representation and Full Participation
Our Voice Posters and Pledges
16 Days of Activism Pledge
Poster 1: Raise Your Voice
Poster 2: Violence against women is a barrier
Poster 3: Our Voice Poster – English
Poster 4: Our Voice Poster – Tetum
Poster 5: Our Voice Poster – Khmer
Our Voice Temporary Special Measures Submission
In November 2018, the Review of Electoral Laws Submission (Temporary Special Measures) was submitted to the Papua New Guinea Constitutional and Law Reform Commission by Voice for Change, Eastern Highlands Family Voice, Nazareth Centre for Rehabilitation, Wide Bay Conservation Association, and Bougainville Women's Federation.
Our Voice Submission – Review of Electoral Laws
The Submission advocates for the introduction of Temporary Special Measures (TSMs) in Papua New Guinea.
The main recommendations in the submission are:
Reserved seats for women introduced at the national level in PNG
Local level Government reform for 50/50 representation
Other broader measures to support women's representation
Our Voice Joint Partner Statement
A joint statement from Our Voice partners to the 2018 Asia-Pacific Economic Cooperation (APEC) Summit.
Temporary Special Measures brief for duty bearers
A four-page brief on the Temporary Special Measures for duty bearers.
Temporary Special Measures brief for community members
A one-page brief on the Temporary Special Measures for community members.
Our Voice Thematic Brief
Violence Against Women is a Barrier to Women's Leadership
One in three women globally will be subject to gender-based violence in her lifetime. At the same time, women remain significantly under-represented at all levels of political decision making. The under-representation of women in political leadership also impacts on the ability of governments to respond to and prevent violence against women.