Peni Moore – the passing of a bold and brave feminist leader in Fiji
February 29, 2016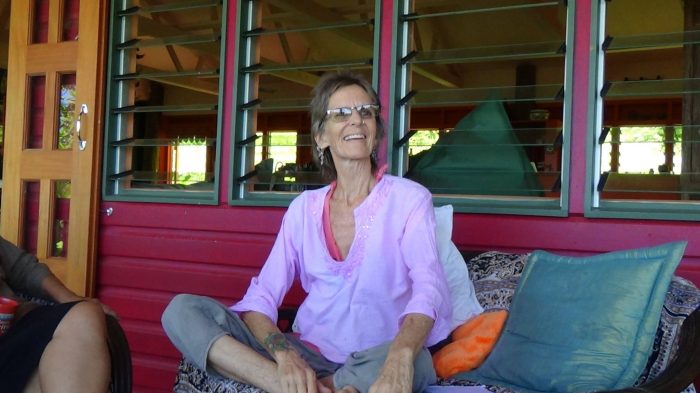 Peni Moore founded Women's Action for Change, a feminist organisation that produced fabulous playback theatre shows that travelled around the country to schools and communities to raise awareness on human rights and social justice. Peni was a formidable individual and visionary leader for change. IWDA partnered with WAC from 2000-2013 and was inspired by her creativity, courage and determination to make change happen.   Ali Rae filmed and edited the story of Women's Action for Change featuring Peni in Suva 2013. It was beautiful to revisit this film and remember Peni's vision.
IWDA's close colleague and former IWDA staff member Claire Rowland knew Peni well. She writes "I am so saddened to hear about Peni's passing. She was such a dynamic, joyful and inspirational leader. She had a great faith in humanity and the power of personal transformation. Her work provided opportunities for so many people to be heard, to explore and reflect on inequalities, process grief, trauma and joy, learn new skills, gain confidence, advocate for themselves and forge new pathways both at a personal and community level – for many people, these were completely new experiences.  She maintained an amazing energy, drive and conviction despite (sometimes) great pressure and criticism regarding her approach and for her role in the Constitutional Commission. There is no doubt that she will continue in the hearts of family, WAC staff, friends and the members of communities in which she has worked for a long time."
Emily Miller, Senior Programs Manager with the Pacific Women Shaping Pacific Development (Pacific Women) Support Unit worked closely with Peni and shared her thoughts. "I first met Peni in 2010, when I came on board as the IWDA Fiji Program Manager. Upon her instructions, I turned up to the WAC office on Waimanu Rd at 8am and was piled into a minivan with her and all the WAC actors. Within the hour, I was watching some of the best community theatre I'd seen. I left that day feeling inspired and excited about everything WAC stood for.
We went on to work together for 3 years and I loved my conversations with Peni. She hated process; the mere mention of the word due diligence or management and her eyes would glaze over. But her passion was unquestionable, and her drive to reach the most marginalised is something that to this day, is unrivalled. Peni was a rebel and a true anarchist. Go well Peni – you will be missed."
Our friends and colleagues at Fiji Women's Rights Movement posted that "The Fijian feminist movement has lost one of our bravest voices".  The former FWRM Executive Director Virisila Baudromo captured Peni's life beautifully on her post. She has kindly allowed us to reprint some of these words.
"Today I remember Peni Moore, the first coordinator of the Fiji Women's Rights Movement.
When I first met Peni, as a junior journalist I knew instantly that she marched to the beat of her own lali. She was the first 'radical' feminist I had ever met and while I would go on to meet many others on my journey; she has always been the picture I conjure in my head when the term is used. As I grew to understand that the term 'radical' is generally used to label those that are beyond what people's expectations are, I began to understand Peni. Over the years she managed to be fascinating, intimidating and frustrating.
Peni and I became neighbours when I moved next door to her home and office where she ran the then Women's Action for Change on Waimanu Rd. Peni had 4 dogs and several cats. I had three dogs. Needless to say our paths crossed when our pets were getting along, not getting along or not getting along with any pedestrians on Waimanu Rd. There we were talking about our children, prying them apart or saving some poor unsuspecting souls from our terrors. If anything our common attempts at dog whispering, and Peni was way better at it than I ever could hope to be said a lot about our work. We were always in the thick of things, always trying to create peace.
That was Peni, a peace-builder, an animal lover; a hippie, a social justice activist and a strong ally to at risk communities. She had a strong sense of community and had no qualms in voicing a dissenting view if she felt that people were being wronged. She was brave, feisty, fierce and always looking for ways to make this world a better place for everyone.
Peni's cutting edge work in restorative justice, activist and playback theatre created inclusive and safe spaces for many people who were marginalized by the mainstream, particularly after the 2000 crisis in Fiji. When her work was connected to the policy work carried out by organisations like FWRM, our analysis and advocacy was strengthened for the lived experiences of the most marginalized within our communities. This often meant that FWRM's work was better targeted and had a bigger impact to create meaningful and sustained change. Dear Peni, you fought the good fight, you finished the course, and you kept the faith. Rest in Power."
Vale dear friend. Respect.