Fiji Women mobilise during full-force of "monster" Cyclone Winston
May 31, 2016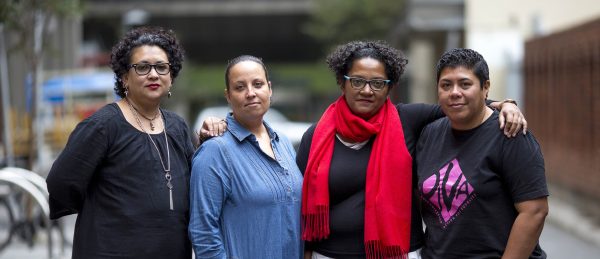 In late February Cyclone Winston hit Fiji. Over 14,000 people were displaced with winds of 325km per hour and 12 metre high waves ravaging the country. It was the strongest storm in the Southern Hemisphere since record-keeping began.
Women are particularly impacted by natural disasters, as the responsibility for water collection and food provision typically falls on their shoulders. Women's sexual and reproductive health and rights are also overlooked.
Neither IWDA nor our partners are emergency response organisations, despite this, Diverse Voices and Action for Equality (DiVA), FemLINKPACFIC and Fiji Women's Rights Movement (FWRM) mobilised for action. Our partners have been actively responding, collecting and distributing supplies in affected areas.
Tara Chetty, Executive Director of FWRM said that although FWRM had no experience in disaster relief, there was a strong desire to do something.
"We wanted to meet the needs of women. We organised a campaign for 'dignity packs' and people immediately started donating."
The packs included hygiene supplies for women and girls including soap, toothpaste and sanitary pads to get them through at least a few days in the evacuation centre. Tara says some communities were totally wiped-out, but from the moment the cyclone hit, women were putting themselves and their bodies on the line.
"Women were herding children to safety, while carrying their elders on their back. I heard reports of women in a community hall having to rip up floor boards and take refuge underneath the building. They covered children and older people with bits of lino or old carpet, while their backs were exposed to the full force of the storm, for hours on end."
In rural areas the mangroves caught people's belongings swept away by the storm surges, and it's the women who are going in groups to hunt for their family's belongings.
"Women have a really cooperative attitude to addressing and reflecting on the disaster, which is what is helping them keep going."
Tara says she has grown up with cyclones, but Winston completely wiped-out entire communities until they were desolate. In the days before Winston hit, a mass die-off of thousands of reef fish washed up on the shores of Fiji due to the unusually high temperatures.
"Climate change is taking us into a place where strange weather is an every-day reality. We're used to big storms in Fiji, but we're not used to dealing with monsters like Winston."
All three partners also reported on stories about how women were impacted by Cyclone Winston, this is essential to ensure the impact on women is fully understood and to help inform responses to future emergencies.