Challenging discrimination against women with disabilities in Cambodia
January 17, 2017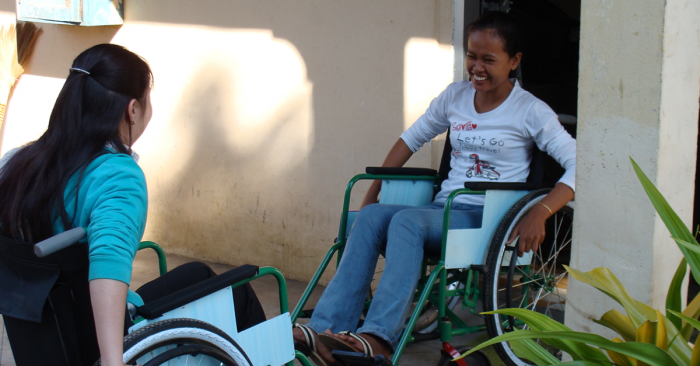 "My mother hit me many times. I don't know the reason at all. But I do remember that she wasn't happy that I couldn't do things like other people. She didn't understand I couldn't see like other people, but I really tried my best. I was really suffering and couldn't stay with my parents any longer. I ran away to an NGO in Phnom Penh where my eyes were operated on. My aunt found out about this and sent me back home even though I didn't want to go."  – Triple Jeopardy research participant
Cambodia isn't an easy place to be a woman. Sexual violence is a huge problem, with 1 in 5 men reporting that they have perpetrated rape. Many women in Cambodia struggle to find safe, well-paying work, often forced to choose jobs that are low-paying, dangerous and unregulated. And patriarchal norms about a woman's place in the household are still rampant.
The intersecting relationships between gender, disability and poverty mean that women with disabilities face even greater disadvantage and often fall through the cracks when it comes to research and resources. Women with disabilities are frequently marginalised from development activities, not counted in research and are not well served by disability or gender-focused organisations. But with little to no data on the lived experiences of Cambodian women with disabilities it is incredibly difficult to address this.
Why does research matter?
Research is one of the unsung hero of many social movements– without listening to women, particularly those who most marginalised, about their needs, experiences and priorities, we cannot understand what needs to change. Without data and evidence of what works, we cannot properly see what the key issues are, where our focus should be, and whether or not our programs are having any impact.
Research existed in Cambodia that acknowledged the impact of disability, and some research that looked into violence against women, but little that focussed on the specific experiences of women with disabilities.
We knew that thousands of women with disabilities were at a significant disadvantage in Cambodia, and limited research suggested women with disabilities experience high levels of violence in developing countries – but we needed the data to prove it. So IWDA and other research partners (Banteay Srei, CBM Australia, Cambodia Disabled Persons Organisation and Monash University) spent three years researching the link between disability and violence for women in Cambodia, and how it could be addressed.
At IWDA, we believe the research process itself can be just as important as the research findings. Women with lived experience of disability were trained and paid as researchers. This helped ensure that participants with disabilities felt safe to talk about their experiences, which improved data quality. But it also provided a pathway for change – for the women with disabilities who were employed, building their experience and capacities as well as for women respondents with disabilities and their families and communities – by role modelling what is possible.
What did Triple Jeopardy find?
The report summarising the research findings was launched: Triple Jeopardy: Gender-based violence and human rights violations experienced by women with disabilities in Cambodia.
It showed that while women with disabilities face similar levels of violence from partners to women without disabilities, they experience much higher levels of emotional, physical and sexual violence by other family members. Women with disabilities were much more likely to be insulted, made to feel bad about themselves, belittled, intimidated, and were five times more likely to sexual violence at the hands of a family member. They were also less likely to disclose and seek help following violence.
Women with disabilities are up to 4.2 times more likely to experience controlling behaviour from partners – in some cases, even having to seek permission to access healthcare. Because of this controlling behaviour, these women were less likely to have financial independence and autonomy.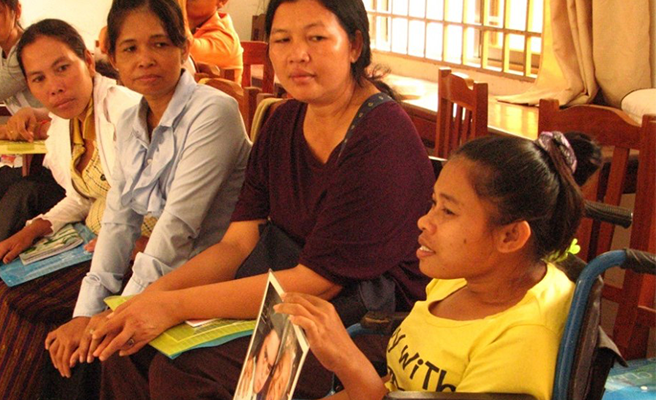 What impact has the research had for women?
Cultural and institutional barriers like a difficult court system, social stigma and silencing of activists make it difficult for women to seek support. Research like Triple Jeopardy helps to challenge these systems and address the inequalities faced by women with disabilities. For many of the women with disabilities surveyed, this was the first time they could talk aloud about the discrimination and disadvantage they face.
So far, it's made a real difference in both Cambodian and international policies. It's been referenced in the Cambodian National Action Plan on Violence and Women. As well as the Government's Strategic Plan for Gender Equality and Women's Empowerment. It's also contributed to the Australian Government's Ending Violence Against Women Program Design Framework for Cambodia, as well as numerous UN submissions.
The report has also been turned into a disability-accessible toolkit, which is being to raise awareness about issues facing women with disabilities and educate communities on how to reduce violence in all its forms.
As the space the Cambodian Government allows for women's rights and civil society organisations continues to shrink, research plays a key role in advocating for the rights of women. Triple Jeopardy amplifies the voices of women with disabilities, and makes visible abuses of their rights.
If you'd like to find out more about what life is like for women with disabilities in Cambodia, read the full report here.