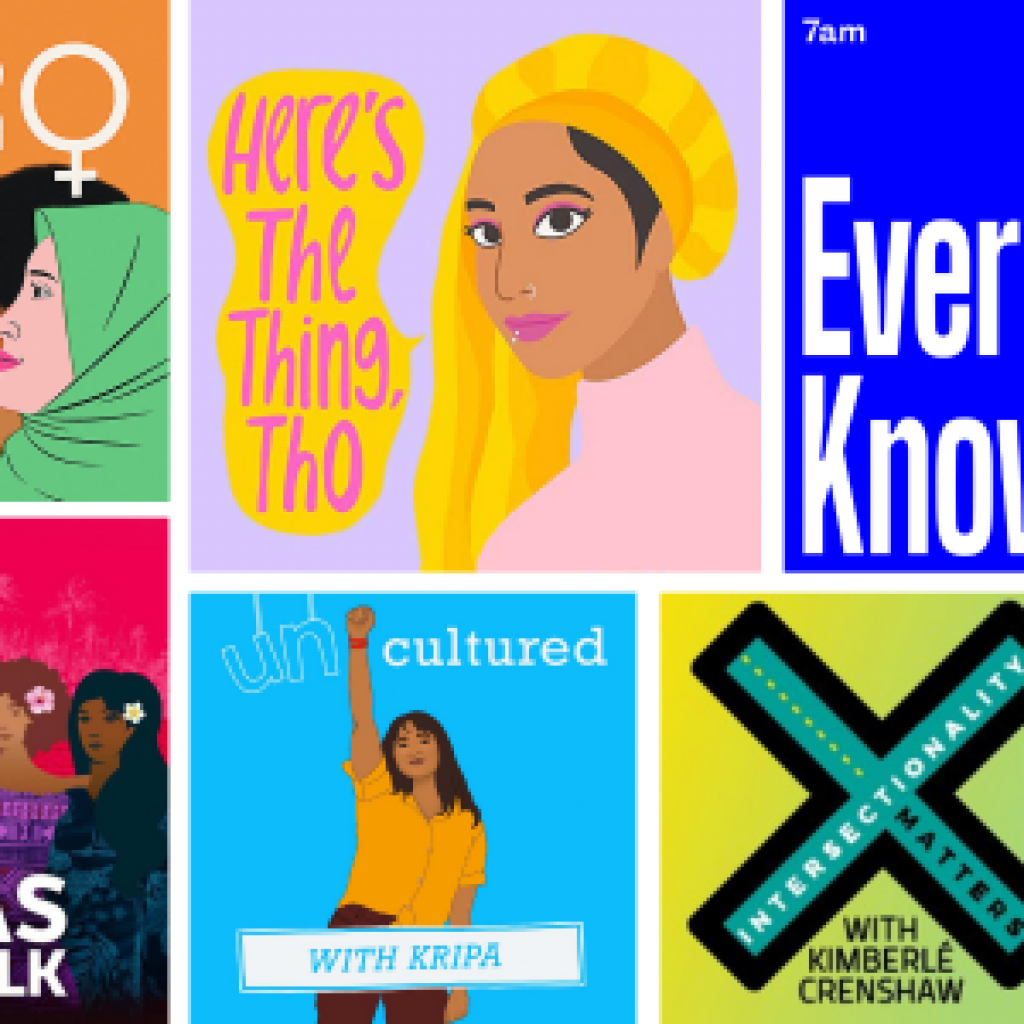 12 feminist podcasts helping us get through 2021
IWDA's Content Coordinator Annelise Lecordier shares the feminist podcasts that have been a source of comfort and companionship for our staff this year.
For a lot of us at IWDA, this winter has been one marked by seemingly endless lockdowns, countless press conferences and all-too-familiar park walks. As we found ourselves having to once again retreat to our homes and #StaySafe, our team channels have been full of recommendations for ways to stay sane and entertained while we collectively relive 2020.
One thing that's helped all of us make our iso bubbles feel that little bit bigger? Podcasts. 
While we spent all our time walking the same 5kms and talking to the much loved but same few people day in and day out, podcasts have helped us travel, find new ways of thinking and made us all feel like we were spending time with new friends – even if they are virtual ones that don't know we exist. Feminist podcasts from culturally diverse women expose us to new ideas and perspectives. 
If you're looking for ways to spice up your daily walk or simply in the market for a new favourite podcast, IWDA's Content Coordinator Annelise Lecordier shares 12 recommendations from our staff on the podcasts that have made the past few months more enjoyable. 
Sistas, Let's Talk is ABC Radio's newest feminist podcast all about amplifying the voices of women across the Pacific. Each week, host Hilda Wayne talks to inspirational women about the issues affecting them, and discusses how to navigate modern life as a Pacific Island woman. Topics covered include Pacific women in politics, women keeping Pacific languages alive and the movement to reclaim traditional recipes of the past.
Listening to Bobo and Flex is like tuning into a much-needed, brutally honest chat with friends. Co-hosted by good pals Bobo Matjila (a New York philosopher) and Lilian Ahenkan (aka Sydney-based DJ, television host and author Flex Mami), the two on are a quest to decolonise minds and intersect feminism by talking about sex, toxic relationships, white feminism and mental health.
Hosted by award-winning investigative journalist Ruby Jones, Everybody Knows is a five-part series on the rise-and-fall of the Me Too movement in Australia. Told through the lens of the Australian music industry, the series explores how a culture of secrecy and archaic laws protecting abusers has prevented people from speaking out about abuse and essentially stalled any progress the movement could have led to.
Hosted by media and law student Kripa Krithivasan, Uncultured is a funny, unfiltered look into what life is like as a South Asian brown girl living in Sydney. With a new guest in each episode, self-described loud-mouth Kripa is on a mission to platform diverse stories, tackle mighty topics in a light-hearted way and learn from each other. Topics covered include coming out to your south Asian family, moving in with in-laws and the lack of brown people on Australian reality TV.
In Here's the Thing Tho, co-hosts Soaliha and Mitch discuss pop culture, politics and living under a capitalist system through a decolonial lens. Together, they break down and explore everything from ethical consumption under capitalism, internalised racism and whether the female gaze even exists.
Learn more about intersectionality from American civil rights advocate, leading scholar of critical race theory and the woman who created the term itself, Kimberlé Crenshaw. In Intersectionality Matters!, Dr Crenshaw discusses real-life stories of intersectionality at work, from how the identity of R Kelly's victims made it possible to ignore his crimes for so long to a 10-part series on how COVID-19 has laid bare ongoing structural disparities in American society.
In HERO, host Reena Ninan takes us through stories of women creating change through economic empowerment around the world. With each episode, you'll discover stories of women challenging gender dynamics in Uganda, changing perspectives on informal work in India and new approaches to affordable childcare in Kenya.
#WhoAskedHer is podcast by Papua New Guinean lawyer Elvina Ogil designed to start a conversation about feminism in PNG. By covering topics like ethnic representation, toxic masculinity and missionaries and religion in PNG, Ogil's aim is to broaden people's view of the Papua New Guinean woman at home.
For those who might not know her yet, Nandar is a bit of a powerhouse. She's a feminist activist from the northern Shan state of Myanmar who co-directed The Vagina Monologues in Yangon, translated two feminist essays by Chimamanda Ngozi Adichie into Burmese – making them accessible to a whole new audience – and founded the Purple Feminists Group. In her new podcast, Nandar is on a mission to popularise podcasting in Myanmar as a platform to engage with the world, sharing her daily struggle as a feminist and hosting a number of amazing feminists who are challenging traditional thinking and bringing their own solutions to the table.
"Your newest Pasifika-Australian faves speaking on all things Western Sydney and the journey to self-discovery in a world we can't seem to fin where we fit." Need we say more?
Produced by Melanesian Women Today – an Indigenous international non-profit working with women and girls in the Melanesian region of the South Pacific to become leaders and change-makers – Coming to the Mat tells the stories of courageous, everyday Pacific Island women from all across the South Pacific. Launched during the early days of the pandemic, the podcast offers a unique perspective into what COVID-19 was like for women in the Pacific in addition to covering topics like Pacific Island girls in STEM and reclaiming space as Pacifika storytellers.
Hosted by Stephanie Van Schilt and Veronica Sullivan, Sisteria is a podcast about women and non-binary creatives' experience as creators and consumers of art and culture. In each episode, Stephanie and Veronica spotlight the work of a different Australian women or non-binary creative, offering insight into how gender and culture influences their work and engagement with the arts. Guests have included Aretha Brown, Aileen Moreton-Robinson and Michelle Law.
Looking for more recommendations? Make sure to check out our previous post on the podcasts that have helped us stay social during lockdown.