Stand Up For Women's Rights
Women's rights have never been more at risk.
More than any time in recent memory, women and girls are at risk of losing basic human rights, which were hard-won generations ago.
Repressive governments all around the world have been using the COVID-19 pandemic as a reason to impose additional restrictions that are designed, not to halt the spread of the virus, but to restrict civil society and roll back the rights of women and girls.
IWDA partners' are working to defend the rights of women and girls in their communities, but they need your support.

Right now in Cambodia, a draft public order law is being proposed that will have a significant impact on the lives of women. Chandy (pictured below) is the Advocacy and Networking Program Manager at Gender and Development Cambodia (GADC), one of IWDA's partner organisations.
Chandy is working tirelessly in difficult circumstances to fight for women's rights.
Chandy tells us:
"There are people in Cambodia who want women to play 'traditional' roles. They don't understand why feminism and gender equality is so important. They want to see messages in the Chbab Srey* continue. This draft law is another way to repress women."
The draft public order law in Cambodia proposes rules that will govern behaviour in public spaces, including prohibiting women from wearing items that are "too short or too revealing".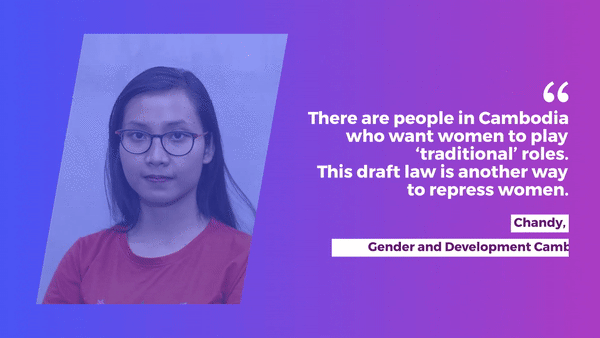 There are concerns that the wording in the draft law is deliberately vague, to allow for a variety of interpretations. It is feared that this will impact women negatively in many ways, particularly women who are already facing difficult circumstances.
Chandy and her colleagues at GADC collaborated with more than 30 other women's rights organisations working in Cambodia to petition the government to discard to the draft law. They are working hard to ensure this law doesn't pass and further restrict the rights of women and girls.
Women like Chandy are standing up for women's rights, but they need your support.
* The Chbab Srey is a traditional 19th-century code of conduct for women and it still functions as customary law today. The code has been passed down across generations, and it outlines expected behaviour for women and girls.