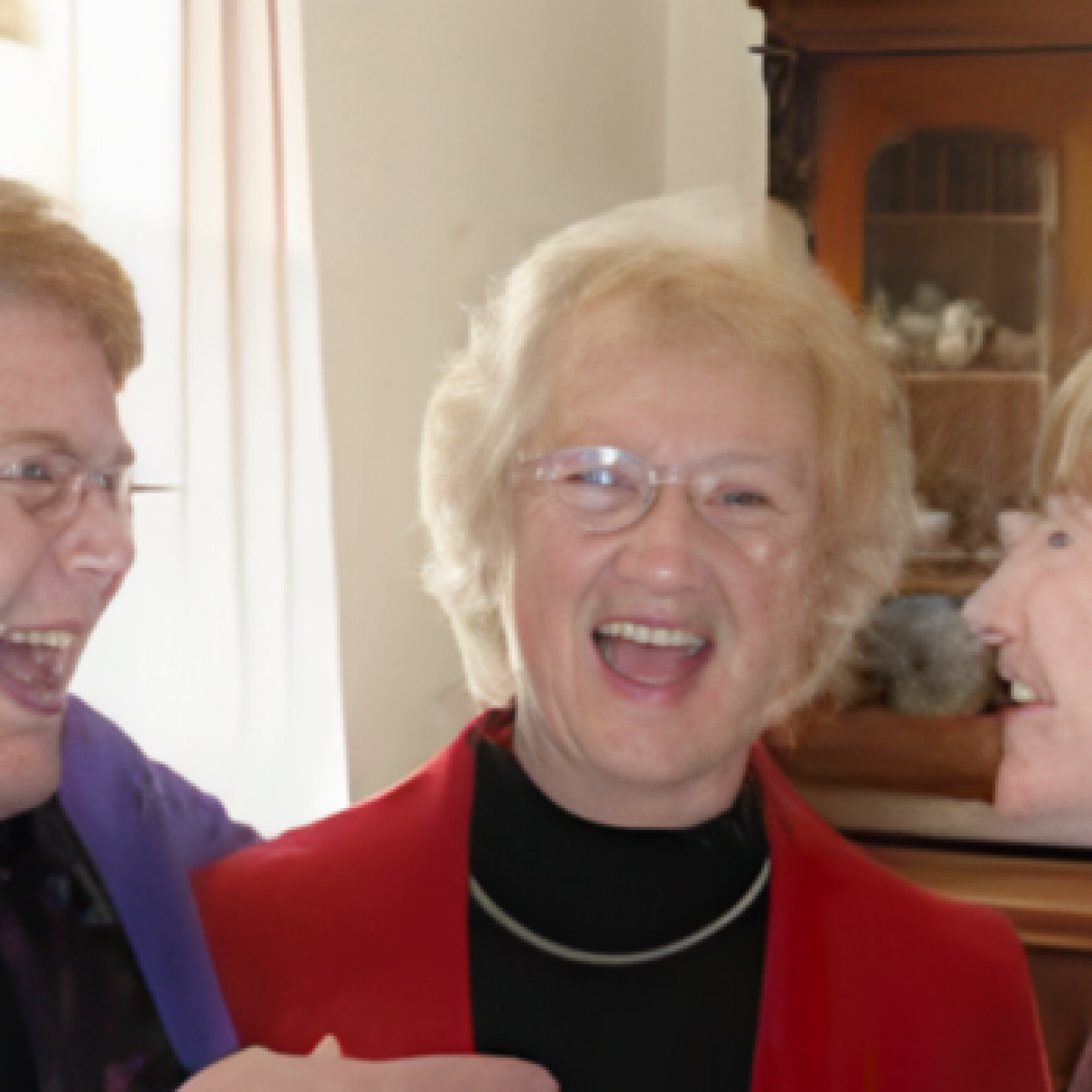 Vale Dr Ruth Pfanner: IWDA co-founder and pioneer
It is with deep sadness that we share the news of the passing of one of IWDA's co-founders, Dr Ruth Pfanner, on 29 May 2023.  A career economist who dedicated her life to championing women's voices in development, Ruth was one of three visionary women who founded IWDA in 1985, with her home the location for the very first meeting of IWDA.
She envisioned a new approach to international development that placed women firmly at the centre of management, planning and partnerships. With co-founders Wendy Rose and Wendy Poussard, Ruth recognised that women were central to development but largely missing as beneficiaries and decision-makers. Alongside the two Wendys, she demonstrated what was possible if development was led by women, and focused on enabling women as actors and agents of change.
Ruth's career spanned roles at the World Bank and the United Nations in New York and Bangkok before she joined the Australian Government's aid agency, then known as the Australian Development Assistance Bureau (ADAB) as its very first Women in Development staffer in 1980. She elevated the voices of women and identified the need to put women in development on the Australian Government's policy agenda.
Looking back at the time of IWDA's 20th anniversary in 2005, Ruth remembered when the organisation survived on the energy of volunteer staff and struggled to meet costs. She was self-effacing about her own contribution in IWDA's early years: "Wendy Poussard took by far the heaviest load as Wendy Rose and I continued with our existing careers," she said. Ruth attributed IWDA's acceptance as a respected organisation to the "stature, reputation and hard work of the two Wendys," and described working with them as the most memorable aspect of the five years she spent at IWDA. But as the Wendys and Susanna Price note, Ruth's intellectual capacities and experience were pivotal in the organisation's early years. In Wendy Rose's words at the time of IWDA's 25th anniversary in 2010, each of the founders brought something different to the table: "I was the practical one, Ruth was the wise one and Wendy Poussard was the Marxist feminist."
In 2015, on the occasion of IWDA's 30th anniversary, Ruth reflected on IWDA's ongoing relevance.
"I believe that women's lives and activities need and will always need special consideration in all societies. I believe that IWDA will adjust to any future changes in women's needs, our region's fortunes and government overseas assistance. It has an outstanding and continuing mission that cannot be denied or ignored."
After leaving IWDA's committee of management, Ruth continued to work as a consultant for various UN agencies such as the FAO, UNDP and UNIFEM, the forerunner of UN Women, and for a number of majority world governments.
Alongside her outstanding contributions to the sector, Ruth was a gifted classical pianist with a deep passion for music, and funded a music scholarship for young musicians studying at the ANU. She is remembered by those closest to her as a warm, kind, gentle and generous person whose contribution and no-nonsense approach to life was accompanied by a wicked sense of humour.
Ruth shared a wonderful and adventurous life with her husband David, an anthropologist. The couple spent considerable time together in Myanmar. David died in 2021.
We mourn Ruth's passing and celebrate her life, extraordinary vision and contributions to Australia's feminist movement. Her powerful feminist legacy will live on.
Bettina Baldeschi, CEO IWDA
Ruth's pioneering contribution to advancing gender equality cannot be overstated. Her early career was notable, marked by roles where she combined passion, knowledge and unique skills to identify and remove obstacles faced by women and girls – particularly notable, given prevailing attitudes at that time.  Her contributions were formative, in the policy space, as the first staff person in the Australian Government aid agency with responsibility for women in development, and institutionally, as a founder of IWDA.
Together with Wendy Rose and Wendy Poussard, Ruth knew that women and girls were making central contributions to development but were largely overlooked as beneficiaries and decision-makers in international development initiatives.  They saw the need for an organisation to provide support, solidarity and partnership to women and women's organisations in other countries, to advance women's circumstances and rights in their own contexts.
Today, IWDA is 60-strong, working in partnership with 22 feminist organisations spanning eight countries in the Pacific and Asia, and contributing to global feminist movements in its own right. IWDA, together with partner organisations, has reached hundreds of thousands of women and girls over its 38-year herstory. Ruth's foresight, courage and persistence remains inspirational. She pursued change through policy and practice, ideas and institutions. This remains part of IWDA's ways of working today, a mark of her continuing contribution and legacy.
Reflections from IWDA's  co-founders, Wendy Rose and Wendy Poussard
It was with great sadness that Wendy Poussard and I heard of the passing of Dr Ruth Pfanner who was one of the co-founders of IWDA.  Wendy, Ruth and I dreamed of such an agency and although we came from very different backgrounds, we worked closely together to make it a reality. Through friendship and trust, IWDA was founded.  Ruth was warm, kind, gentle, generous and a fierce supporter of women. Her understanding of economics contributed much needed experience in our early discussions.
Ruth, who previously had worked at the World Bank, was the first appointment in the Australian Government's aid agency with responsibility for Women in Development.  She made an outstanding contribution as the first person to persuade the government to take women in development more seriously.  The role of women in development was a hot topic at the time – with mainly women driving the discussion – at a time when women were rarely heard.  She brought her international experience in economics from the World Bank into the reality of our dream to commence an organisation with no finances.
It was Ruth's kitchen where we held the bulk of our meetings in the early days, and it was in Ruth's house that we formed the Organisation as an Association.
Ruth become our first Treasurer and without her we could not have progressed as we did.  I think secretly she dreaded our early committee meetings as Wendy and I kept suggesting new projects without any finance to back us! We had many a laugh as Ruth tried to bring us back to the reality of our situation. She was never negative but found ways to work through the gap between what we wanted to achieve and what funds we had. She was most generous with her support, initially donating $5,000 which enabled us to pay our first Director Wendy Poussard and proceed with our dream of funding women's projects.  She was a role model and mentor to us both.
The two Wendys have so many fond memories of working and dreaming together. Ruth was our great friend and will be greatly missed. I know that she was proud of IWDA's achievements, as we both are, and was grateful of the small seed we planted which has grown to the organisation IWDA is today.
Thank you, Ruth.
Susanna Price, Ruth's friend
In its 40-year history (1973 – 2014) [the Australian Government's stand-alone aid agency] never had a woman director. Looking back, Dr. Ruth Pfanner could have managed the position with ease. Ruth was a brilliant, diplomatic, and goal-oriented organiser who always brought out the very best in those she worked with. She was a gifted and effective team player before the concept took off. Her PhD in Economics from Cornell University had led to a highly successful international career in the United Nations in New York and Bangkok.  She joined the Australian Development Assistance Bureau (ADAB, later AusAID) as the Women in Development staffer from 1980 -1984. Upon leaving ADAB her expertise was keenly sought by international organisations, governments, international and national NGOs, and women's organisations.
Ruth knew from the inside what it would take to launch and sustain administratively a new NGO focussing on women that could attract national and international funding. Ruth and the two Wendys formed a visionary team to found the International Women's Development Agency (IWDA) in 1985. Ruth was its Vice-President (1985-1990). Their firm shared faith in the fledgling organisation ensured IWDA's successful first steps.
Ruth was far more than the perfect bureaucrat. She was a gifted classical pianist who could have made a career in music. She shared a wonderful life with her husband, the anthropologist Dr. David E. Pfanner, spending time living in a Myanmar village. She was a caring family member, a humane and generous benefactor to community causes, and a supremely loyal friend.
She had a ready, engaging smile, a wonderful chuckle, huge sparkling blue eyes, and extraordinary insight into the human condition. She was always supremely present, a bright, shining spirit who always found a clear and honourable path through the most complex terrain.
Vale Ruth. It was a rare privilege to know you.