Ethnic women in Myanmar take the world stage
October 21, 2016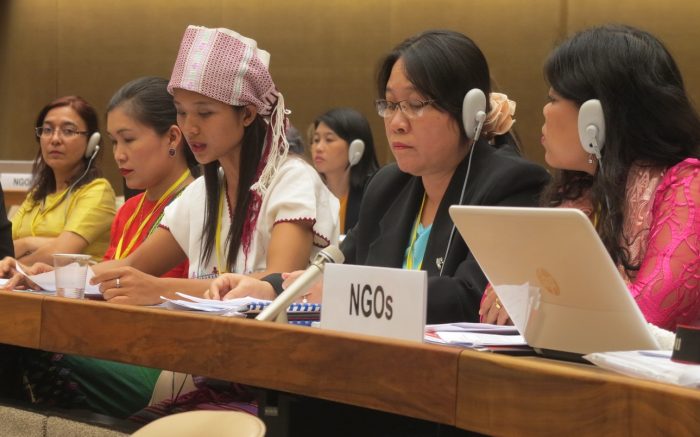 Women's League of Burma is an umbrella organisation with 13 member organisations. The group collectively represents the interests of different ethnic nationalities of Myanmar, and works towards the empowerment and advancement of the status of women.
This year, they made history. Together with a group of strong, diverse women's rights activists, Women's League of Burma travelled to the United Nations in Geneva to present their findings on how the Myanmar Government has failed their commitments to the Convention on the Elimination of all Forms of Discrimination Against Women (CEDAW).
CEDAW is the closest we have to an international bill of rights for women which defines the varied and insidious ways women experience violence, discrimination and inequalities. It is an important measure that governments across the world use to track their progress on the important promises they've made to women. Despite limited democratic reforms since Myanmar's transition to a quasi-civilian government in 2011, women have, in large part, not benefited from these reforms.
In the context of Myanmar, CEDAW is a crucial benchmark for women's rights and equality, to encourage the new Government on the path to ensure human rights are respected and enacted by all. Decades of repression by a male dominated military and a traditional cultural patriarchy has led to long-term negative effects on women's equality in Myanmar. This has deeply impacted women's health, wellbeing and welfare, ability to participate in politics and political decision-making, and educational, economic and employment opportunities.
Long-running conflict has been characterised by human rights abuses against ethnic communities, including sexual violence, and has had a devastating impact on the rights and opportunities available to ethnic women.
By preparing a Shadow CEDAW Report, Women's League of Burma and its sister organisations provide the international community with a clearer picture of the progress made towards eliminating violence, to show the reality of what is still happening to women in Myanmar.
Eighty-two organisations participated in consultation workshops that led to the final report. The production process included the development of data collection tools, literature review, informant interviews and workshops throughout Myanmar.
In a joint statement, women noted deeply-rooted discrimination, the result of "entrenched patriarchy, decades of oppressive military dictatorship and the continued power and influence of the military throughout society".
The report highlights the ways in which rural and ethnic women in Myanmar are denied the equality and non-discrimination guaranteed by CEDAW. The gap between the experiences of women in cities and urban settings versus those of ethnic women in rural areas must be understood and taken into account when analysing the status of women's rights in Myanmar.
While all women in Myanmar face similar struggles, rural and ethnic women face additional hurdles and specific harms such as trafficking, unequal access to education and healthcare, land insecurity and the devastating impact of drug production and trade.
The Committee has made recommendations to the Government of Myanmar, based on the Government's own CEDAW Report and the Shadow Reports presented by women's rights organisations, on what they need to do to enable women's rights and gender equality. The recommendations called for increased accountability to enforce laws and punish traffickers, reform the justice system so victims are able to lodge crimes committed by military, reduce corruption and conflict related sexual violence, and increase women's access to health services.
Thanks to Women's League of Burma and their sister organisations, the voices of those on the ground in Myanmar are now being heard.