Brazil: Association for Women's Rights and Development Forum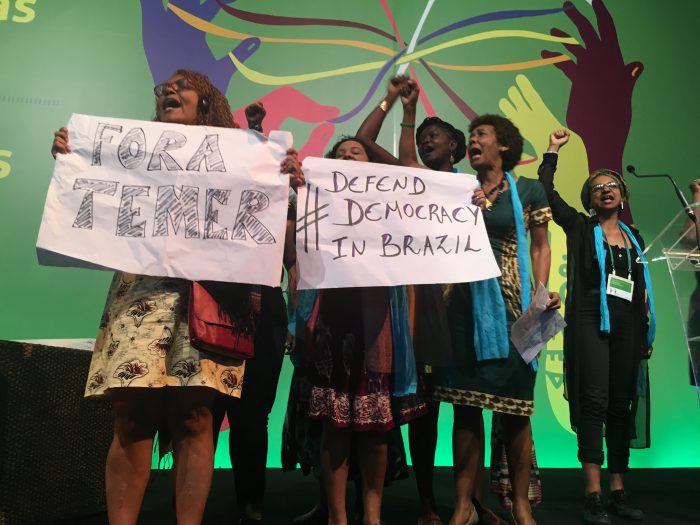 Association for Women's Rights and Development (AWID) is a global, women's rights, feminist membership organisation with 4,781 members across 163 countries. Every four years AWID organises a global forum. This year it was held in Brazil bringing together 1,800 global women's rights leaders, human rights practitioners, activists, media and donors.
So what does a Forum like this achieve? 
People from across the world celebrated the gains for women's rights and critically analysed the lessons we can carry forward. Forums like AWID energise us to keep going, and ensure learning and exchange between nations, organisations and individuals in all our diversities.
We assessed our current reality to locate the opportunities and threats for advancing the rights of women. Meeting with the teams from the world's women's funds and feminist philanthropists is an important exchange in mapping impact and influence. It was also a significant moment to showcase the Individual Deprivation Measure to the world.
IWDA and our Cambodian sister organisation, Banteay Srei, facilitated a session on our Triple Jeopardy work which is transforming discrimination against women with disabilities into alliances for collective change.
We were able to demonstrate that employing women with disabilities as researchers challenged stereotypes in relation to gender and disability. Additional partnership voices included standing with Women's League of Burma, also supported by Foundation for a Just Society, to strengthen ethnic women's voices in advancing their peace building work.
We identified effective cross movement initiatives to expand our collective voice and agency. We met and heard from disability organisations, LBTQ activists, and the labour rights organisations – all movements within themselves. We presented widely on three living examples of how IWDA is putting into practice the models ignored by mainstream gender and development practitioners.
Our Women's Action for Voice and Empowerment (WAVE) program supported by the Government of the Netherlands and our We Rise and Fiji Women's Forum models, supported by Department of Foreign Affairs and Trade's Pacific Women Program were all seen as best practice.
WAVE and We Rise explicitly invest in building movements and engaging with diversity. They demonstrate deliberate engagement with the ways in which organisations can institutionalise structures of collective care for social justice activists. The Fiji Women's Forum session was able to show how this model is bringing new relevance to the history and experience of four diverse Fijian feminist organisations and its significant expression of self-determination for the Fiji Women's movement in naming women's priorities and pushing these through a joint advocacy forum.
The AWID Forum also pays tribute to the Women Human Rights Defenders who have died, been assassinated or disappeared and whose contributions to the advancement of human rights are very much missed.
"We bring them all into our collective memory and carry their legacy of struggle as our torch in the feminists' and women's rights movements. Recognizing that security, safety and selfcare must be a priority in all our political agendas is a crucial step to collectively respond to violence against feminists and WHRDs, and to ensure the sustainability of our movements for gender equality, women's rights, and justice for all." – Association for Women's Rights and Development