Backwards to the Future: Isolationism and Aggressive Masculinities
November 10, 2016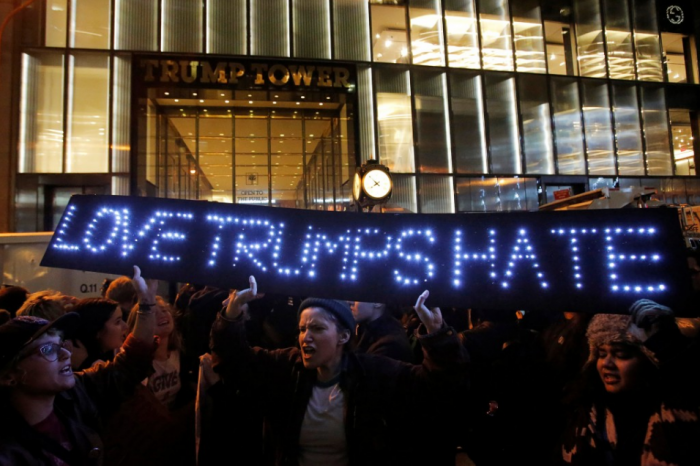 November's US election results screamed out to us yet again, that people have had enough. The systems and structures that shape our lives and determine our futures are failing the majority on all sides of politics and do not serve society's needs.  Inequality has driven us to the brink and it is reasonable to feel very angry about this.
What we need to turn our effort and attention to now, is how we respond to this frustration and alienation, and what this will mean for the world's people, in all our diversities.
Across the world we are retreating into isolationism. Election by election, referendum by referendum, people are rebelling against systematic and systemic injustice, and Australia is no different. But as we know, isolationism divides us further.
Tobias Stone's words are sobering today. He wrote recently, "The people who see that open societies, being nice to other people, not being racist, not fighting wars, is a better way to live, they generally end up losing these fights. They don't fight dirty. They are terrible at appealing to the populace. They are less violent, so end up in prisons, camps, and graves. We need to beware not to become divided, we need to avoid getting lost in arguing through facts and logic, and counter the populist messages of passion and anger with our own similar messages."
In isolationism, leadership characterised by aggressive or violent masculinities, flourishes. Russia, Turkey, the Philippines, South Africa, Zimbabwe, USA, North Korea, Australia, the list goes on. Our current or former Presidents and Prime Ministers and their parliaments display it every day.  As Patricia Williams put it so keenly in today's Guardian, describing the next leader to join this club "they are willing to give Uncle Donald a pass in the face of multiple allegations of sexual assault, breathtaking racism, unprecedented crudity, cruelty, verbal incoherence and globalised, soul-searing mendacity."
We will not stand by and see our work towards equality dismantled by this mindset. Democracy as we know it is under strain. Civil society is cruelly under threat in many spaces. However, the strength of communities as they strive to attain or retain their rights will not be subdued.
Today's open letter from the '100 Women of Color Leaders' in the USA displayed courage and spoke to how the system needs to change, presenting a view at opposite ends of the scale to the Republican strategy and emerging white supremacist isolationism. They said "This morning, we come together to declare our resolve. Many of us are holding our babies, families, and loved ones close. We know that there is tremendous suffering and anger in this country, yet we stand here today, determined. After an election rife with the politics of division and hate, today we open a new chapter in our country's long, difficult journey towards the promise of liberty and justice for all."
The Personal is the Political. Fact: Hillary Clinton won the popular vote. That glass ceiling should have crashed to the floor. She had experience in spades. It was not enough. The United Nations couldn't do it, the United States couldn't do it. One day, as Australia's former Prime Minister, Julia Gillard, reminds us it will be "unremarkable" what gender we are as leaders. One day.
At home, Australia's foreign policy has never been so important to guiding us as a nation towards a peaceful and prosperous future for all. The development of the new White Paper to decide the future directions and priorities for Australia's foreign policy in the coming months is a cautionary tale for our government. They will exclude civil society at their peril as this position paper is written. We are the mediators and the moderators of international relations and relationships. Our social and political capital lasts through generations, not electoral cycles. We are the intelligence and the antennae for our governments to heed. This is our future world not an institutional project plan. This will play a part in shaping in how we are seen by the rest of the world. We must choose wisely, listen closely and leave Canberra.
In the meantime, let us say thank you. Thank you Hillary Clinton for your grace and dignity in defeat and the conviction in leaving us with the message to all our girls that we must "never doubt that you are valuable and powerful and deserving of every chance and opportunity in the world to pursue and achieve your own dreams."
Optimism must be the antidote to hate. It reminds us that every single vote can count. The millennials will guide us forward and we shall share what we have learned in ways to attain a smarter, kinder world. For diverse women and girls. For everyone. May our courage and conviction prevail.
Keep in touch with women's rights
Register to receive updates and stories on women's rights around the world.