Accounting for gender equality in Papua New Guinea
January 8, 2016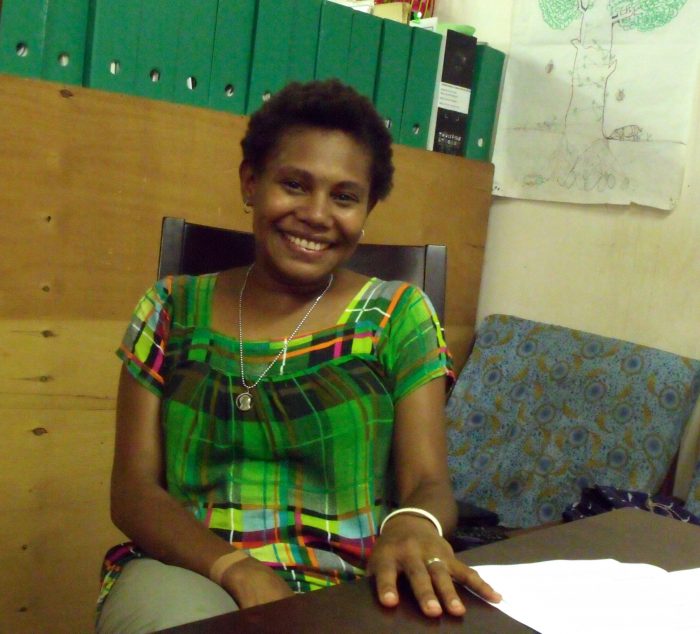 When you think of women's rights, financial systems might not be the first things that come to mind.
East Pomio District in Papua New Guinea is home to an abundant agricultural economy and some of the richest biodiversity in the world. It is also largely matrilineal; land titles are passed down from generation to generation via women. This responsibility means the cultural identity of women in East Pomio is tied closely to their ancestral land.
But land in East Pomio is also a prime target for developers wanting to capitalise on the fertile earth. Logging and sea-bed mining are slowly eroding both the natural resources and the voice of women in Papua New Guinea. Women are being silenced and excluded from conversations about their lands, despite having strong stakes in their environment. Outrageously, they are not being consulted in the sale and destruction of the lands to which they claim ancestral rights.
IWDA partners with Wide Bay Conservation Association to empower the women of East Pomio to take back their voice.  Wide Bay Conservation Association assists local women and communities to make informed decisions about what happens to their land, supporting them to negotiate fair deals with development companies.
Building capacity for sustained impact
Christha Saghao has been the Finance Officer at Wide Bay Conservation Association since 2013. She has a background in Finance and Business Training, and took on the challenge of this technically senior role to engage in the work that was being done in East Pomio with her community. Wide Bay had already been doing pioneering work for almost ten years, but their bookkeeping was still largely manual spreadsheets that created unnecessary replication of work.  Auditors identified several areas in need of improvement, and recommended software that would automate and centralise operations.
Financing efficiency
With a more robust accounting system, Wide Bay Conservation Association could reduce double handing, produce more accurate and sophisticated data and greatly enhance their reporting to donors. To help facilitate this, IWDA purchased and set up accounting software to automate the processes and limit replication of work. To ensure she was confident in using and managing the organisation's new financial systems, Christha was trained in this software and worked in close partnership with IWDA to troubleshoot any issues in the early stages.
To build upon Christha's existing finance knowledge, IWDA supported her to attend Management Accounting Training for Non-Government Organisations in 2013, and a year later enabled an exchange visit with her in Melbourne for further training alongside IWDA's own Finance team.
What has been the outcome?
It's now been two and a half years since IWDA first met Christha. Where is she now?
"When I started in 2013 working at Wide Bay Conservation Association, I didn't know how we would work with partners.  I didn't know what my work would be like.  Before I received finance support I wasn't confident in my work, but when IWDA provided support I was really happy they would help me in my work and reporting.  The good thing about the relationship with IWDA is capacity building.  I now feel confident I can now do my work as Finance Officer.  Other training opportunities have been made available. Having accounting software installed has simplified my work.  I feel the partnership is very good and is a real partnership."
Christha Saghao, Finance Officer at Wide Bay Conservation Association
Two external audits conducted since saw noticeable improvements in Wide Bay Conversation Association's processes and a marked enhancement in their overall financial visibility. Audits found previous issues had been addressed and accuracy and efficiency of financial data had both improved.
Suzanne Fletcher, IWDA's Finance Officer, and Donna Davies, IWDA's Director of Finance, have worked with Christha since she first started at Wide Bay Conservation Association. Suzanne recently got back from a training session in Kokopo where Wide Bay's office is located, and saw further strides in Christha's abilities.
"When I visited in Sept 2013 Christha was quite nervous about using the new software as the training provided in her course was quite simple and she'd never used it in a working environment. Through the installation and support with processing all entries for 2013, she became more confident.  When she visited in 2014 she had moved on from the very basic understanding she'd previously had to more in-depth queries.  With this last visit she is so much more confident and has a much greater understanding of the relationship between the software and her acquittals and what reconciliations are needed to ensure the acquittals provided are accurate. If there are any issues, she is much better equipped to know how to fix them."
Suzanne Fletcher, IWDA's Finance Officer
The organisations we partner with are already agents of change when it comes to gender equality and women's rights in their regions. Our role is to empower them to do what they do in a more efficient and effective way.  By improving the capacity of the organisations we partner with, we leave a sustainable legacy for women's rights in Asia Pacific.
This program was implemented with the support of the Australian Government.