2020 was full of so much turmoil, but through it all, we are so grateful to you. 
Thanks to your support, despite the many challenges of the last year, so much was achieved.
Here are some of the highlights from 2020 that you made possible.
---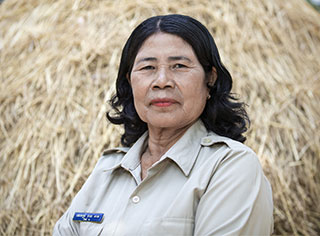 Last year, with your support, 1,331 women assumed leadership positions 
Thanks to your support, more women like Chay, pictured, are able to represent their local community in leadership positions.
990 women participated in training to access increased and sustainable livelihoods.
Thanks to your support, women like Rom received extra vocational training from IWDA partners Women Development Centre and Banteay Srei in Cambodia.
69,064 people received information and training on gender issues and women's equal rights
Thanks to your support, women like Teap, pictured, were able to attend workshops to build their skills and also their network so they can make change in their community.
 265 women accessed financial services and training
Keab is a member of a Savings Group in Cambodia, which supports women to be in control of their own money.
8,221 women survivors of violence accessed counselling and other support services
Your generosity is supporting IWDA partners like the Christian Care Centre in the Solomon Islands who are providing a life-line to women who experience violence. They provide medium-term shelter to women and children, pastoral care and referral to relevant support services.