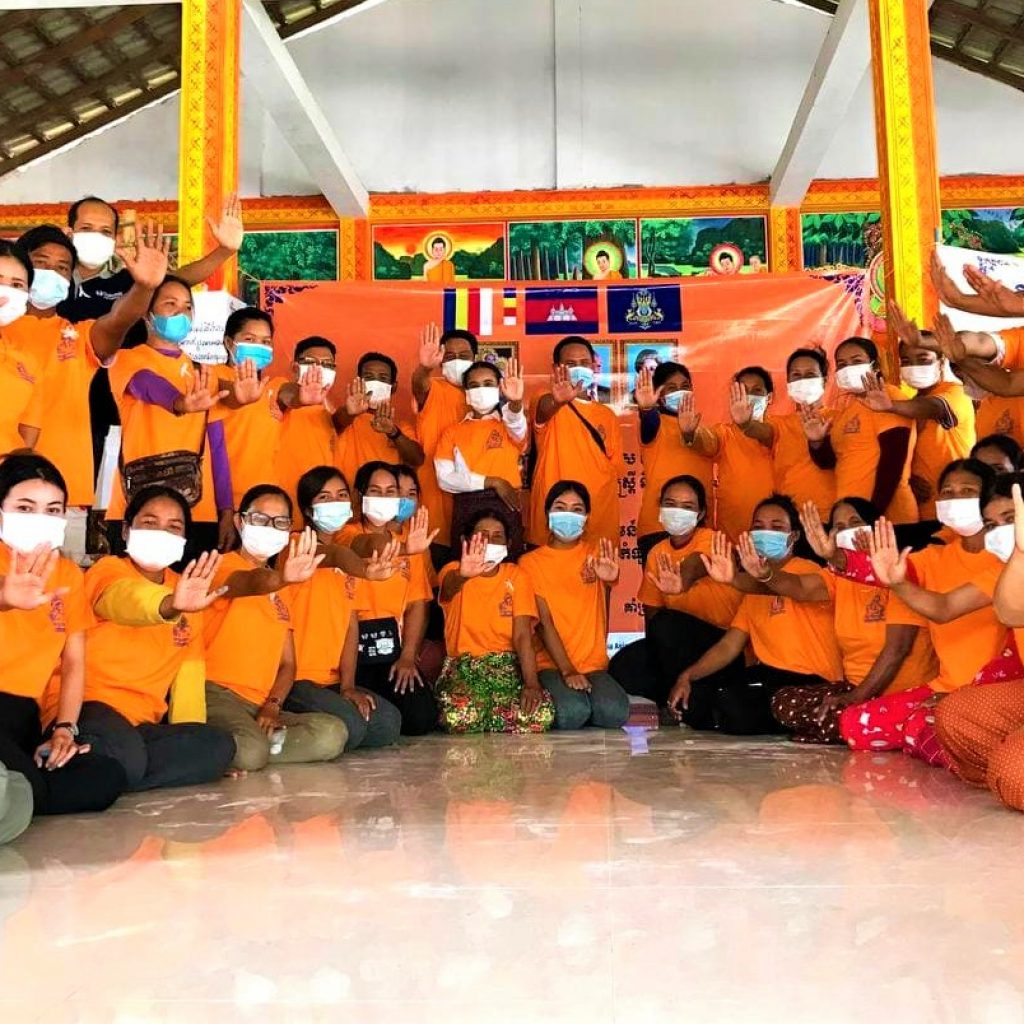 16 Days of Activism across Asia and the Pacific
The global 16 Days of Activism Against Gender-Based Violence campaign came to a close on 10 December 2021, culminating in International Human Rights Day.  
This year marked the 30th anniversary of the campaign, commemorating 30 years of people, movements and organisations around the world raising awareness of gender-based violence, challenging discriminatory attitudes and calling for improved laws and systems to end violence against women and girls for good. 
In 2021, the importance of this work gained new significance as the world dealt with the ongoing impacts of the COVID-19 pandemic. With rates of gender-based violence having increased alongside lockdown measures and the stressors brought about by the pandemic, individuals and organisations all over the world found ways to once again mobilise to call for an end to violence against women.  
Here's how some of our partners across the region marked the 16 Days of Activism. 
Cambodia
Banteay Srei organised a 16-day campaign designed to challenge concepts of masculinity and encourage men to engage in conversations around violence against women and positive manhood. This included organising talks on campuses, village districts and pagodas along with an art exhibition in celebration of the campaign's 30th anniversary.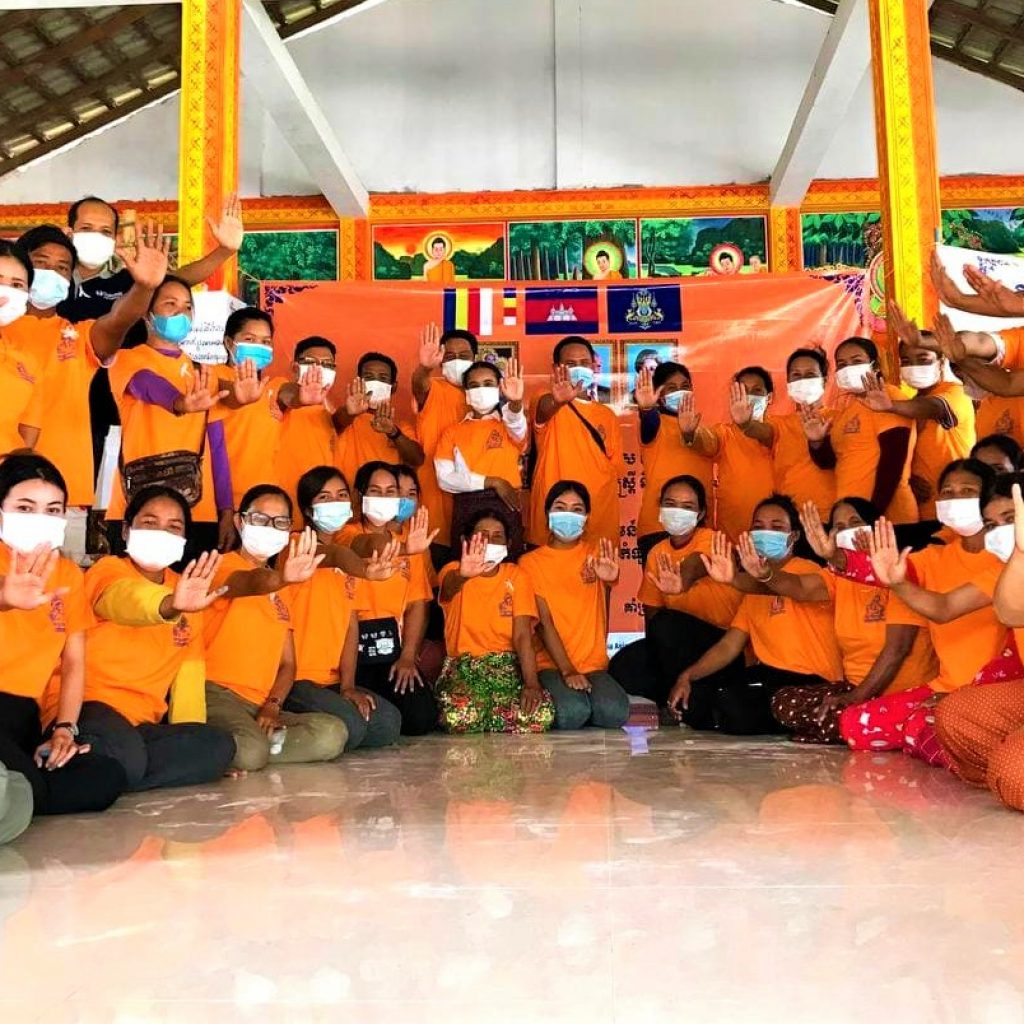 Gender and Development Cambodia produced a song and music video called 'Proper Man' to promote men's participation in advancing women's rights and combat all forms of violence against women and girls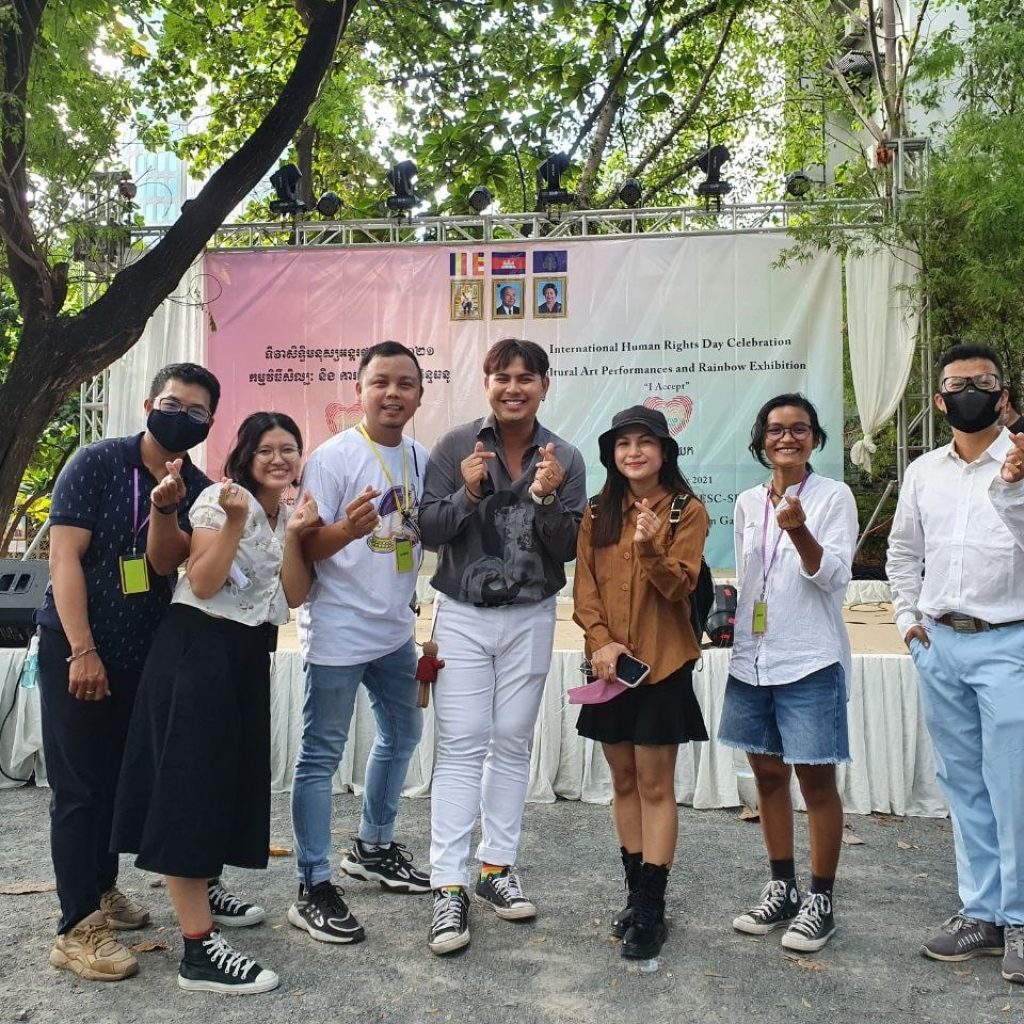 For Human Rights Day, Rainbow Community of Kampuchea announced the launch of their #IAccept campaign to advance marriage equality for LGBTQIA+ couples in Cambodia. The campaign aims to raise public awareness and acceptance of LGBTQIA+ persons in the country and advance legal protections for couples as part of Cambodia's commitments in the 3rd Universal Periodic Review. To mark the launch, they held an art exhibition at Oudom Park including the creation of a permanent rainbow by artist Wuth Linou.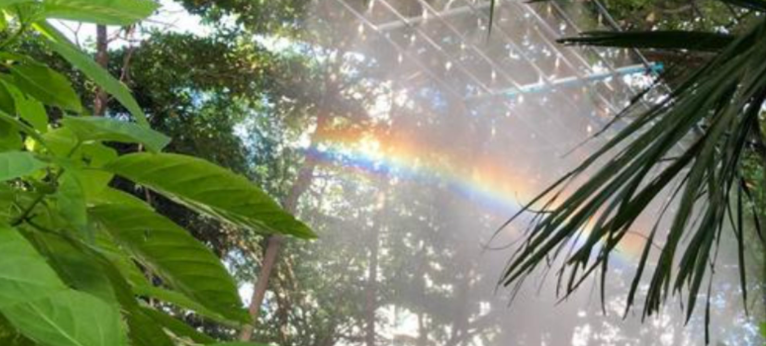 Fiji
Throughout the course of the 16 days, femLINKpacific ran an extensive advocacy campaign spanning media, social media and in-person events to raise awareness of gender-based violence. This included running a session with the Rural Women Leaders Community Media Network in Nadi to discuss creating safer homes for rural women. Recommendations that came out of the session included more assistance towards the economic empowerment of women, more awareness and youth engagement in rural communities on the issue of violence against women and girls as well as education aimed at all genders, including educating boys and men on the role and value of women in society.  
In addition to their social media advocacy, Fiji Women's Rights Movement held a join press conference with femLINKpacific and the Fiji Women's Crisis Centre to call on the media and important stakeholders to join their campaign to highlight violence against women and girls. This culminated in a Human Rights Day Picnic at the Park organised in collaboration with other organisations to mark the day while demanding more state accountability for violence against women and girls.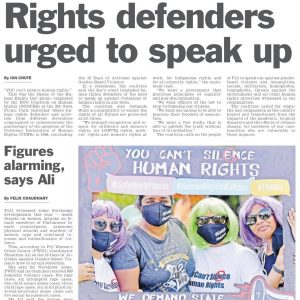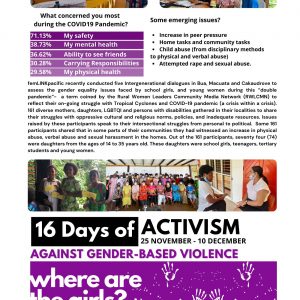 Photos obtained from femLINKpacific's Facebook page
Myanmar
The Shan Women's Action Network ran an online campaign to start a conversation around violence against women and girls in the country, and promote non-violent forms of conflict resolution.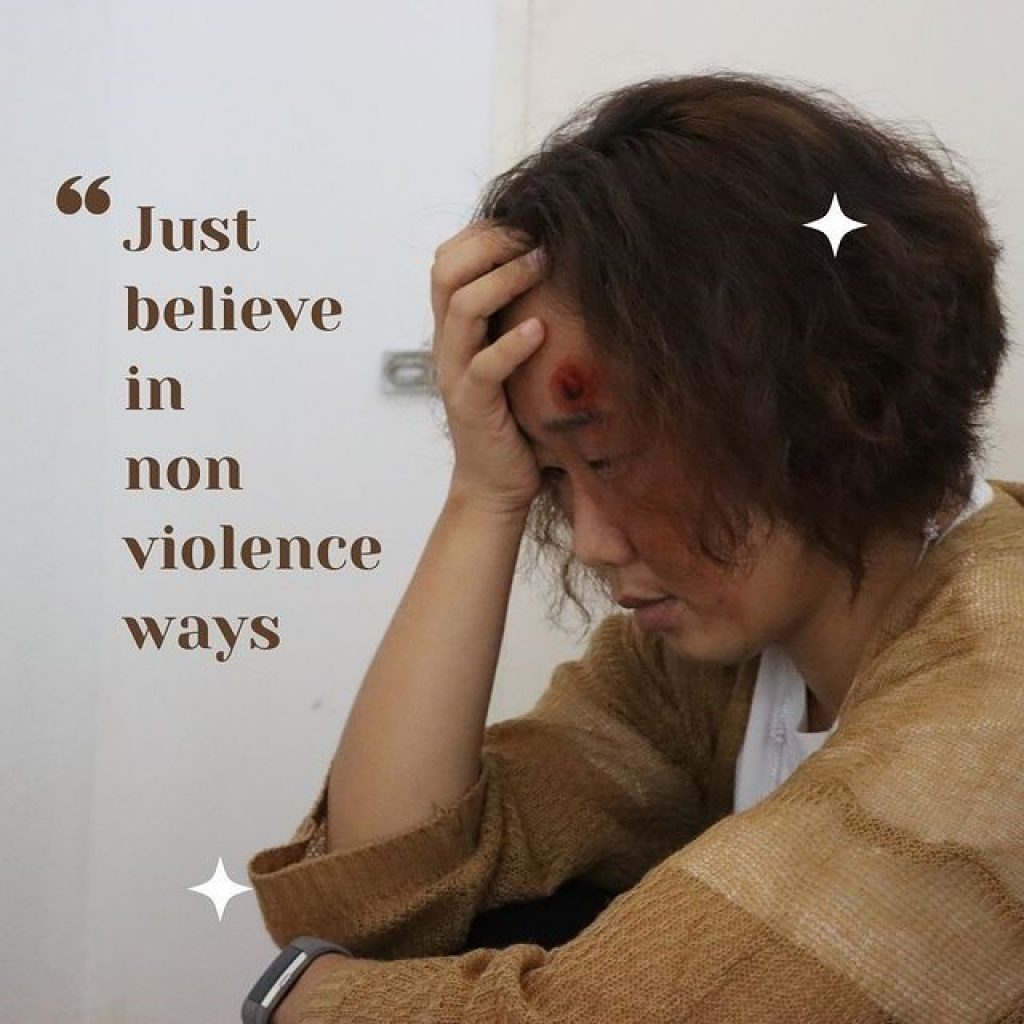 Papua New Guinea 
Eastern Highlands Family Voice ran a 20-day human rights activism campaign across the districts of Goroka, Henganofi, Lufa and Unggai-Bena, raising awareness of women and children's human rights and advocating for an end to all forms of violence.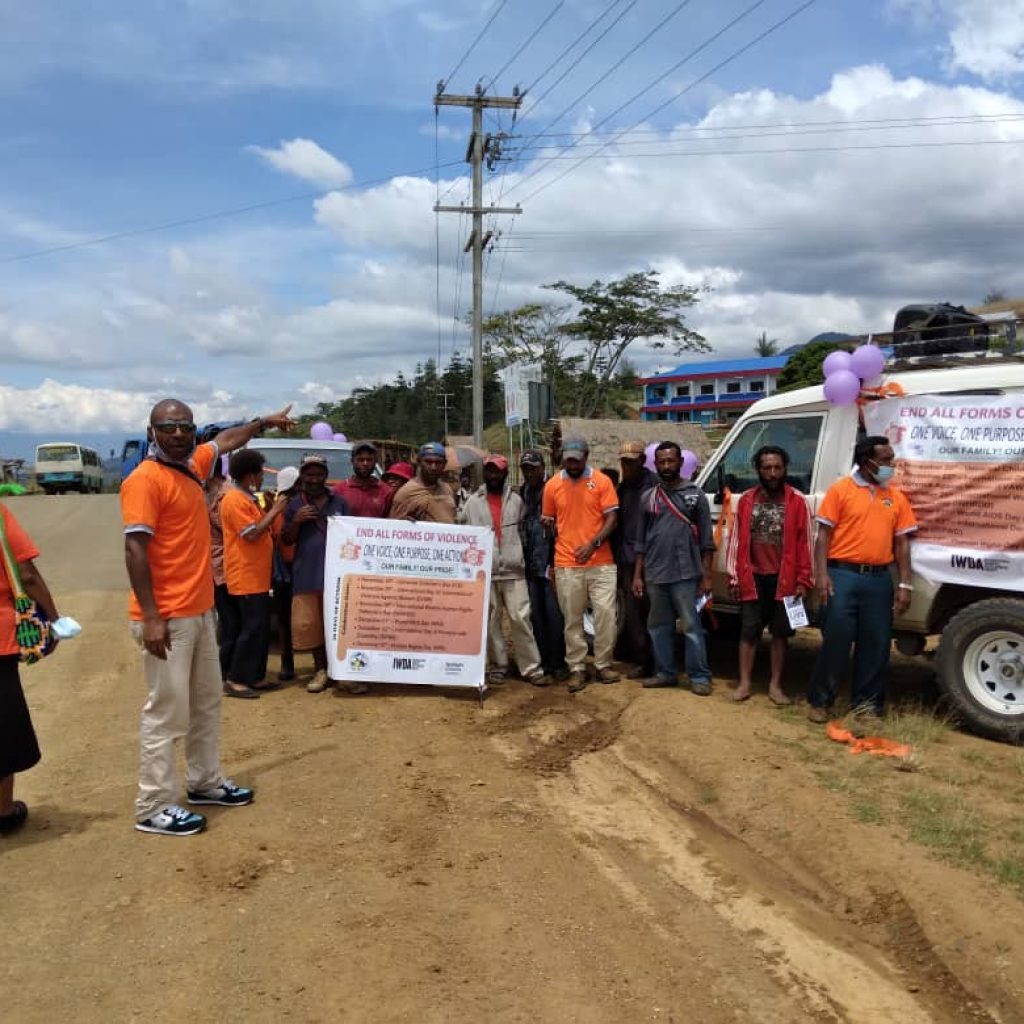 Solomon Islands
Due to the unrest in Solomon Islands, the country's main 16 days of Activism events were formally postponed. However, partners were still able to carry out some of their original planned activities. 
Both Christian Care Centre and Family Support Centre attended the Vigil and March for Standing Against Rape and Violence in commemoration of a young girl who lost her life in horrific circumstances. The Centre Manager Sister Rosa and Father Nigel of Anglican Church of Melanesia spoke at the service, along with other members of SAFENET (a network of government and other non-government organisations working on new ways to improve services for survivors of sexual and gender-based violence).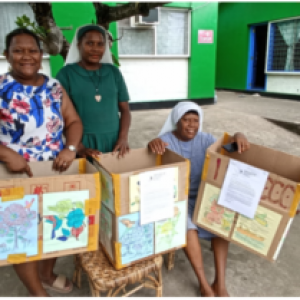 Christian Care Centre also held a Donation Drive throughout 16 Days of Activism. Donation boxes were decorated by children of clients staying at the Centre and were distributed to businesses throughout the district, alongside information about Christian Care Centre and their services. The donations received included clothing and essential items for the Centre.  
Family Support Centre conducted a 3-day training on Sexual Gender Based Violence and Sexual Offence Law. Participants included women and young people around Munda and the SAFENET referral network members made up of the police, public service officers and nurses from Munda and Noro. The main purpose of the training was to raise awareness of the causes of gender-based violence and domestic violence, the legal framework surrounding gender-based violence and the SAFENET network available in Munda and Noro area to ensure survivors were aware of support services available to them.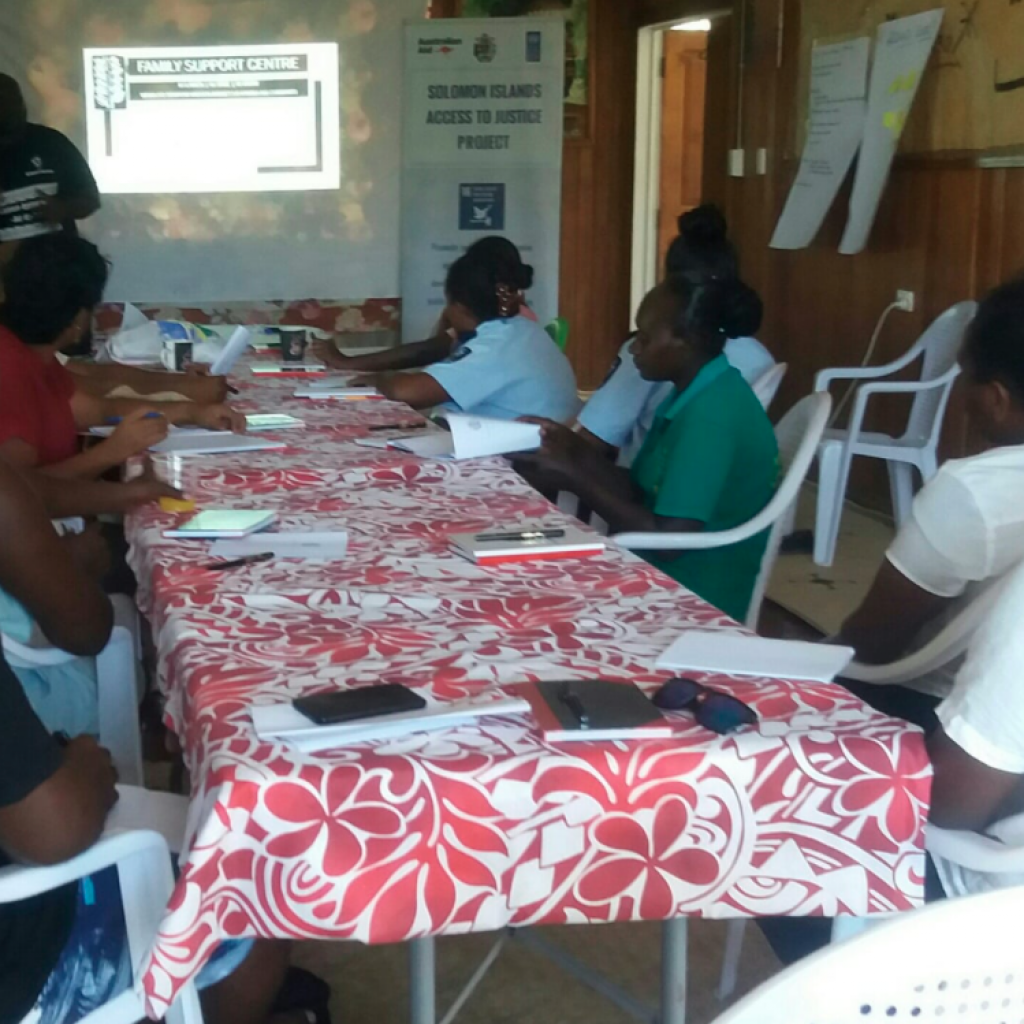 Timor-Leste
Asisténsia Legál ba Feto no Labarik (ALFeLa) produced a number of videos throughout the 16 days featuring police officers, prosecutors, judges, community leaders, village and sub-village chiefs along with ALFeLa directors sharing positive messages about combating gender-based violence.
During that time, they also ran a number of trainings aimed at both community members and members of the police. The first training was geared towards increasing the community's knowledge of gender-based violence, the legal framework surrounding it and ways of preventing it. The second training, ran at the end of November, was aimed at strengthening and increasing the capacity and knowledge police officers to report cases of gender-based violence while in the field.
To mark the end of the campaign, ALFeLa created a video of the messages they had painted onto their building's walls to share information with the public about protecting women and children's rights, combatting gender-based violence and ways to access justice for survivors.
Vanuatu
Sista ran a number of social media campaigns celebrating young women leaders in Vanuatu and male champions against gender-based violence. Over the 16 Days, they shared stories of the amazing work graduates of their Young Women Leadership Program have been leading in their communities and how they have been advocating for gender equality and an end to violence against women and girls.  
Sista also launched their Male Champions of Change campaign. Created by a production crew of all women, the campaign featured men occupying various roles in their communities, ranging from prominent political figures and radio personalities to farmers and artists, speaking out against gender-based violence.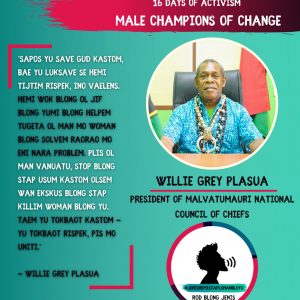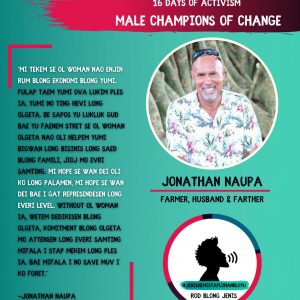 Photos obtained from Sista's Facebook page
They held a panel discussion on the topic of 'Creating Safe Workplaces Free from Violence and Harassment' that was livestreamed on Facebook, with Sista's Program Manager Jana Ali-Trail taking part in the second episode of the Vosa Podcast about safe sex and sexual reproductive health in the Pacific.
In collaboration with Groovy Banana Squad, Sista marked the end of their 16 Days campaign with the release of a song they produced about domestic violence, highlighting the important role that everyone in society can play to create a more peaceful and safer world for women and girls.
The 16 Days of Activism Against Gender-Based Violence campaign is a pivotal period for the women's rights movement. Together we must call on governments, organisations and people everywhere to speak out against violence. Violence against women and girls is not inevitable; it is preventable. Together, our message will be amplified across our region, and our voices will be heard.