In Cambodia's garment factories, women's wages are so low that they are forced to live in horrendous conditions. Coming home to a complex like this is the reality for many of them.
STAND WITH

women experiencing exploitation.
Carla, an IWDA team member, visited one of the drop-in centres for garment workers run by IWDA partner United Sisterhood Alliance.
She was SHOCKED by the experiences the women working in the garment industry shared with her.
The long working hours – 12 to 14 hours a day is common
The terrible work environments – 12 toilets for 1,000 people and limited access to medicine and clean food
The very low pay – so they must work even longer hours to survive
The constant fear of physical and emotional abuse if they make a mistake
This is exploitation – pure and simple. AND IT MUST END. These women are strong, but they are not indestructible.
Will you sign your name and join our FIGHT to STOP women being exploited?

Sign your name and join the FIGHT to END the exploitation of women and the fear they face at work.
Say NO to exploitation and YES to protecting women's rights.
DEMAND gender equality now.
*Required
Thank you. You'll be updated with important news as we fight to end the exploitation of women in Cambodia. See our privacy policy for more details.

All women deserve to be safe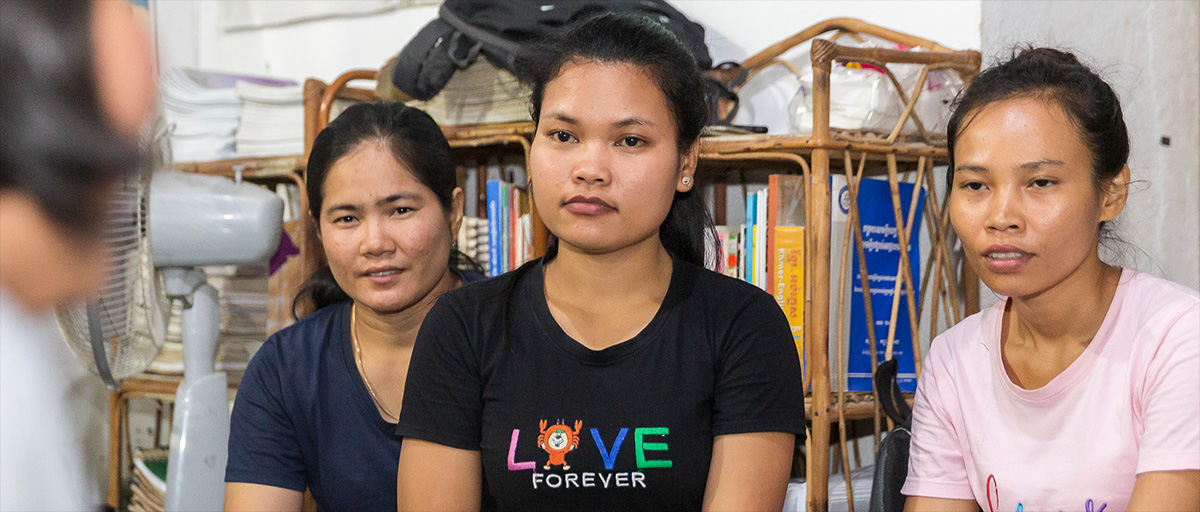 Carla visited IWDA partner, United Sisterhood Alliance in Cambodia. They run 5 drop-in centres that reach over 1,600 garment workers.
Carla was INSPIRED by the safe space the women had created for themselves here. She said:
"The women told me that some days the drop-in centre is a classroom and library, providing education to many who had to leave school so they could work. Other days, it's a place to just hang out – where workers can find a community of people who share similar experiences."
With the support from United Sisterhood Alliance, the women have the knowledge and confidence to stand up for themselves.
You can support us to END THE EXPLOITATION of WOMEN and GIRLS.

Our vision is a world where women and girls are equal.
But to achieve gender equality, first we need to stamp out the rampant abuse, violence, disrespect, and exploitation of women. We work with partners such as United Sisterhood Alliance in Cambodia, to END the EXPLOITATION of WOMEN and GIRLS.
You can find out more about our work here and take action on more issues you might care about.