Young Women's Leadership in Papua New Guinea at Wide Bay Conservation Association
March 7, 2014
'Inspiring change' was the central theme of this year's International Women's Day. One woman who has inspired us recently is Arnolda Simbre, a young woman volunteering with IWDA partner Wide Bay Conservation Association (WBCA) in Papua New Guinea. When local leaders failed to take a stand against foreign developers late last year, Arnolda stepped in to harness the power of her community in a call to action.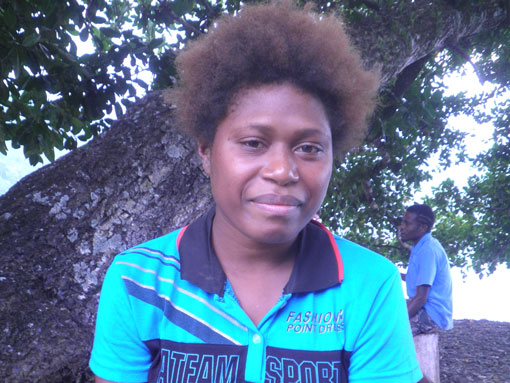 Traditionally, land custodianship in East Pomio is matrilineal, passed down from generation to generation via women. This cultural and practical responsibility makes for a deep relationship between women and their environment. But the land's natural wealth is highly sought after by foreign investors. Developers consult primarily with local men and exclude women from decision-making about the land over which they have cultural responsibility. The result is decisions that are not informed by the interests of the whole community, with destructive practices associated with large-scale logging and oil palm plantations having severe impacts on the environment and local communities.
IWDA works in partnership with WBCA to support local women and communities to make informed decisions about what happens to their land, supporting them to negotiate fair deals with development companies.
Arnolda volunteers for WBCA as a community facilitator. After hearing her community's concerns over future logging plans, Arnolda felt frustrated by the lack of action from local leaders. While they understood their responsibilities, Arnolda says they did nothing to make the community's viewpoints heard: "I told the men that they were supposed to take charge of this situation when they saw the problem but they did not do anything." Determined to take action, Arnolda decided to mobilise people power.
Arnolda organised and led her community in a peaceful protest against the logging company, to voice their concerns to those with the power to stop damaging and unsustainable practices. "I took the lead in organising the protest march with women and youth groups. We wrote to the company and landowners informing them of our protest march and asked them to hear our grievances. The protest march was led by … school students, followed by women's groups, and the men after the women … I closed the schools and the whole community was there during the protest march."
The community was advised that a company representative was 'unavailable' to talk, although they had provided advance notice of their protest.
After leaving peacefully, Arnolda and several other organisers were arrested and detained overnight in Kokopo, five hours away by boat, far from home and isolated from their community. Arnolda explained that, "We never did anything destructive; we only presented our community concern. I was in cell for a day and a night. I was the only woman arrested with my community leaders. We were taken to court, the complainants did not hold up so we came back." Arnolda was released from jail in Kokopo with no way to return home. Luckily, she was able to make contact with the WBCA office in Kokopo to arrange transport back to East Pomio.
The land Arnolda and her community fought to protect currently remains untouched by the logging company.
Arnolda says that in her role as a community facilitator, WBCA "has assisted … me by training and enabling me with knowledge and confidence to organise against destructive development in our community. I am proud to … stand on behalf of women and youth in my community in advocating against destructive development."
IWDA partners with Wide Bay Conservation Association on the program Meri Kirap – Tokaut na Tokstrait, funded by Strongim Pipol Strongim Nesen.