Women's political empowerment in Myanmar
June 5, 2014
By Manon van Zuijlen, Myanmar Program Manager
2015 marks the first general election in Burma/Myanmar since the 2010 election that put an end to 50 years of military rule. As the country experiences a period of significant dynamism and change, promoting the participation of women in civil and political decision-making processes to achieve peace and democracy has never been so important.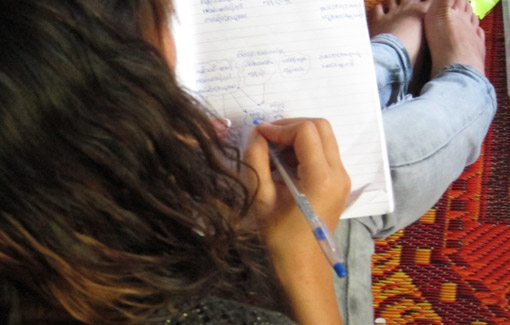 Women in Myanmar face significant barriers to taking on, and staying in, leadership positions. Culturally, leadership is almost exclusively associated with men. Patriarchal norms and values discourage women's participation in decision-making and public life. Women are extremely underrepresented in politics – they make up less than 3% of local government representatives, and in national and state/regional parliaments that figures stands at 4%.
Now is the time to support women's leadership in Myanmar so that women will be able to participate more equally in the 2015 election.
IWDA and our partners are doing just that. Women's League of Burma, Karen Women Organisation, Shan Women's Action Network and Palaung Women's Organisation work to advance women's equal representation in peace and decision-making processes. They aim to give women stronger, more unified voices, and model and support leadership skills to build a strong base of women leaders. These organisations are led by extraordinary women – women who understand how crucially Myanmar needs more women in leadership positions.
Supported by IWDA's Thai Burma Border program, Naw K'nyaw Paw Nimrod is secretary of the Karen Women's Organisation and executive committee member of the Women's League of Burma. In April 2014, Naw K'nyaw Paw made a statement to the United Nations Security Council on conflict-related sexual violence emphasising the importance of women's inclusion in decision-making:
"Since the civilian government took office in 2010, which signalled the start of reform in Myanmar, 104 cases of sexual violence perpetrated by Myanmar's military have been documented by Women's League of Burma and its member organisations…47 cases were brutal gang rapes, several victims were as young as eight years old and 28 of the women were either killed or died of their injuries.
"…There are many factors enabling these crimes, but in Myanmar there is one that I would like to highlight today: Myanmar's current Constitution. The Constitution leaves victims of sexual violence with no means of achieving justice, redress or reparations for these crimes.
"…Currently in Burma, women's access to, and participation in, decision-making bodies and structures ranges from limited to non-existent and there has been next to no inclusion of women at the peace negotiation table.
"We call on the United Nations and donor states to ensure that we, women who bear the burden of war are at the peace table and that our voices are heard."
Addressing the connection between power and safety is critical for achieving real and lasting change. When we support the opportunities and initiatives that see more women in positions of power and leadership, we also begin to see the influence on policy and the emergence of discussions on issues that are a priority to women.
This year, our partners In Myanmar are supporting women's leadership through political empowerment trainings which focus on topics like democracy, human rights, the rule of law, gender equality, policy making and debate. These trainings are timely and urgent. If more women are successful in the 2015 election, their presence in mainstream public decision-making structures will significantly influence Myanmar's law and policy reform. Women will have a louder voice in public life, helping to resource solutions for issues affecting large numbers of women in Myanmar, such as conflict-related sexual and gender-based violence.
Political inclusion for women in Myanmar is not only a human right to be addressed for its own sake – it will have a run-on effect for women's human rights in all areas of life.IWDA is joining with our partners in Myanmar to promote women's leadership in Myanmar at this critical moment in history.
If you agree with us that women's rights are connected, please invest in equality – donate to IWDA before 30 June to reduce your tax this year and make a positive difference for women in Asia and the Pacific.