Women from Myanmar: Building alliances across old divides
February 21, 2015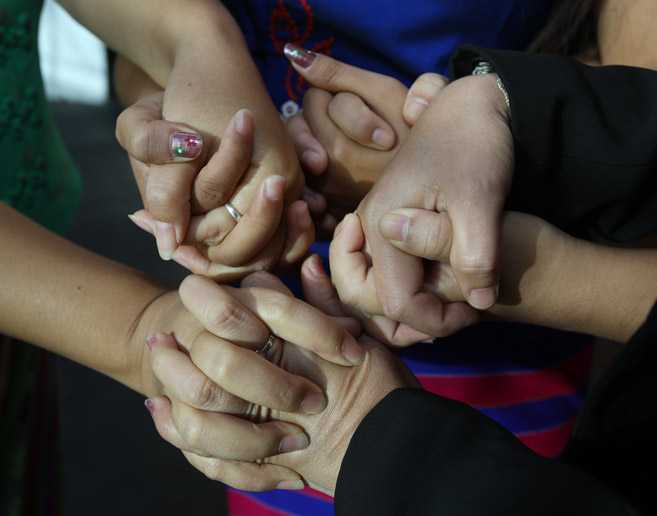 Myanmar/Burma has a history of authoritarian military rule and oppression of various ethnic groups. For many years, IWDA's partner organisations from Myanmar were forced to operate in secretive locations just outside of Myanmar's borders. Now that changes in the government of Myanmar have led to a more open political climate, our partners are able to move some of their work back across the borders.
This change brings hope and promise. It also brings the challenge of collaborating with other women's organisations across ethnic and religious divisions that have been deepened by Myanmar's military rulers.
To support alliance-building between the groups, IWDA and our partner Women's League of Burma held a workshop in July 2014 with representatives from 18 women's organisations. The workshop aimed to build trust, deepen understanding, and strengthen relationships between women's groups and networks on both sides of the border. Through trust building exercises and the sharing of experiences, the women from diverse groups forged bonds and came to see each other in a new light.
Participants built a timeline of their work over the past 15 years. They were sometimes surprised to hear about each other's experiences in that time.
"We can see that all our hearts are the same, regardless of ethnicity, and that we have one thing in common; we all want to help women." (Workshop participant)
One participant told the group she had been working for human rights since 1988 – although at the time she didn't know what 'human rights' were, but just wanted to be free from the military. She was arrested, beaten and tortured many times in prison. When she was released in 2012 she formed a women's network with seven other women ex-political prisoners.
A woman who had been on the border in Thailand for many years was surprised to hear about the difficulties that were experienced within Myanmar. She had deep respect for these women and for all their hard work. Another woman said, "So many times she has felt depressed, but hearing all the stories, and not having faced torture herself, by contrast her issues were 'only small things'."
The group also investigated rumours and how to stop their spread as a way to de-escalate conflict. When one woman commented that "Ethnics hate Burmans," a Kachin woman said it was not really 'hate' but more about what they are seeing and experiencing. She spoke about the Myanmar Army killing her people: "What you see all the time, is Burman government officers using their power."
The workshop provided an important reminder of the value of reflection, nurturing and healing during this transition period in Myanmar. The women agreed on their hopes for the future: to work together for equal rights, to fight all forms of discrimination, and to build a society free from conflicts and violence against women, where all ethnic and nationality groups can live together in harmony.
One woman summed up her thoughts on the workshop: "Coming from different places, we have different ideas, culture and experiences. Before I came to the workshop, I was worried about how we thought about each other, but now we are clear like water."
This program was implemented with the support of the Australian Government.