What does "empower" actually mean?
October 3, 2013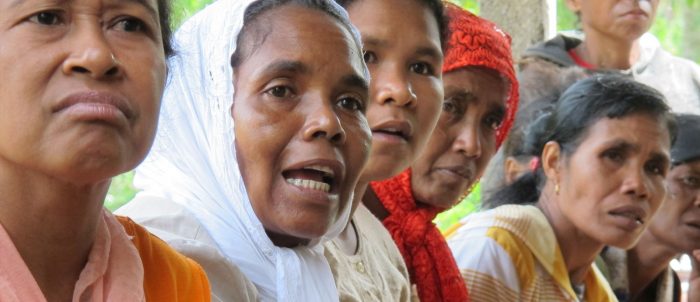 To IWDA, it means "a process by which an individual develops the self-belief and power to act". It also means staying focused on removing barriers, and aggregating women's power and voice.
em•pow•er (em•pou' r)

1. A process by which an individual develops the self-belief and power to act.

2. Involves a sustained focus on removing barriers – formal and informal – and transforming attitudes, relationships, structures and institutions that sustain and reproduce inequalities of power over time.

3. Supports action by those with less power by enabling them to aggregate their power and voice in groups and organisations.
So why do we talk so much about the empowerment of women? Here's one reason: in the Pacific, women make up 5% of elected representatives.
The story is similar at all levels of representation, from elected community roles to national parliaments. In Solomon Islands, women make up just 3.9% of those elected to local government. And when women are not able to get experience in local government in the first place, it can be hard for them to move to other levels: only 4.3% of seats in national parliaments in the Pacific are filled by women. But it's not just the Pacific. In 2009, of 442 heads of villages across Timor-Leste, only 1.5% were women. And here in Australia, women make up just 15% of mayors and 30% of parliamentarians – still far from representative.
Women represent over 40% of the global workforce. They contribute huge amounts of unpaid household and care work that sustains families and communities. But despite this social and economic contribution, women face significant barriers to taking on elected leadership roles. Women's time burden from an unequal share of unpaid work is one barrier, but attitudes matter too. As long as women are not seen as the equals of men, they will struggle to be seen as decision-makers and leaders.
This is important. In the Highlands of Papua New Guinea, close to 100% of women experience violence and/or rape. In Solomon Islands, 80% of women do not have access to formal banking services. It's hard to imagine these statistics would be the same if there were more women in elected positions in our region, influencing policy and expenditure priorities.
Transforming this picture is possible, but sustained change requires a shift in gender inequality and the social norms that reproduce it. Women and men need to believe women are entitled to equal rights and status.
By joining IWDA's regular monthly giving program, Empower, you can join a community of people who are enabling change for women. Ending women's unequal status benefits all of us, but it's not something any of us can do alone.
When your commitment to change combines with that of thousands of other people, the power of the crowd can break down barriers.
From individual commitment to collective action – that's how we can work together to achieve gender equality.