'We are planting seeds so our children will reap the rewards'
February 22, 2013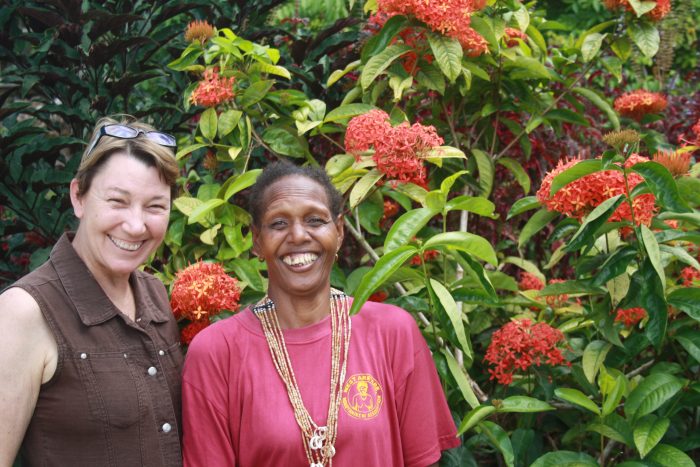 by Jo Brislane
Joyful harmonies spilling out the open doors of a church. A solemn chorus on the breeze, floating through the still, dark night. Children at once laughing and singing as they learn their ABC's and animal sounds. Everywhere you go in Solomon Islands, song and celebration is all around you; and my recent visit to the women of West 'Are'Are Rokotanikeni Association was no exception.
In the indigenous language of West 'Are'Are, an area on the island of Malaita, rokotanikeni means 'a group of women coming to build together'. Having travelled for a day to arrive in the village of Kiu, we were warmly welcomed by just that—a group of women who have been coming together for over eight years to build an organisation that today has over 700 members. They meet regularly to deposit money in savings clubs and develop financial literacy and livelihoods skills. They have also built a space where women feel safe to share expertise, support and stories.
As myself and IWDA Executive Director, Joanna Hayter were welcomed to the meeting, some 50 members of Roko (as they affectionately call it) erupted in jubilant singing. 'Oko hasia rotoniai wa'akau rarisi ma rau rahi,' the women sang in their mother tongue. There is a time coming for the harvest. They continued joyfully; We are planting the seeds so our children will reap the rewards. Paying homage to one of the founders of Rokotanikeni who sadly passed away shortly before our arrival, one of the group's leaders, Joy Wara, acknowledged that the pioneers of WARA had planted the seeds and that today's many members were seeing the rewards.
As Jo and I chatted to leaders from some of the 13 zones of WARA, it was clear that from a small group of women, WARA has not just grown in size, but in the breadth and depth of its leadership. The commitment women showed is testament to the fact that this group is much more than a savings collective.
While providing opportunities for women to save money is vital in this remote area, what struck me on this trip was that it really is true—when you bring women together they do build, not only their individual leadership skills and confidence, but a network of women determined to bring positive change to their communities. Efforts from which future generations will certainly reap the rewards.
Jo Brislane is IWDA Program Manager for Solomon Islands.