IWDA CEO Joanna Hayter inducted to the Victorian Honour Roll of Women
April 13, 2016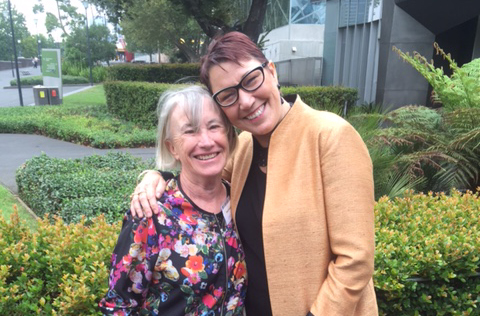 IWDA is pleased to share that our Chief Executive Officer Joanna Hayter has been named to the Victorian Honour Roll of Women. The Honour Roll is an important opportunity to acknowledge and celebrate the extensive and lasting contributions of women in Victoria at a local, national and international level. Joanna is being recognised for outstanding service to international development, gender equality and peace building in a career that spans more than 30 years, 25 countries and four continents.
I was so overwhelmed with joy to be included in the Honour Roll for Women. I felt so grown up! I felt that my journey had been valued and respected. I felt so proud that my beautiful husband and teenage son Declan were with me, and that Declan could watch his Mum in this situation, given how much of my life goes to my work. He told me I was 'cool' but I suspect he was equally as pleased that he had the day off from school to attend the ceremony.
The Victorian Honour Roll for Women is a remarkable testimony to our history. From Carolyn Chisolm, Miles Franklin and Edith Cowan to our feminist trailblazers like Elizabeth Evatt, Elizabeth Reid and Anne Summers.  My sporting heroes are there like Evonne Cawley and Cathy Freeman. My mentor Mavis Robertson is there. My friends and peers are there like Mary Crooks, Dur-E Dara and Leonie Morgan. The founders of IWDA, Wendy Rose and Wendy Poussard are there. And the shakers and stirrers are there too – from Germaine Greer to Christine Nixon. The political pioneers of new spaces for women like Joan Child, Janine Haines, Faye Marles and Nicola Roxon – all there.
So how do I feel to be in this company? I feel humbled. I feel wonderful. I feel simply and plainly – happy. To the beautiful people who nominated me and to the state government for making this event important – thank you. It will be my privilege now to continue to nominate others.

Congratulations Joanna on this well-deserved recognition!