The Fiji Women's Rights Movement: An Interview with Shazia Usman
July 10, 2013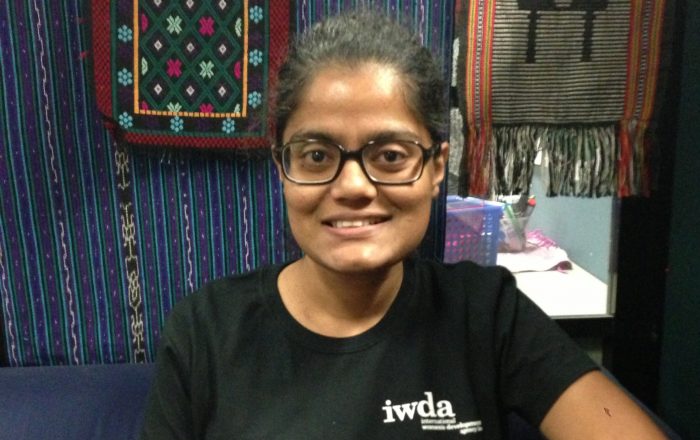 Shazia Usman, Communications Officer for IWDA partner organisation the Fiji Women's Rights Movement (FWRM), visited the IWDA office in April 2013. She spoke to IWDA Digital Communications Manager Kelly Smith-Holbourn about her role and the work of FWRM.
1) Can you explain a little bit about your history with FWRM and the work you do there?
I started interning with FWRM during the 2006 national elections when I was in the final year of my undergrad studies. It was such a great experience working with feminists and seeing how female political candidates campaigned during elections. I then went to join their year-long Emerging Leaders' Forum (ELF), which is leadership training for young women between the ages of 18-25. All graduates become part of the ELF Alumni. In 2010 there was a vacancy for a communications officer at FWRM and having a gender and media background, I applied and was thrilled to get the job!
My work involves designing national women's rights awareness campaigns, drafting press releases, overseeing the production of FWRM's many publications and other resource materials, as well as updating the website, etc.
2) What makes FWRM unique?
It's unique in the sense that it is the only feminist organisation I have worked in. All staff are relatively young and there is always a sense of enthusiasm, creativity, passion and activism in the air.
3) What is the situation with elections in Fiji and what is FWRM working on in this area?
Fiji is working towards elections in 2014. FWRM by itself and as one of the co-conveners of the Fiji Women's Forum, is actively working towards mobilising women in Fiji, to not only vote but to also take part in elections.
Through various grants, FWRM will also be undertaking national civic education campaigns to promote the participation of Indo-Fijian women and young women in Fiji's democratisation process.
4) What has been your favourite part of working at FWRM over the past year?
It would have to be working with like-minded people. I just love the fact that we are collectively working towards eliminating all forms of violence against women in Fiji. I also enjoy coming up with creative concepts and designs to increase the public's interest in gender equality.
For more information about FWRM, please visit their website.