The Fiji election: Partnering to support women's participation
September 22, 2014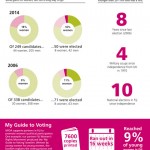 Last Wednesday, 17 September 2014, was a historic day in Fiji. Citizens took to the polls to vote in the country's first attempt at a democratic election since the 2006 military coup. IWDA congratulates the 44 women who ran in the election, as well as the 8 women who were elected to the Fijian Parliament. The results for women candidates were stronger than the previous election eight years ago, but they show that we still have some way to go in promoting equal participation of women in Fiji politics.
The Pacific has the lowest rate of women's political participation in the world. A conservative culture and gender discrimination make it hard for women to participate fully in public life in Fiji. For those under age 29, Wednesday's election was their first experience of voting, and in the lead-up to the election many younger women were not sure how to vote or why it affects them. Promoting equal participation of women in Fiji's voting process has been a key concern of IWDA and our partners such as Fiji Women's Rights Movement. Almost a quarter of Fiji's population were first-time voters in the 2014 election and over half of all voters were under the age of 35.
To build knowledge and confidence among younger women, IWDA supported our long-term partner Fiji Women's Rights Movement to publish 'My Guide to Voting' in July. Written by young women for young women, the booklet explains the voting process and why it matters, walking would-be voters through the decisions involved in casting a vote. 'My Guide to Voting' highlights the importance of young women's voices, emphasising that each voter has the right to decide her own vote and keep it a secret if she chooses.
From July until the election last week, Fiji Women's Rights Movement brought 'My Guide to Voting' to women in communities around Fiji – from the capital, Suva, to the remote Lau Islands. Would-be voters were hungry for information. The 7,600 copies of 'My Guide to Voting' were gone in six weeks.
Surprisingly, the guide was popular not only with younger women, but with women of all ages. "The 'My Guide to Voting' is fun, interactive, and easily digestible, proving very popular to all community members." said Tara Chetty, Program Manager at Fiji Women's Rights Movement.
"A lot of women we've been meeting are really determined to vote. It's the one time when you do really have that sense of participation."
Download our PDF for more facts about women and the 2014 Fiji national election.