Tackling the Woman Tax: Stop ripping off women.
May 28, 2015
Ninety per cent of Cambodia's estimated 700,000 garment workers are women. That's roughly 630,000 women who are being exploited by their employers. They are paying the Woman Tax: they're being ripped off.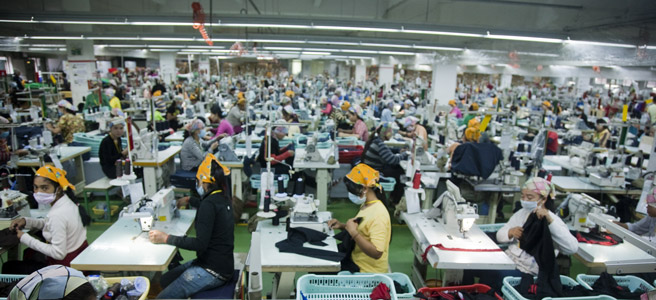 Garment factories earn big money. In 2014, Cambodian garment exports reportedly sat at US$5.7 billion. But amid constant pressure to produce cheaper clothes, many manufacturers are sustaining profits by keeping wages low and production high. Women garment workers are badly underpaid and work in such poor conditions, with such crippling daily production targets, sometimes they don't have time to eat, drink, rest or use the bathroom. Short term contracts offer little job security, making it easy for factories to fire people and avoid paying benefits such as sick leave and maternity pay.
The average woman garment worker's wage at the end of last year was just over US$100 a month. This doesn't stretch very far when basic food costs you $70 and it's $20 to share a small room with four or five other people. Many women also send money home to their families, leaving them with no savings or security at all. The real price of being a woman garment worker is high indeed.
Leng Vannsopharith, who goes by Parith, is a Finance Officer with the Workers Information Centre (WIC) in Phnom Penh, right in the heart of Cambodia's garment factory district. IWDA partner, WIC is run by women and stands up for women garment workers through six easy to reach drop-in centres spread across the city.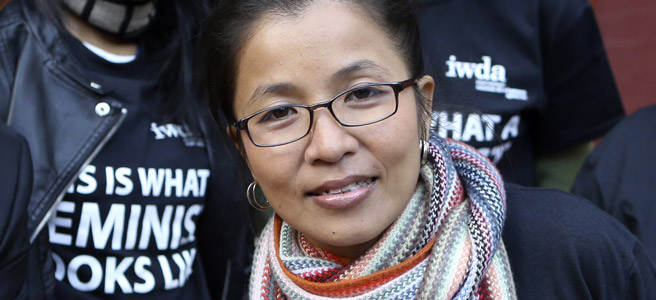 Parith provides education and advice, building women's confidence to act. She also accompanies workers to talk with labour union representatives. In Cambodia, the unions are campaigning to raise the minimum wage to US$177 a month. But typically run by men, they aren't always interested in the concerns of women workers.
"The unions don't engage workers so much…we have different strategies. But our beliefs are the same – women's rights, worker's rights and earning a living wage," says Parith.
Following a year of intense protest, the Cambodian Government announced last November it would raise the minimum wage by 28%. That's a step forward. But it's still not enough to cover basic needs. Women garment workers are still being ripped off. They are still paying the Woman Tax.
Change starts here with Parith. Her work is essential in supporting women garment workers to lead discussions with unions and join the campaign to raise the minimum wage to US$177 a month.
Donate to The Woman Tax appeal to support the work of Parith and women like her around Asia Pacific.