Strategic Plan 2016 – 2021
We're pleased to launch our Strategic Plan 2016-2021, which will set the direction for the next five years of our work. We are embracing global feminist thinking to ensure we both advance and protect the rights of women and girls in all our diversities.
IWDA's 2016-2021 strategy was developed through a six-month process of intelligence gathering. This included internal and external evaluations along with national, regional and international consultations involving our international partners, supporters, government, peers and colleagues.
Download a copy of the Strategic Plan 2016-2021 here.
Our previous five year strategic plan set strong growth and thematic targets which we surpassed in both quantity and quality. Looking forward, the environment in which we'll be working is characterised by substantial change in the political, economic, social, technological and environmental spheres.
For the next five years, we'll be guided by the following goals: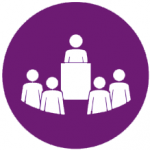 GOAL 1 – PROMOTE WOMEN'S LEADERSHIP AND PARTICIPATION
Diverse women have an equal say in, and power over, the decisions that affect their lives in their homes, communities and countries, as well as in regional and international spaces. Diverse women have full and effective participation in leadership at all levels of decision-making in political, economic and social life.