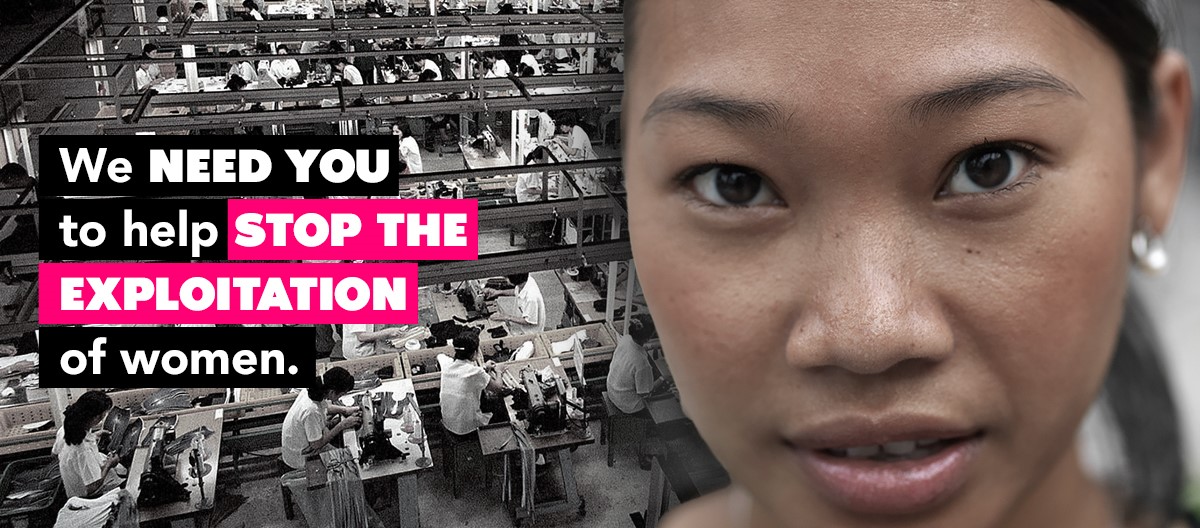 The Exploitation of Women MUST END.
With your support, IWDA can work with organisations that protect, support and empower women to say 'enough is enough' and break the cycle of exploitation.

IWDA's goal is to create a world where women and girls are equal. But to achieve gender equality we first need to stamp out the rampant abuse, violence, disrespect and exploitation of women.
Women around the world are exploited at work. In Cambodia's garment industry that produces clothing sold in the Australian market – it is particularly bad. Women's basic human rights are routinely denied.
The garment workers, who are mostly women, are expected to work long hours, in terrible conditions for unfair pay. This is modern slavery.
This is EXPLOITATION, and we need you to step up and help END IT!
Please give generously. We must protect women's rights at work!

Support IWDA to end the exploitation of women!
In Cambodia's capital Phnom Penh, the unemployment rate for women is DOUBLE that of men. So, when women like Sophea* are able to find work, 70% of them are forced to accept jobs that are low-paying, dangerous and unregulated. This is how women find themselves working in these sweatshops.
This is where IWDA partner, United Sisterhood Alliance, comes in.
They run 5 drop-in centres in Phnom Penh. This is where Sophea and her colleagues get educated on their rights at work, fair pay and training. With support from the drop-in centres, Sophea now has the confidence to stand up for herself.
Too many Cambodian women are being exploited and it MUST END!

The work IWDA and United Sisterhood Alliance are doing is powerful, but we can't do it without you.
You can help us END THE EXPLOITATION OF WOMEN and GIRLS. 
Donate today to advance women's rights in Cambodia.  
*Names and images have been changed
Your are donating $xx to IWDA that will be deducted xx.
Can help more women like Sophea access English classes
Can offer safe places for women – places where they are free to be themselves and share stories
Can help provide access to labour law education and legal assistance supporting women like Sophea to understand their rights at work
OR ENTER AN AMOUNT