Solomon Islands women are investing in equality
May 16, 2013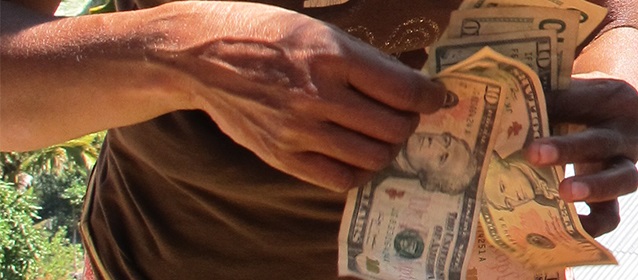 By Jo Brislane
Gender inequality is estimated to cost Asia and the Pacific $47 billion a year. In the face of large and compelling figures like these, it's hard to believe that 50 cents can make a difference. But in Solomon Islands, women's savings clubs are showing that even small amounts of money can make a big impact on women's lives.
Solomon Islands women are hardworking, resourceful and motivated. It is common for rural women to generate income for themselves and their families by tending produce and selling it at the market, cooking and handicraft. However, lack of access to essential financial services, like credit, savings, insurance and money transfers, make building up lump sums of money for emergencies, investment, education and health1 difficult. Women are particularly affected by this due to exclusion from decision making (both within the family and the wider community), limited social mobility (due to threat of violence, traditional gender roles and limited access to cash), and the burden of responsibilities in and around the home.
In response to this, IWDA, working in partnership with West 'Are'Are Rokotanikeni Association (WARA) and Live & Learn Environmental Education Solomon Islands, are currently supporting over 800 women to participate in savings clubs. The savings clubs supported by IWDA are small informal 'home banks', led and managed by women, for women in rural communities. Once a club is started women meet regularly to deposit money and share expertise, support and stories. Anna Luis, a Savings Club Secretary in Boletei, Isabel Province said recently, "Now 50 cents can grow to be big money, the women (members) see that! Before they thought only large sums of money were worth saving but now even small amounts, they come and save it so it will grow."
Savings clubs give women a safe place to deposit income so that they can access it when it is needed most, often to pay school fees or meet family medical expenses. As one savings club member in Boltei, Isabel Province noted, "When someone needs money, even if they need it quickly, we can loan them the money…this helps us and it's different from before."
Women also contribute to a pool of funds which are then used to make small loans to group members to support income generation activities, like starting or supporting small businesses. For example, the 40 women members of the Ghoveo Savings Club in Isabel Province recently decided to use their collective savings to build a fisheries hut. At their inaugural sale, the women worked together to purchase, scale and on-sell fish at a profit and the funds they earned were reinvested into the Savings Club so that members could access loans to support income generating activities.
Women usually manage the daily financial processes for their families and evidence shows that as when women are provided with access to financial services and financial literacy training, there is a positive impact on all household members.
Women-led savings club are driving lasting social change because they can provide a safe space in which women can gain new skills, increase their confidence and lead. As the groups that IWDA supports grow, women are taking up opportunities to practice leadership skills and participate meaningfully in decision making about how to use their individual and collective savings. It is clear that women's leadership and confidence is being nurtured and in many communities women's contribution and leadership is being increasingly recognised, valued and respected by men and community leaders.
Jo Brislane is IWDA's Program Manager for Solomon Islands.
If you agree with us that women's business is everyone's business, please invest in equality and support the economic empowerment of women in our region.
---
1. McCaffrey, Mike (Pacific Financial Inclusion Programme), Developing a National Action Plan on Financial Inclusion in Solomon Islands, p.1