Sold into trafficking by someone she trusted
February 22, 2017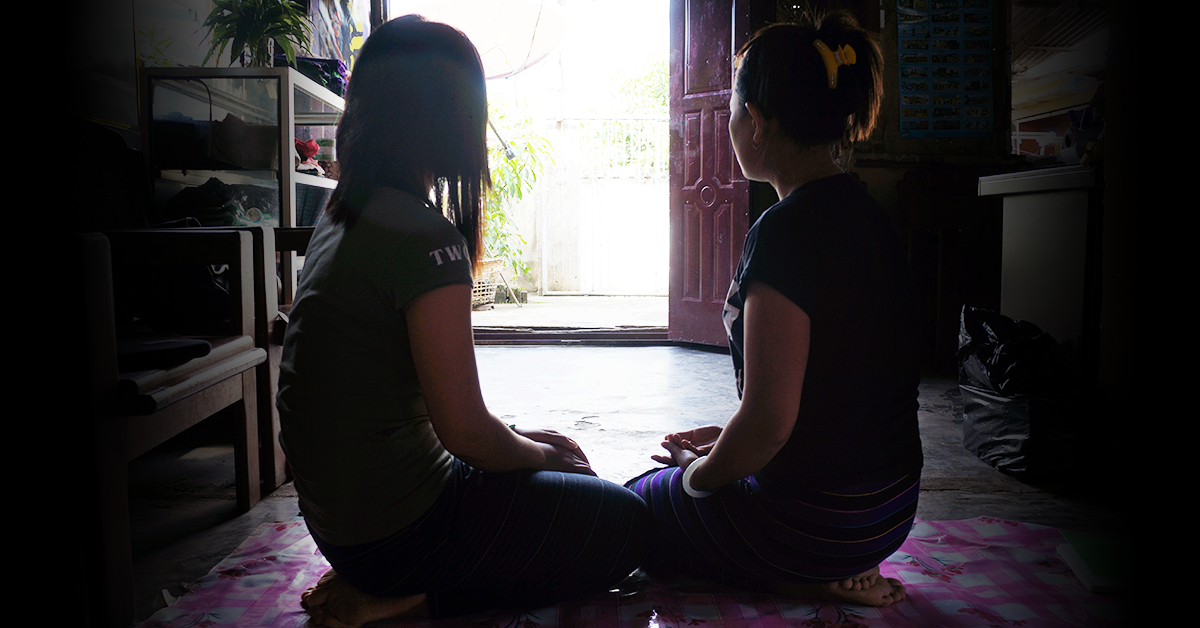 Cho Cho* was pulled out of school early. In spite of her wanting a great education, her family was struggling and she was obligated to get a job that would keep food on the table, support her ageing parents to be safe from gruelling labour, and keep them all dry during the heavy seasonal rains.
Cho Cho tried to get a job in the town, but there were simply not enough jobs. She was reaching desperation before an extended family member told her about a great job opportunity on the border of China.
All seemed well at first. Cho Cho found a job working in a noodle shop, and she'd picked up enough of the local language to get by. But after only a month, her employer gave her a large sum of money to send back home.
Initially, Cho Cho refused the money, but to no avail. She was forced into a car with the woman who had originally promised her work, and the longer they travelled, the more her unease grew until she fell asleep. When she woke up, everything around her was foreign. The people spoke a different dialect and she had no idea where she was.
The woman took her to the house of her 'friends', and promised she'd take her to her new workplace in the morning. She woke up alone – the woman was long gone.  Days later, she was eventually she was told by the 'friends' she'd met that she's been sold to them to marry their son.
Her stomach dropped. She'd been trafficked, and was bound to a man who terrified her. Every single day, Cho Cho was locked in the house that had become her prison with a man she didn't know and his family.
Every single night, he tried to rape her, as she desperately fought him off. The family treated her as a slave, expecting her to perform the 'wifely' duties she had never consented to, like cooking, cleaning and abiding their every command.
This was Cho Cho's life for three months. It sickened her to play nice with her abuser, but eventually, he let her use his phone to tell her family she was safe. She reached to a friend in China, who told her about Ta'ang Women's Organisation (T.W.O.), an IWDA partner organisation based on the border of Myanmar who assist women in her situation.
Sneaking access to her abuser's phone when she could, she sent T.W.O. maps, photos and details of her location. Terrified for her life if discovered, Cho Cho deleted every message, call log and image. For weeks, she was a nervous wreck, petrified of being found out, but determined to fight for her freedom.
Meanwhile, T.W.O. worked tirelessly to try and bring Cho Cho home. They contacted police in the Chinese village, but the authorities wouldn't pay the costs to get her home – all they could do was charge her with evading migrant law, and put her in jail for 45 days.
Imagine being a teenage girl on your own in a foreign jail as a result of being trafficked, sold, and held against your will.
T.W.O. ended up raising enough funds to pay for Cho Cho's safe return, and after months, she was eventually home in Myanmar. The man she was sold to was finally put in jail, although Cho Cho suspects he may have already bribed his way to freedom by now. The woman who sold her is still hasn't been found and punished, but T.W.O. haven't stopped looking.
T.W.O. provided her with counselling, food, and shelter, until she felt ready to leave. But she's not ready to go back to her home town. Cho Cho is obviously relieved to have escaped. But when she shuts her eyes, the memories or her traumatic ordeal remain. Moving on will take time.
Today, Cho Cho works in the city T.W.O. is based in, and maintains a close relationship with the organisation. She's attended some of their rights-based training programs, and plans to attend their women's empowerment training later this year.
Cho Cho wants to share her story to show that no woman is immune to trafficking. She's educated, bright and world-wary. But she was tricked by someone she knew. If it wasn't for Cho Cho's friend having heard T.W.O., Cho Cho may not have safely returned home.
According to T.W.O. secretary Lway Moe Kham, an estimated 98,000 people in northern Myanmar are vulnerable to human trafficking. She tells us, "Of the dangers that await trafficked women and girls, sexual abuse and domestic servitude by way of forced marriage are among the most prevalent."
T.W.O.'s work is critical in supporting women to escape trafficking. But to be effective, T.W.O. needs to raise it awareness in the broader community about the risks of trafficking – to reduce the prevalence of trafficking, support women trying to escape their captives and bring criminals to justice.
T.W.O is a remarkable organisation. They confront the urgent and the seemingly impossible task of tackling the commodification of women and girls. As International Women's Day approaches, it's a timely reminder that we all have a role to play in protecting and upholding human rights.
That's why we invite you to be part of the movement standing up for women's rights. If you're in a position to donate, your generous gift will go towards supporting women like Cho Cho to break free of modern day slavery.
If you can't spare the money right now, there are still several things you can do to support organisations like T.W.O. that don't involve donating.
*Name changed