Progress of the World's Women 2015-16: How can we transform the economy?
May 1, 2015
UN Women's flagship report Progress of the World's Women 2015-2016: Transforming Economies, Realising Rights was launched this week. It's the latest of UN Women's evidence-driven series of reports providing important insight into the experience of women. This edition brings together evidence about how social and economic systems work together to disadvantage women – and what needs to change.
The report asks, "At a time when women and girls have almost equal opportunities when it comes to education, why are only half of women of working age in the labour force globally, and why do women still earn much less than men?"
It's a good question. But the fact is, many more than half of women are working. They are doing unpaid, informal work, not counted in the formal economy. In developing regions, more than 75% of the work women do is informal and insecure. Women's over-representation in informal work is part of why they earn much less than men – on average 24% less globally. In Australia the gap is 18.2% and it's actually rising. Over the course of their lives women around the world will earn on average just half as much as men.
And yet with paid and unpaid labour combined, women in most countries work longer hours than men, doing almost two and a half times as much unpaid and domestic work. Despite women's increasing education levels, gender stereotypes continue to impact the kinds of work women do and how they are treated. Hidden structural factors make male working patterns the norm. Household and care work is treated as something for individuals – still mostly women – to sort out.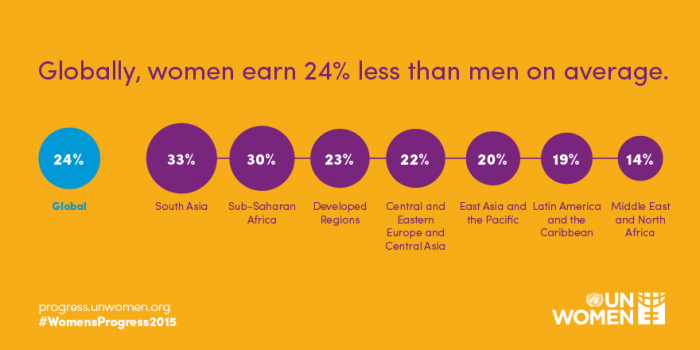 So how can we achieve an economy that works for women? Solutions need to be truly transformative. As Progress of the World's Women states, "Rather than incorporating more women into increasingly precarious and unrewarding forms of employment, labour markets must be transformed in ways that work for both women and men and benefit society at large." The report urges a focus on three priorities: decent work for women, gender responsive social policies, and rights-based macroeconomic policies.
Formal employment opportunities for women are not enough. We need to change systems to see true economic equality.