"Politics is a lonely walk" – Reflecting on peace, security and equality with the women of Bougainville Women's Federation
November 5, 2015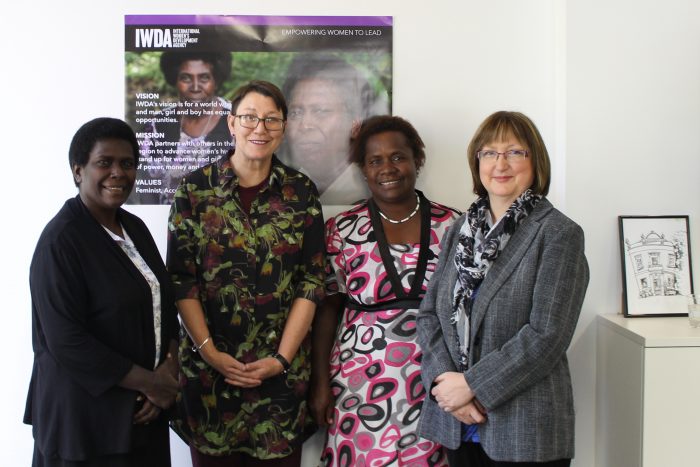 Peace builder. Politician. Advocate for women's rights. Whether working to reconcile opposing factions in the midst of civil war, giving women a voice through her various Ministerships in the Autonomous Region of Bougainville Government, or empowering women's political participation as President of Bougainville Women's Federation, Rose Pihei has played an instrumental role in changing the landscape for women in the Autonomous Region of Bougainville.
Last Tuesday, IWDA hosted Rose along with her colleague Barbara Tanne, the Executive Director of Bougainville Women's Federation. Rose and Barbara were en route to Canberra to discuss the Global Goals and gender equality at a workshop bringing together civil society organisations with the Department of Foreign Affairs and Trade, the Australian Council for International Development and the Australian Government Office for Women. During their visit to Melbourne, the two women had the opportunity to share their experiences in both civil and political leadership in Bougainville with IWDA staff and board members.
Women's organisations have played an essential role in ending the conflict in Bougainville, and women like Rose and Barbara will continue to play a part in societal and cultural change in their region.
Rose has seen first-hand the positive role that women have played in Bougainville. After working directly to end the civil war that continued to claim lives despite the end of formal conflict, Rose became a founding member of Bougainville Women's Federation. Women played a powerful role in ending the conflict, and Rose and the other founding members saw the potential in women having more concrete and official positions where they could have input and influence into how their region was run.
Rose chose to take a less active role in Bougainville Women's Federation in 2010 and pursue a career in politics. In her five years in the Autonomous Region of Bougainville Government, Rose held three Ministerial positions: Minister for Community Development and Women's Affairs, Minister for Arts, Culture and Tourism, and Minister for Health.
While she was happy to provide a voice for women in a government made up almost entirely of men, she felt stifled by the constant meetings and pressure to never say anything too controversial. When she eventually left the ministry, Rose felt a sense of relief to return to her true passion: helping women on the ground through her work with Bougainville Women's Federation.
"Politics is a lonely walk," Rose said. "Now I can say what I want to say."
With an understanding of both the civil and political machinations that affect women's rights in Bougainville, Rose and Barbara know that lasting change must come from educating the next generation of women to advocate for their rights.
Bougainville Women's Federation advocates for the priorities and needs of women by influencing the development of legislation, policies and programs across the Autonomous Region of Bougainville, and has been a partner of IWDA since 2013. The organisation, supported by IWDA, recently provided leadership training in the lead-up to the 2015 election that saw four women elected (one into an open seat).
In the lead-up to a 2019 referendum on Bougainville's independence, it is more important than ever to build networks at a local and political level to get women excited about their role in Bougainville's future. At a junction of immense change, it is imperative that women know their rights and have a voice on issues that will directly affect them in their communities.
"We need to be specific and strategic," Rose said.
IWDA recently held a workshop for Pacific partner organisations in Cairns, which saw the transfer of knowledge and inter-organisational connections formed. Rose hopes that by building networks among sister organisations in the Pacific, Bougainville Women's Federation can educate, empower and advocate for the women of Bougainville to have a fair say in the years to come.