Our Letters to the Movement
Celebrating International Day of the Girl Child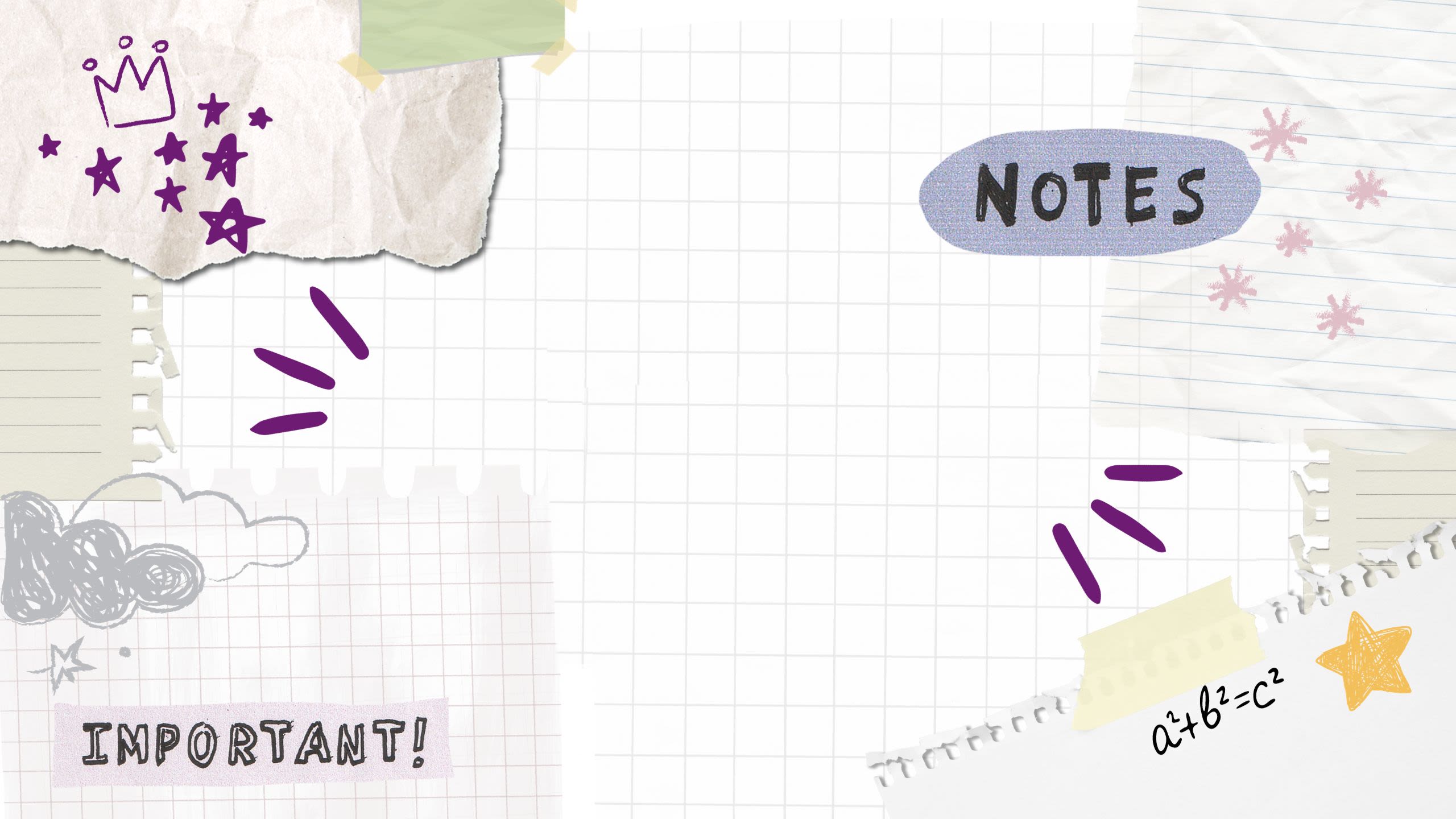 This year marks the 11th anniversary of the International Day of the Girl Child – a day to recognise girls' rights and the unique challenges they face around the world.
Eleven years on from the day's first celebration and the challenges that today's young girls face have only heightened. From closing civil spaces to a growing backlash to feminism, we are currently witnessing the curtailing and rolling back of rights for women and girls globally. At the current rate of progress, it could take between 131 to 300 years to achieve gender equality. At best, that is four more generations of young girls coming up against gender discrimination. Four more generations of girls facing restrictions on what they can or can't do with their lives – their bodies – simply because they are girls.
But in the face of adversity, young girls are fighting back.
They are fronting climate movements, fighting for their right to education and challenging limiting gendered norms in their communities. They are showing up every day and proving just how resourceful, resilient and creative they truly are.
And every day, we are inspired by them.
That's why this International Day of the Girl Child, we are sharing our love letters to them as the current and future leaders of our movement. From the women that inspired us as young girls to personal messages to this generation of young leaders and changemakers, we are celebrating girlhood and the power of girls across our communities to drive change.
Here are our letters to them.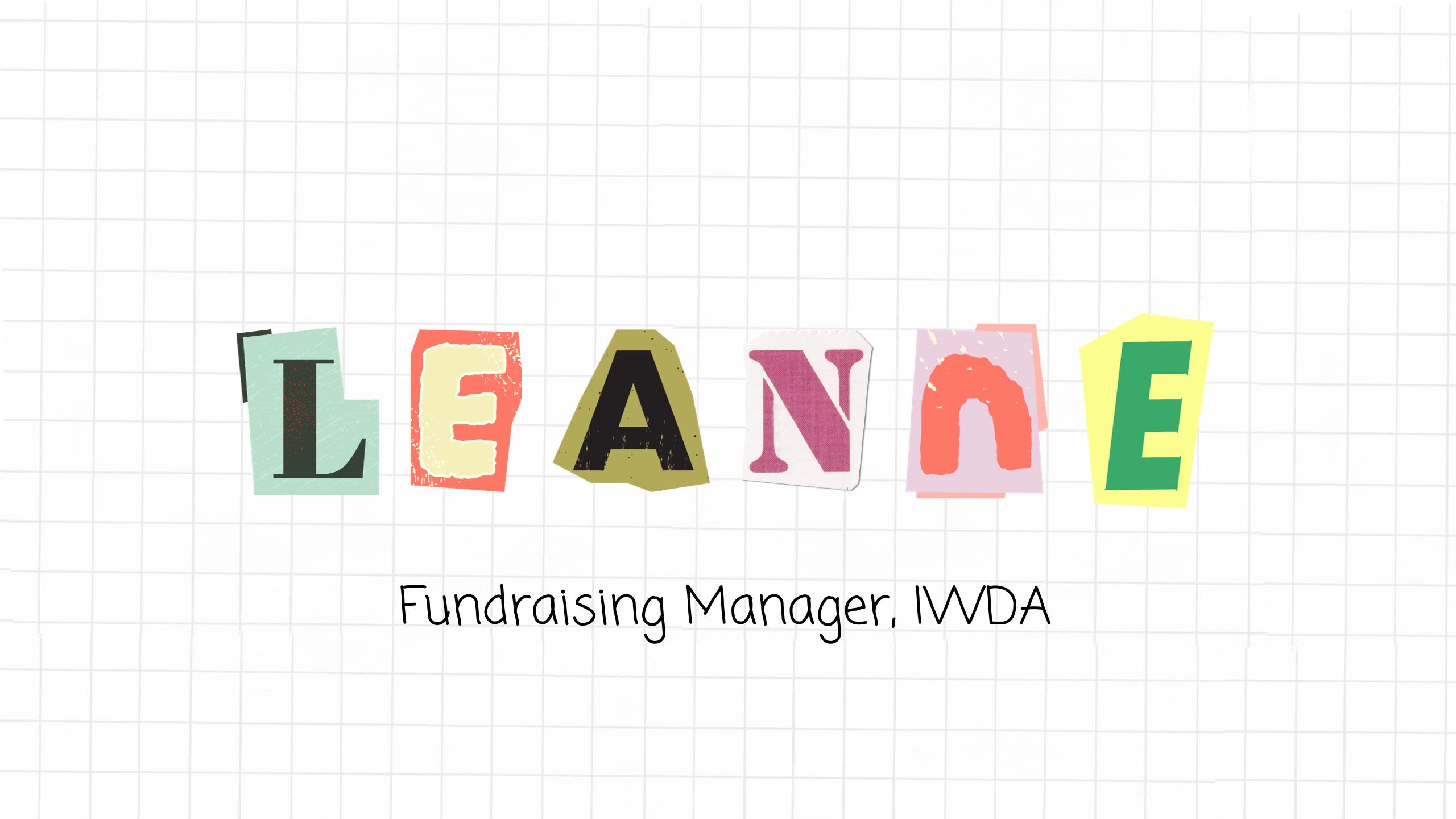 Leanne Rayner is the Fundraising Manager at the International Women's Development Agency. In her letter, she shares the story of an incredible feminist who shaped her as a young girl - her mother, Sheila Allen.
Dear readers,
Once upon a time, I grew up with the most extraordinary mother—Sheila Allen. She had a spirit that soared higher than the tallest mountains, and a heart that was as vast as the ocean.
My mam was always the first to stand up to anyone who dared to cross the line of justice. She showed me how to be fearless, even when faced with the darkest of storms. She was the one who taught me that it was okay to be vulnerable, to be afraid, but to fight for what was right anyway.
You see, she wasn't just a remarkable mother; she was also a fierce advocate for women's rights. Only that's not what we called it. She was just my mam doing her thing.
She had suffered the injustice that women face in many ways. Then came the blatant disparity in wages of a role she had worked in for 18 years. She'd had enough.
She embarked on a journey, a crusade, to make things right. I didn't fully understand why she was willing to give everything for the case of Sheila Allen et al. I didn't even realise it was my fight to understand.
Her decade long journey took her all the way to the European Court of Human Rights in 2008. It was a landmark victory not just for her but for countless women whose voices had gone unheard. Many thousands of women followed with their claims across the UK and Europe. They still do today.
Through those years, she persevered when others gave up. She believed that change was possible, that justice could win the day, and that women deserved fair pay for their hard work. She was like that, my mam—determined, brave and unwavering.
In 2018, my mother, Sheila Allen, left this world. Life had taken its toll. She wanted to make it to 64 so she could sing that Beatles song, and thank goodness she did (she didn't lose her hair and I'll always send her a Valentine!)
My mother taught me the most valuable lessons of all—to be brave, to stand up for what is right, and to never give up on the fight for justice no matter what the odds. Sheila Allen, she was my mam and a feminist hero in every sense of the word.
Thank you for reading her story.
With love and gratitude,
Leanne Rayner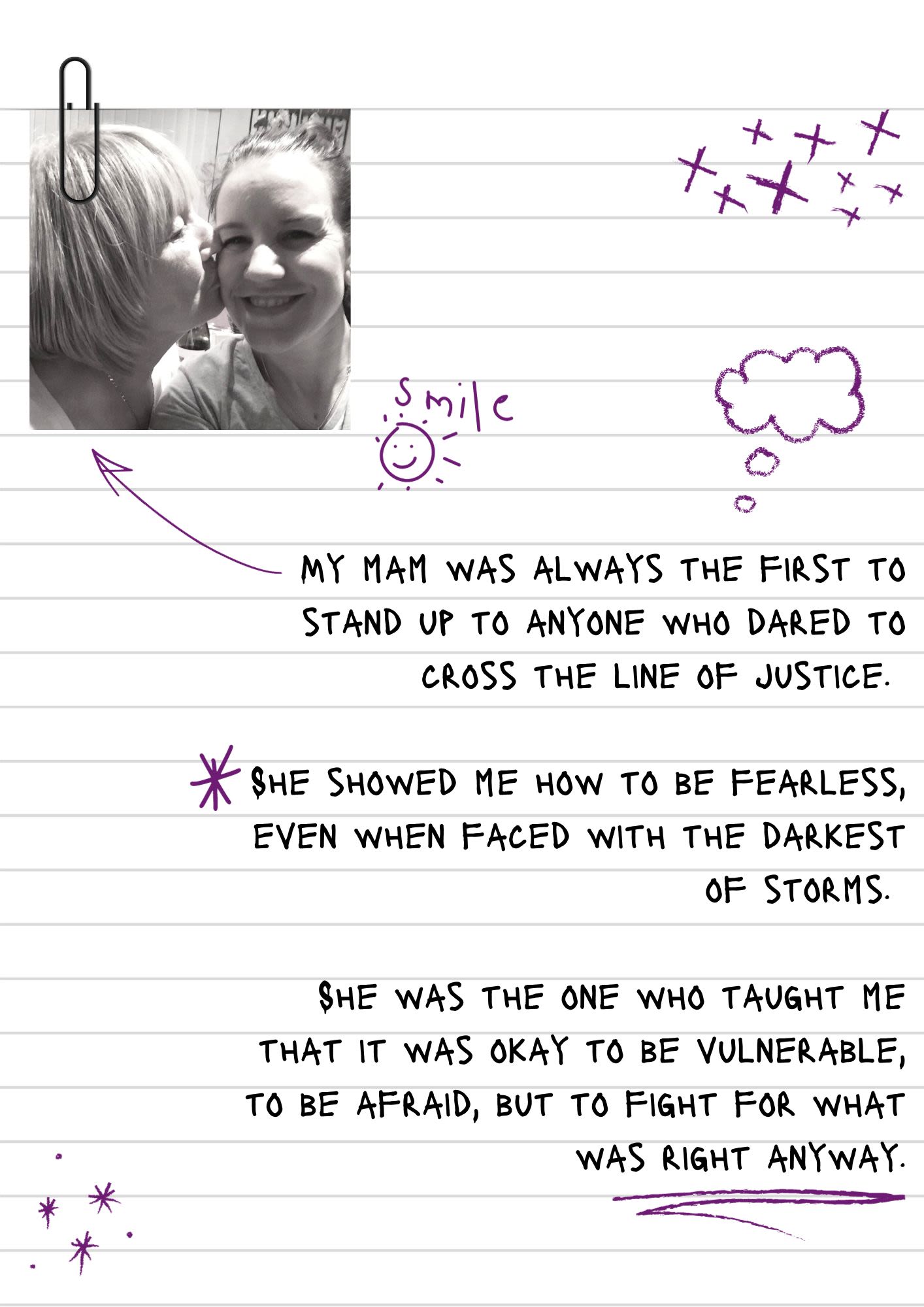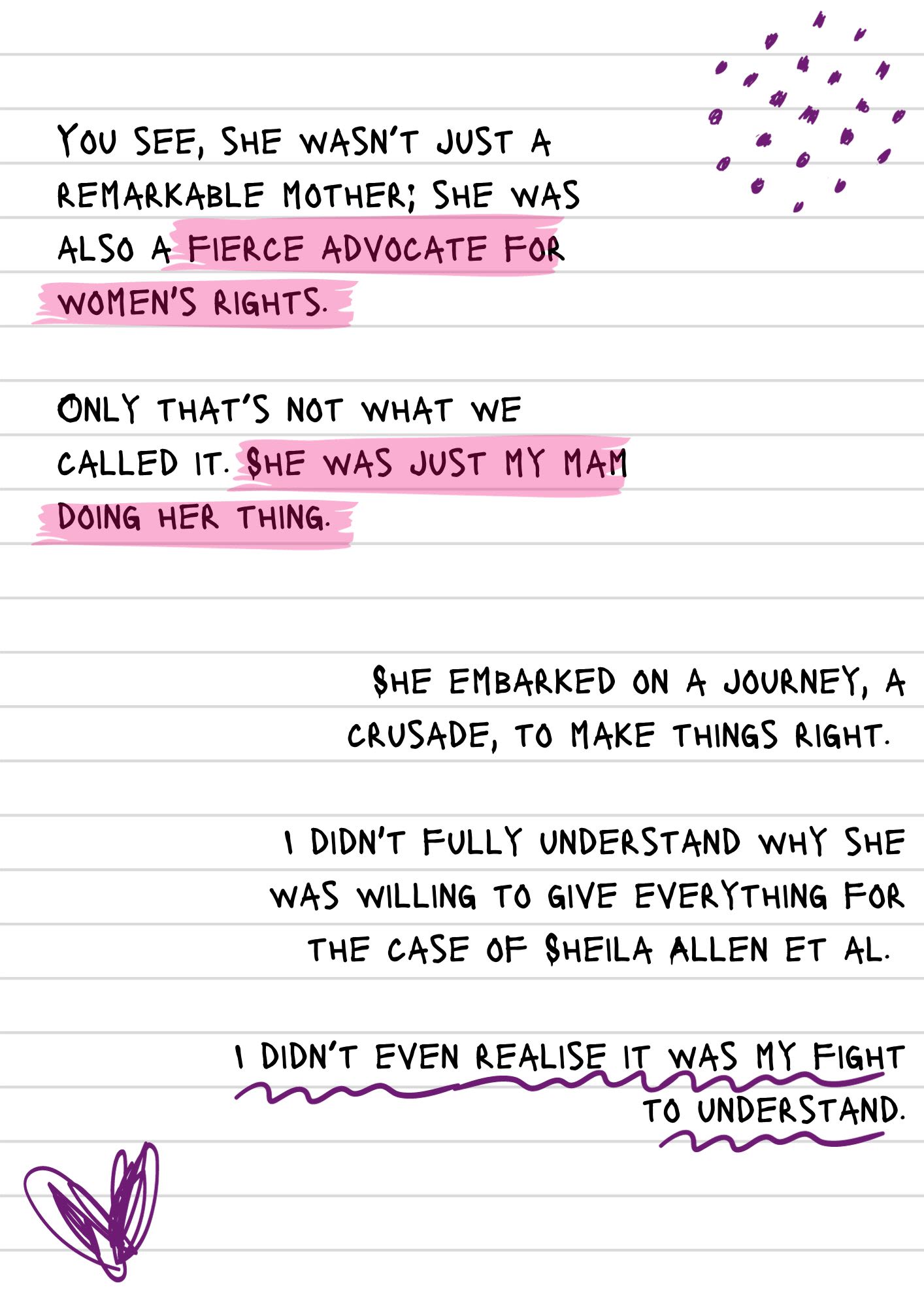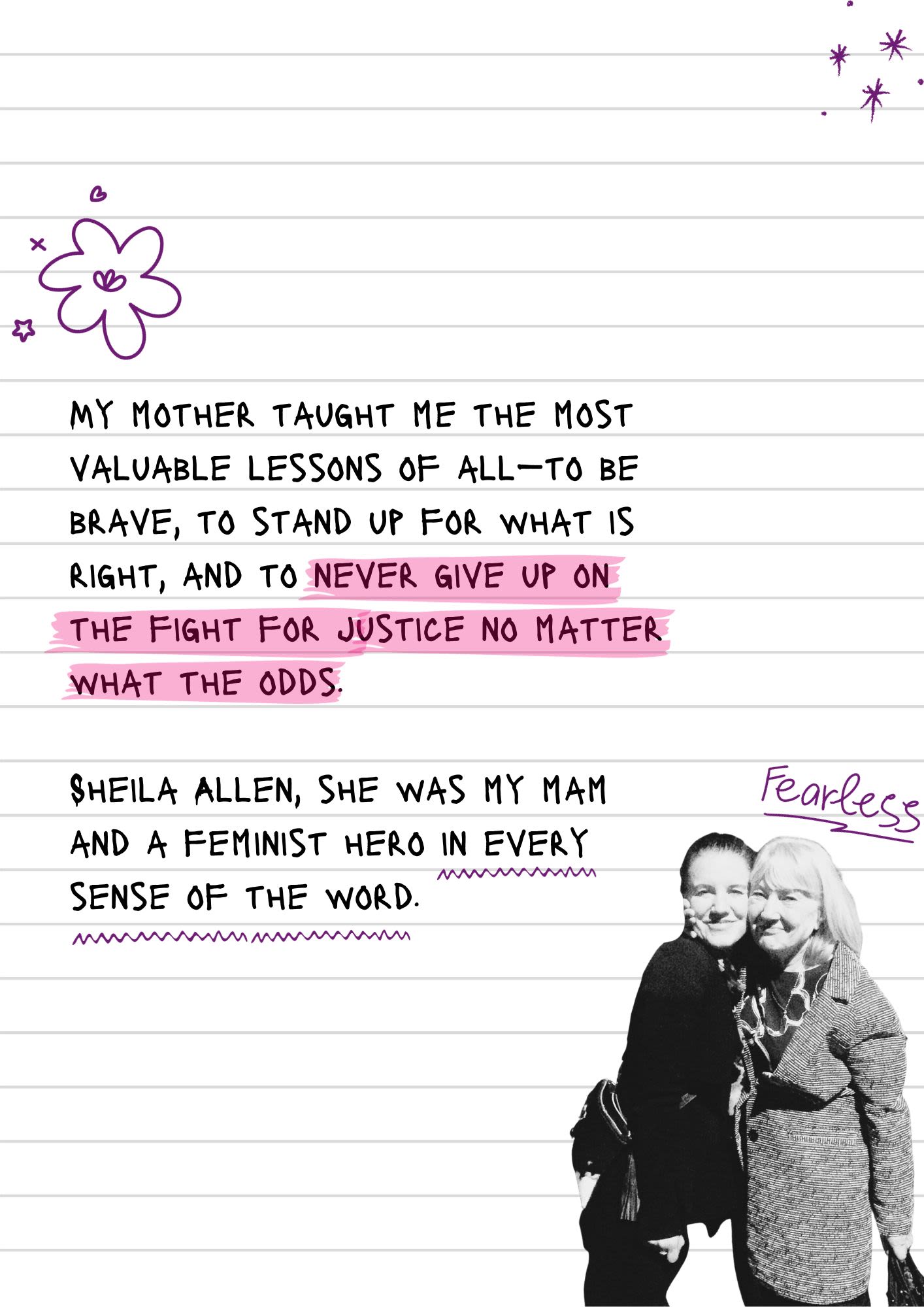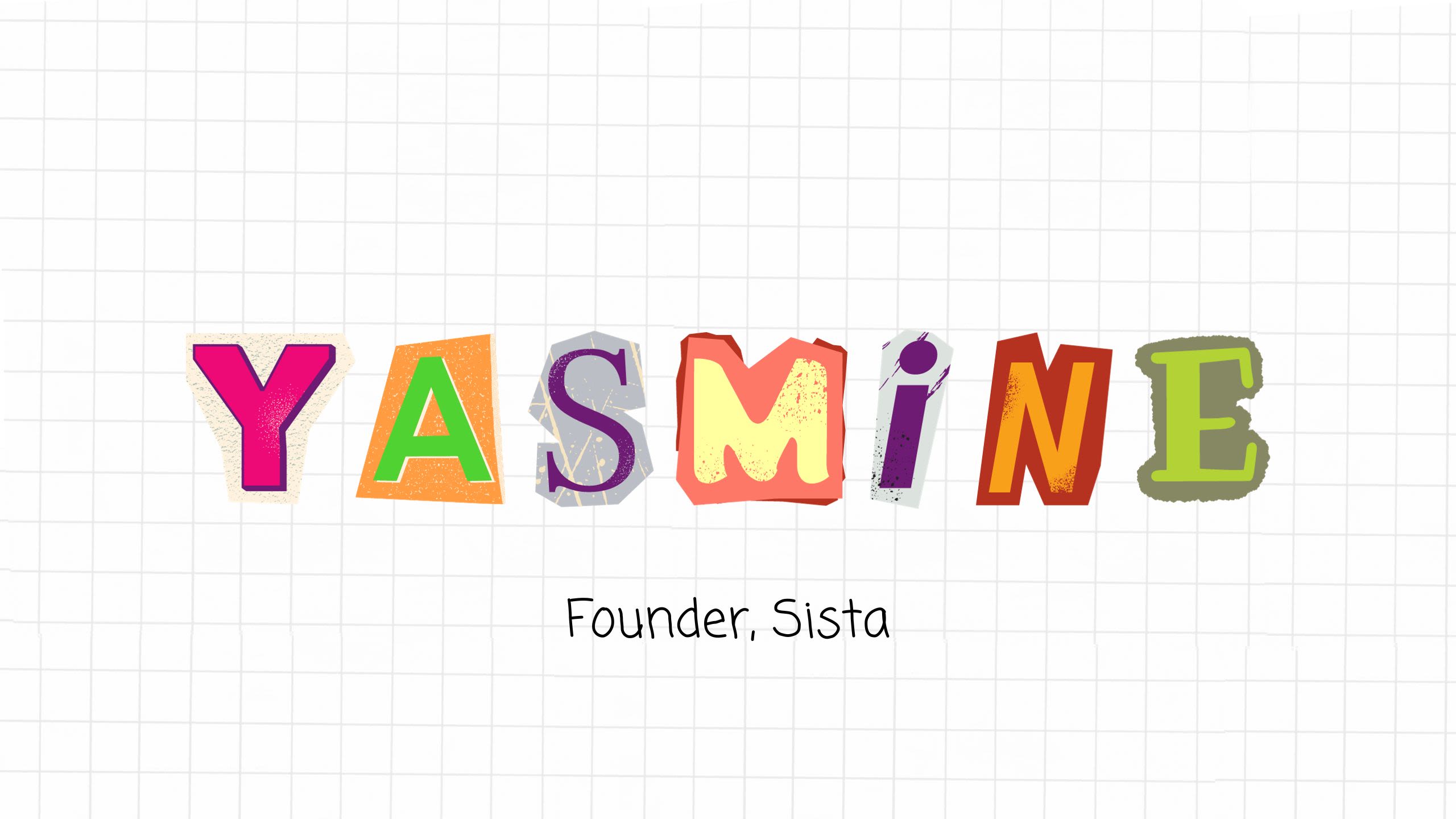 Yasmine Bjornum is the founder and CEO of Sista - a feminist organisation dedicated to using arts, media and communications to empower women and girls in Vanuatu. In a letter penned to her younger self, she shares with us her journey to becoming the women she is today, alongside her hopes for this generation of young girls.
Dear wild one,
I write this letter thinking of the turmoil of your teenage years. You are 15 and not only are you dealing with raging hormones, cystic acne and being overweight – you are also dealing with misunderstood grief from the loss of your brother a few years back and your parents going through a divorce. At the same time – you are far away from home, living in a boarding school in Australia, and figuring out to handle these emotions all by yourself in a body you cannot stand.
But I have good news – you are going to be your own hero! You come across this quote while at school and the energy you used to self-loath will transmute into a commitment of regularly practicing positive self affirmations, movement and journaling.
"Your beliefs become your thoughts,
Your thoughts become your words,
Your words become your actions,
Your actions become your habits,
Your habits become your values,
Your values become your destiny."
For some reason, this quote is the key that unlocks the door to your journey of personal empowerment. You start to reflect on your beliefs, thoughts, words and actions, and how this shapes your habits, values and destiny. You vow not to stand in your own way and start to stand up for yourself – and others too. You learn to say 'NO' and not feel guilty about it. You begin to exercise and eat healthy, and for the right reasons – because you FEEL good when you do, not because of societal pressure to LOOK good. You begin to realise that failure is not the opposite of success – it is part of it, and you either win or learn.
This life is YOURS and you need to be on your own side. Being an empowered woman does not need to translate to being a CEO of a big company or standing up in parliament – it is being somebody who says, "This is my authentic self, and I look after myself. I assert my wants and needs, and actively make decisions about my life. To give thanks to God for this miracle of life, I embrace my talents and bring them to light instead of hiding them in the dark."
I hope every young girl has the courage to embrace the 'thing' that makes them light up inside – too often as women we make ourselves small, dilute our needs and hide our desires to please everybody else. Take up space wild one, because when you do – you will end up creating space for others too.
Love begets love.
#WhatYouFocusOnGrows #ThereIsSpaceForEverybody #AbundanceForAll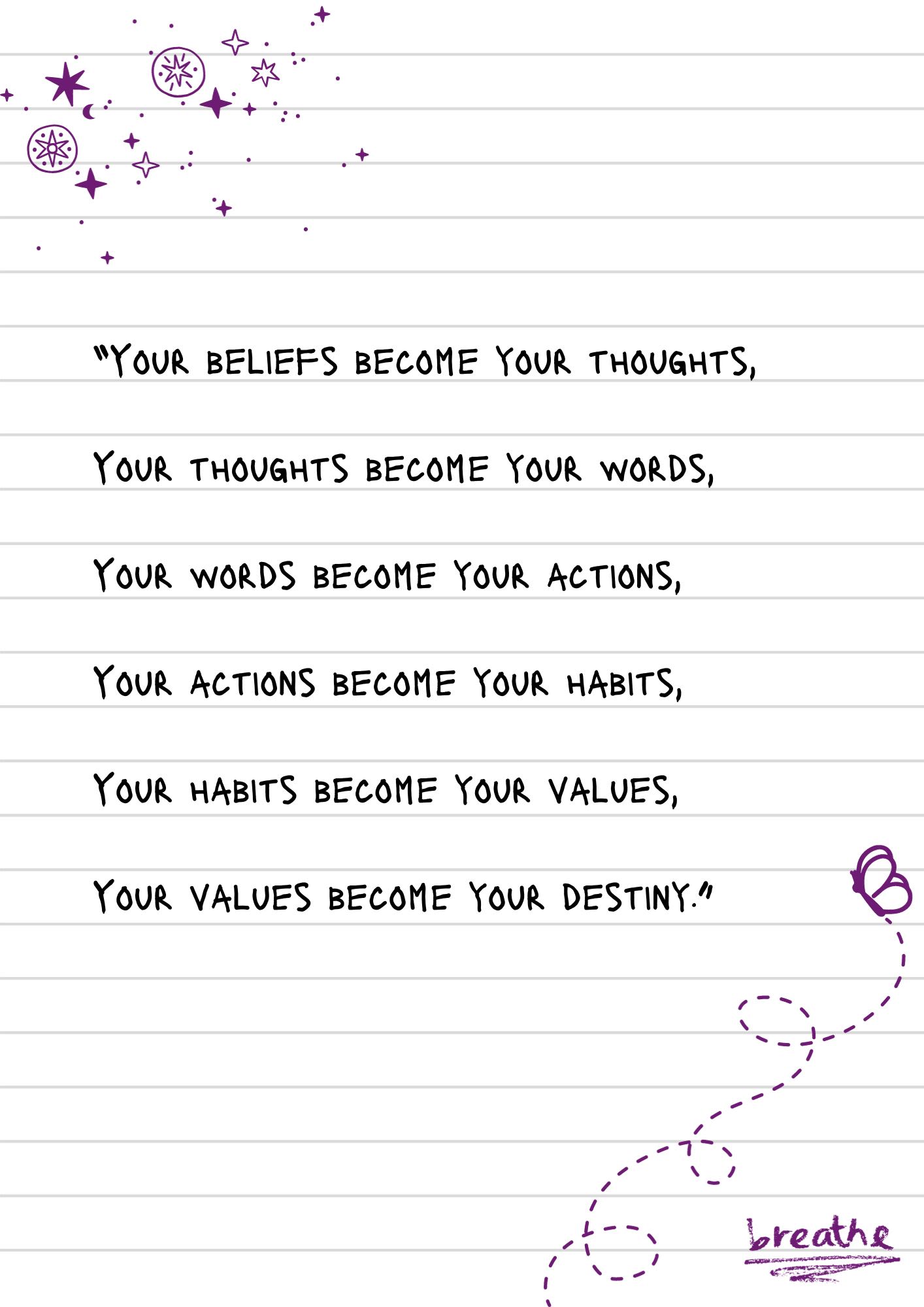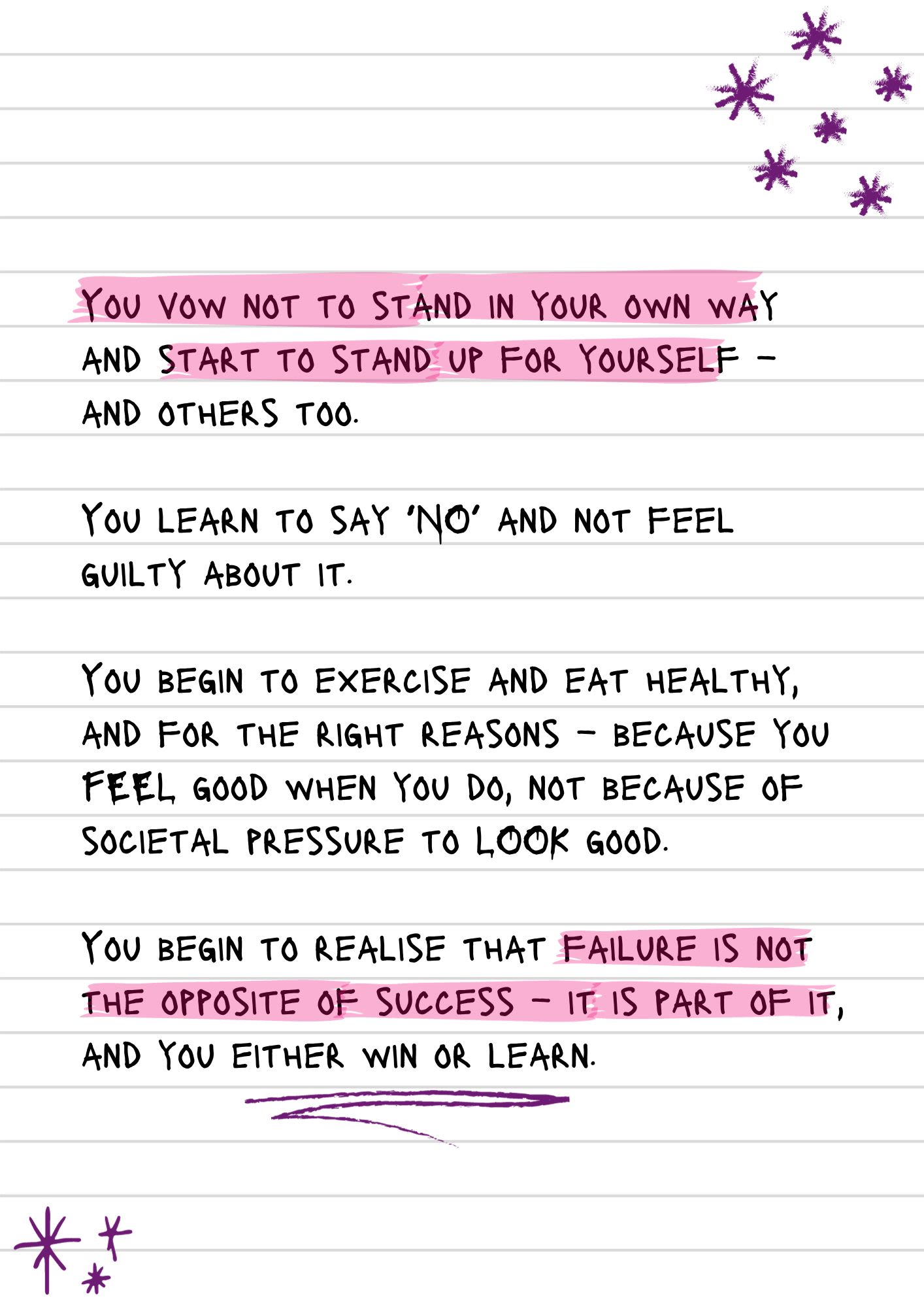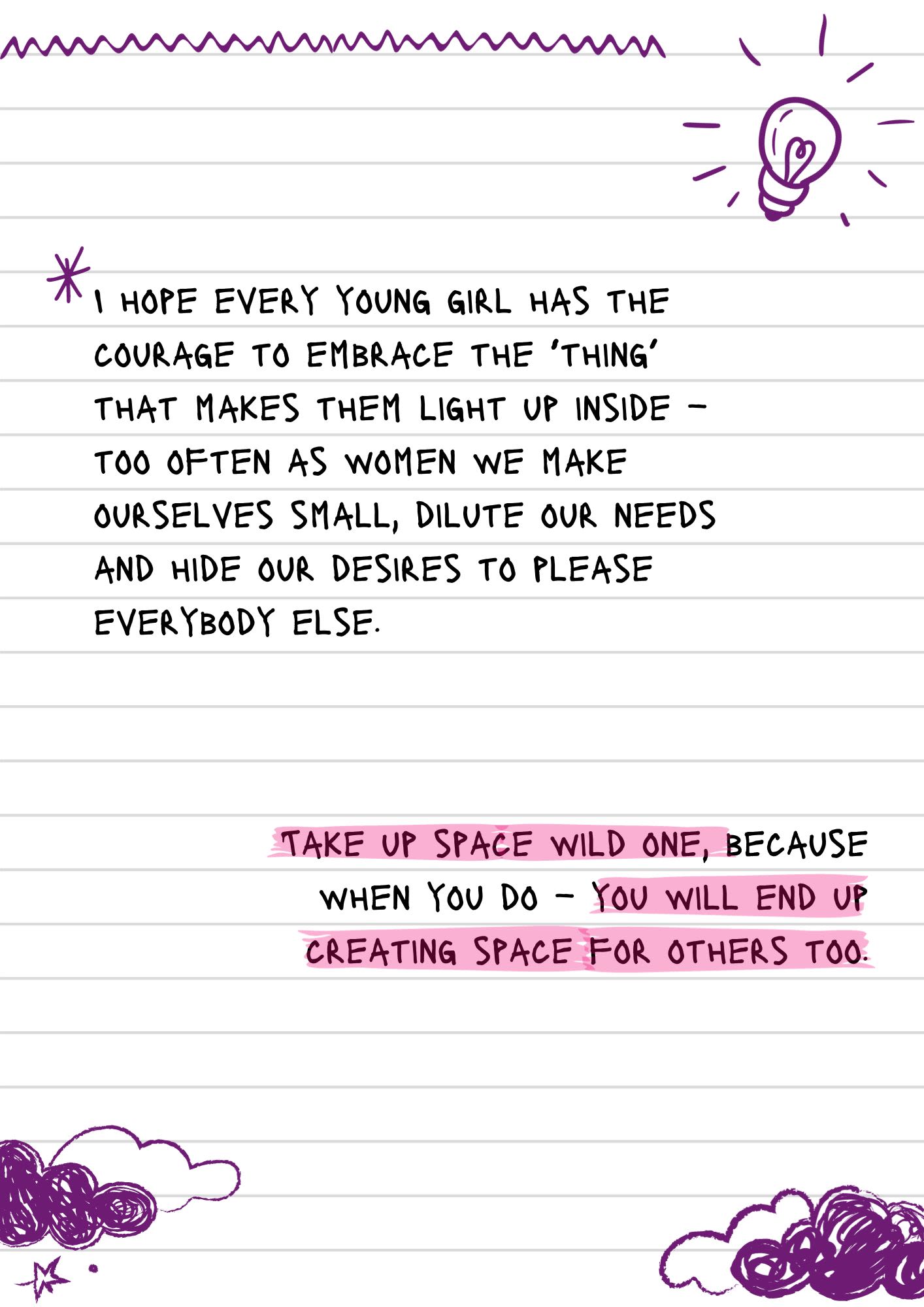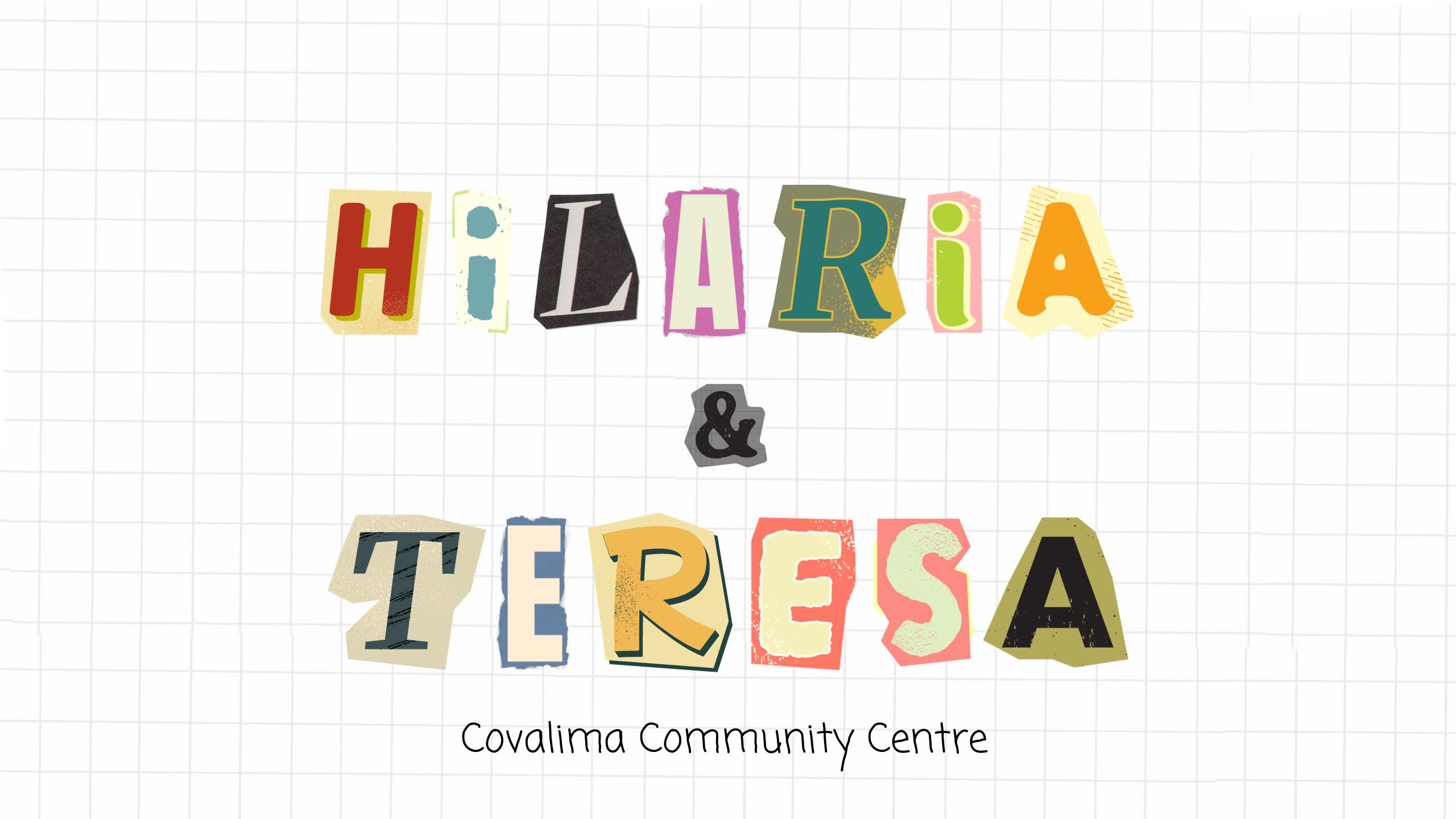 Hilara Amaral do Carmo and Teresa Maia Moniz are the Program Coordinator and Program Facilitator of Covalima Community Centre's (CCC) Rural Women's Development Program in Timor-Leste. In their joint letter, they share with us the work CCC is doing to further entrench the rights of young girls in their community, and their message to Timor-Leste's future generation of activist.
Covalima Community Centre is a feminist movement that fights for, and protects the rights of, girls in Timor-Leste. We do this because they are the future generation who are going to carry this forward.
Therefore, hard work is performed with a commitment to developing their ability by creating opportunities and involving them in activities so that they themselves can think about how to protect themselves from a wide range of risks.
In relation to this, girls always face a range of problems, such as: not enjoying their rights, abandoning their studies, hard work, early pregnancy and not obtaining good quality health treatment when families get divorced.
These behaviours really inspire us to work together with children so that in the future they can avoid these risks and enjoy their rights. We want to work together with families to protect and care for girls because education starts with the family, so the family is also a transformative agent for children to encourage and motivate them from when they are still young.
Our message: girls are transformative agents for the future of the nation to build peace and love.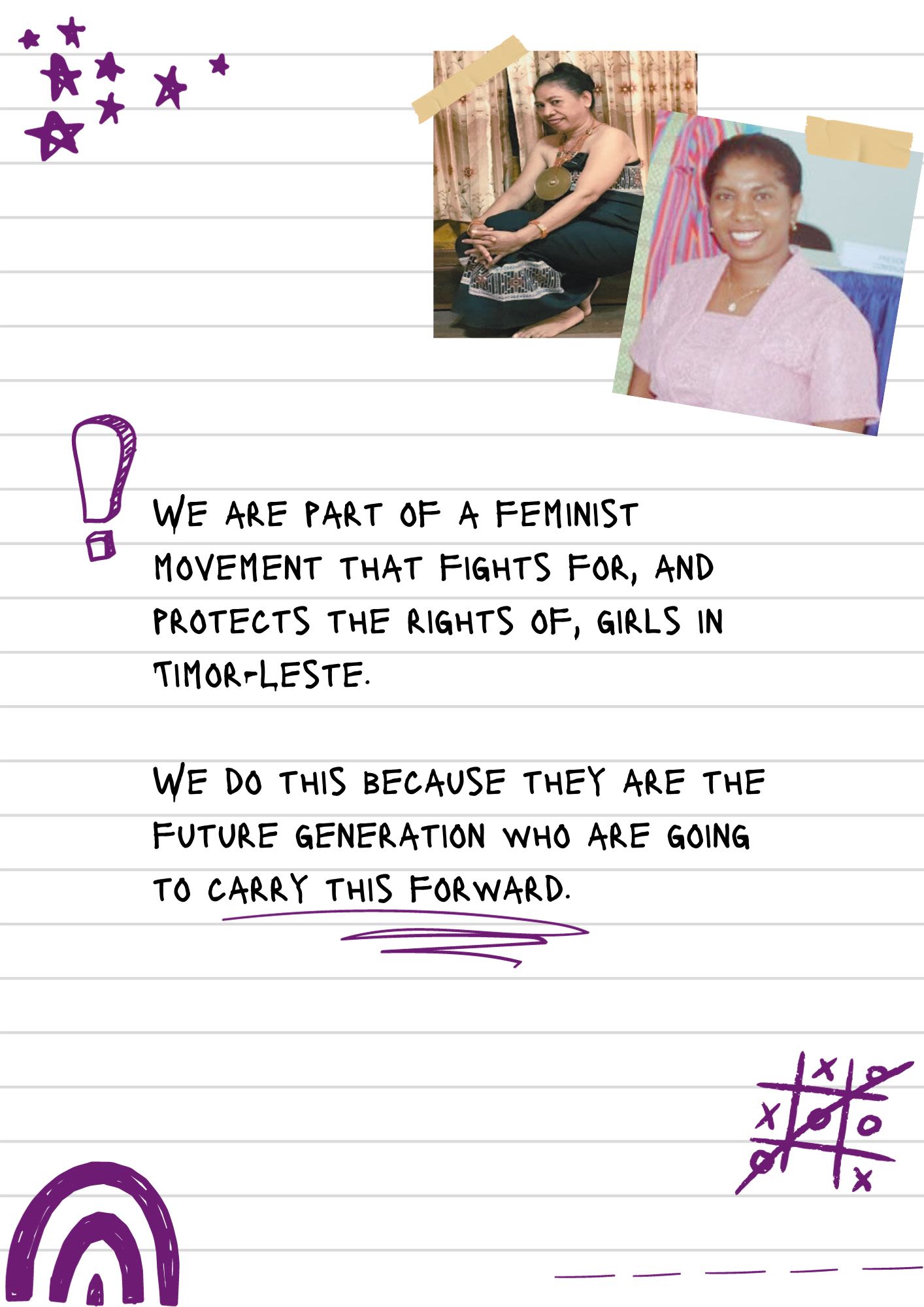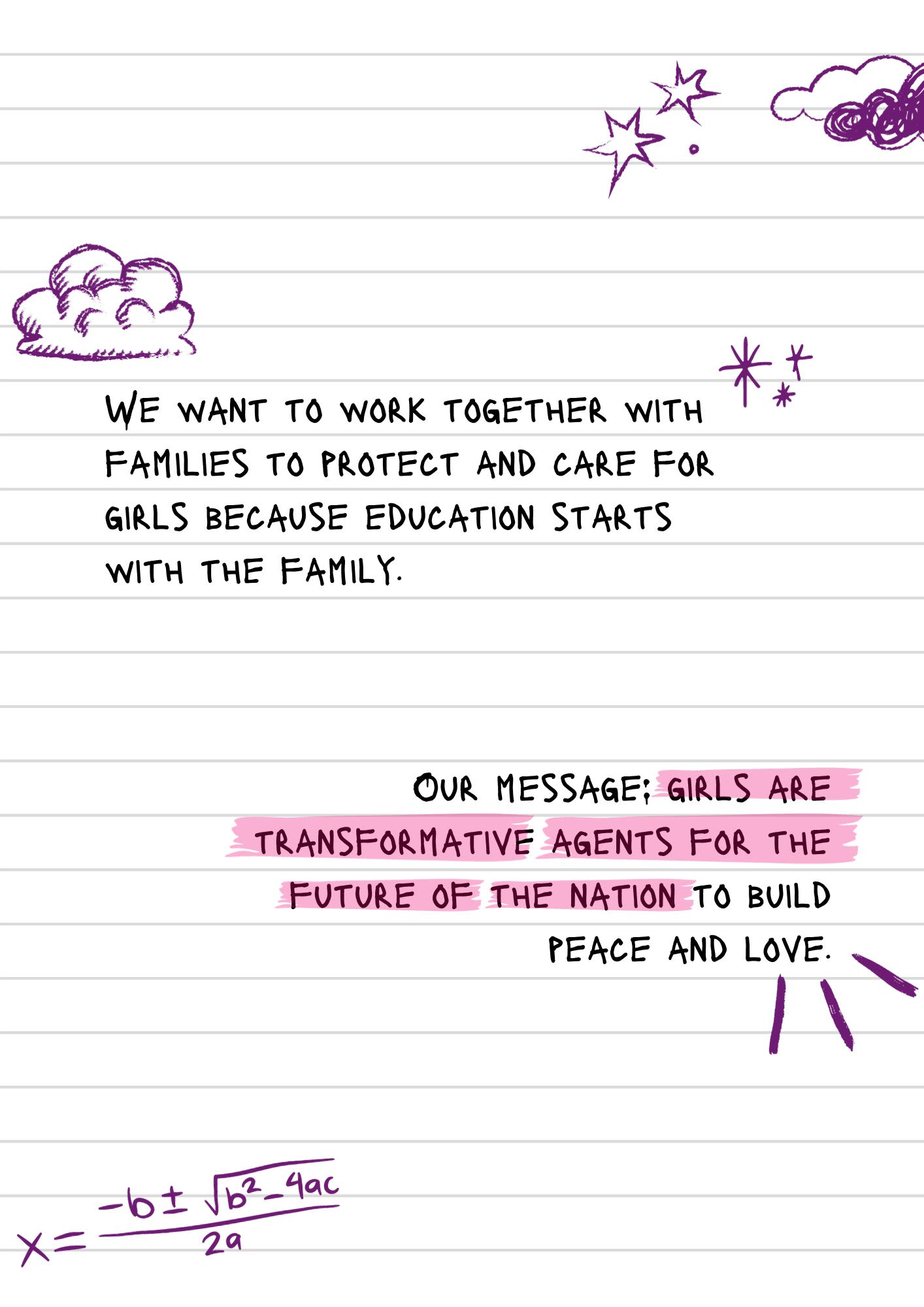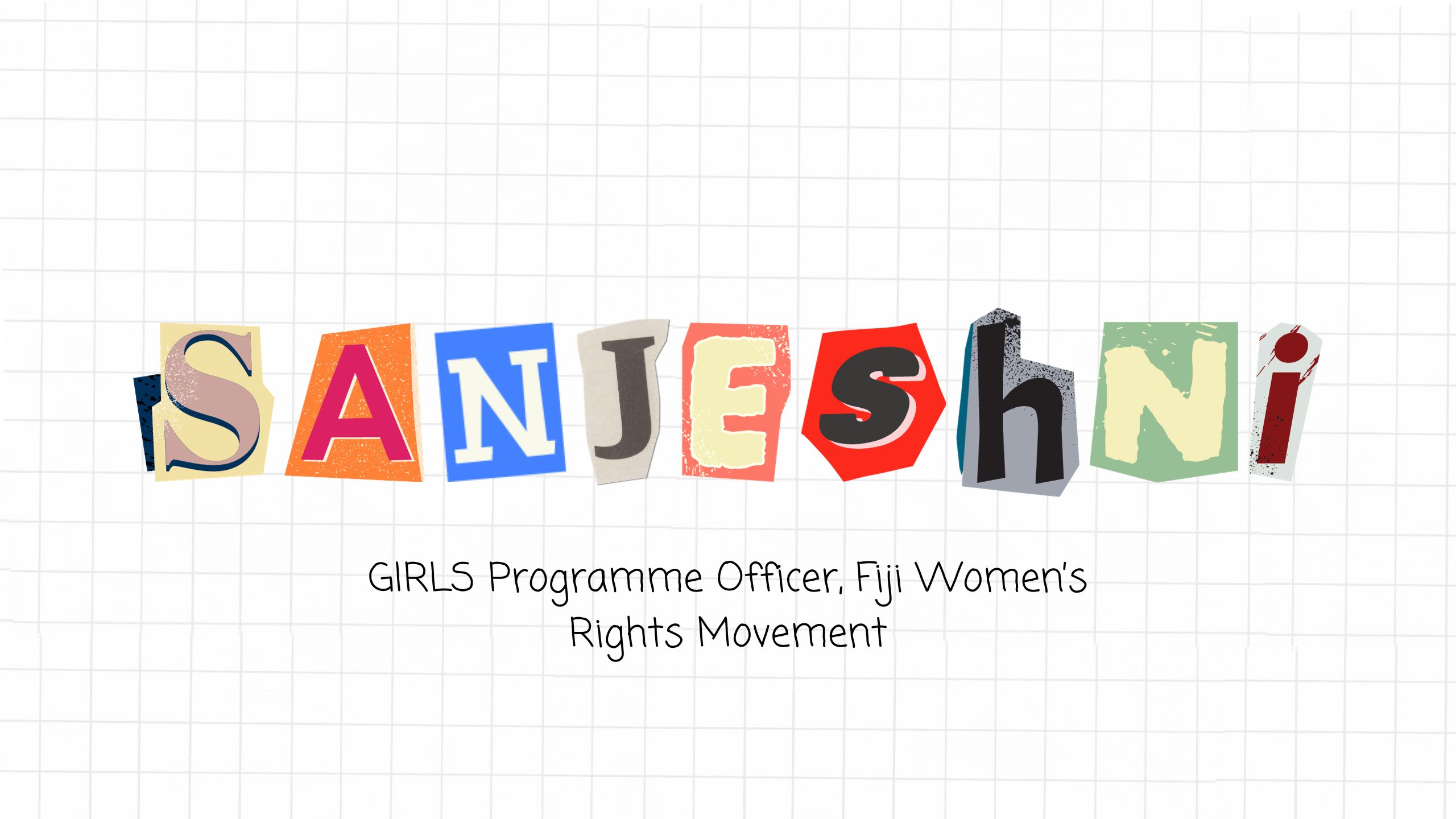 Sanjeshni Reddy is the GIRLS Programme Officer at Fiji Women's Rights Movement (FWRM) - a multiethnic and multicultural non-governmental organisation committed to removing discrimination against women through institutional reform and attitudinal change. An educator for over 15 years, her letter is dedicated to one of the participants in this ground-breaking, girl-led, feminist leadership program in Fiji.
Dear Young Lady
Warm greetings from FWRM Team in Suva. As I sit down to write this letter to you, I reminisce the first day I met you. You blended so well into the GIRLS Program. Your vibrant personality and broad mind set was taken so well by the rest of the Program participants. Your youthful nature brought memories back of how I began my feminist journey as a young girl.
At a very young age, I looked forward to participating in all oratory competitions about issues young girls faced in the home and communities in Fiji, like not being given opportunities to speak during decision making at home, being shy about discussing emotions and the feelings of a growing teenage girl, not having open conversation with parents on menstrual hygiene and awareness as these were not considered as conversation topics within families during that period. There has not been much change in this area though, however I feel that through the GIRLS Program, you and the rest of the girl participants can be the Agents of Change in our homes, communities and nation at large to address these issues faced by the young girls and women in our communities.
In the next few years, you will be in a different space like in higher education institutes or joining the workforce, and I hope and wish that you continue to keep the candle burning to shed light on the many issues the young girls in our communities' face today and how best we can support them.
I wish you nothing but the best in your teen years, and you can always count on me for any support and guidance you need as you continue in this life's journey.
Best Regards
Sanjeshni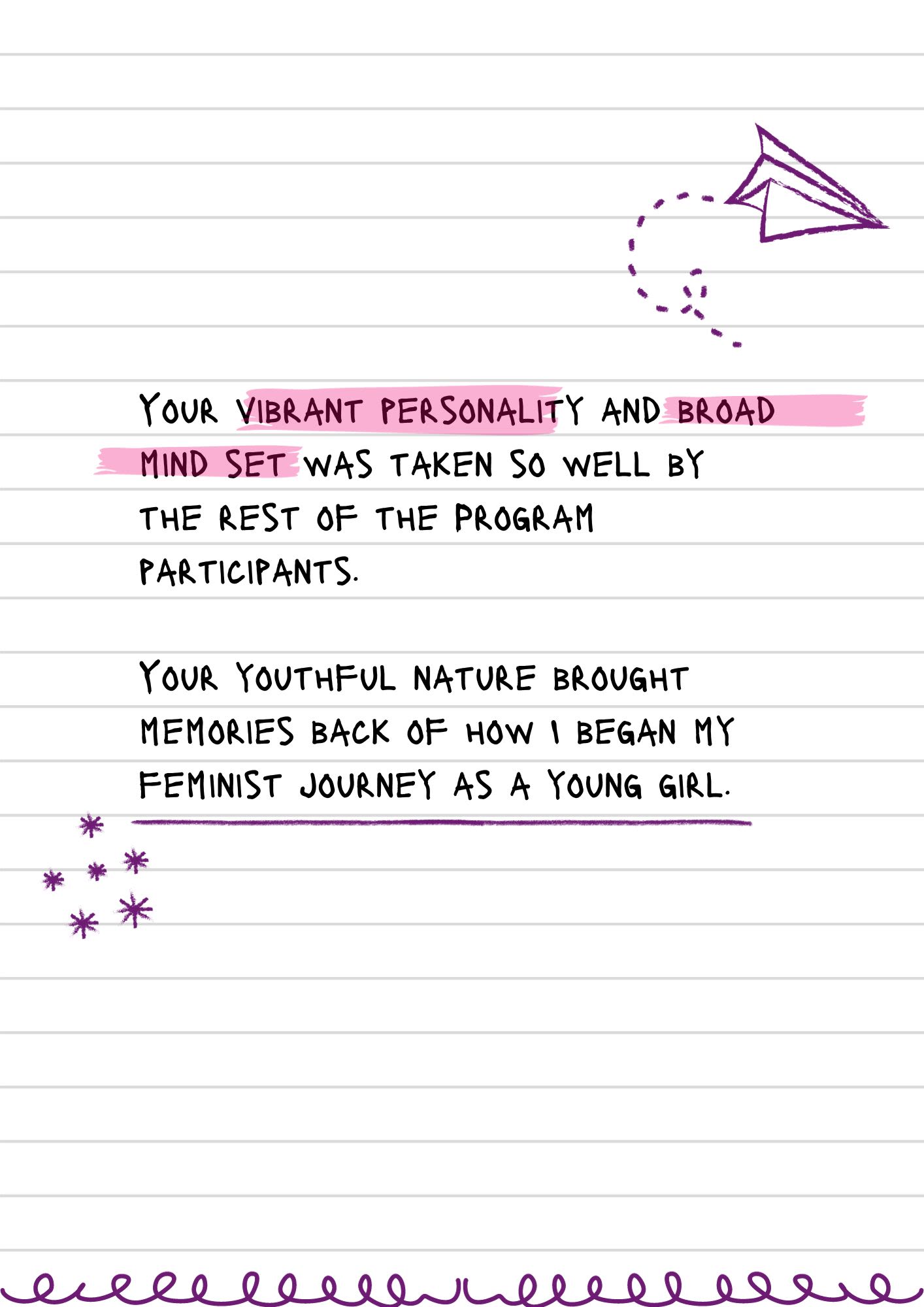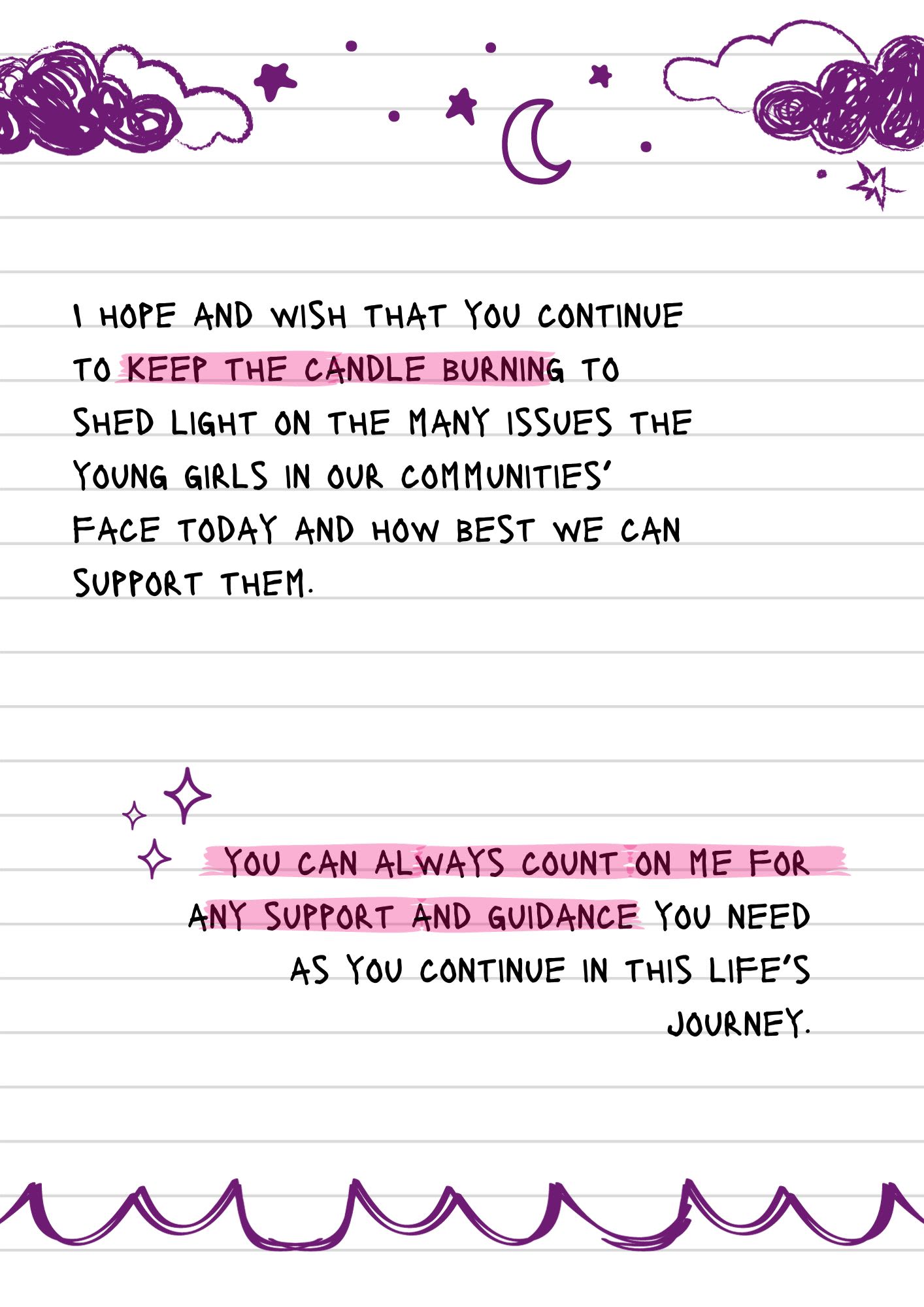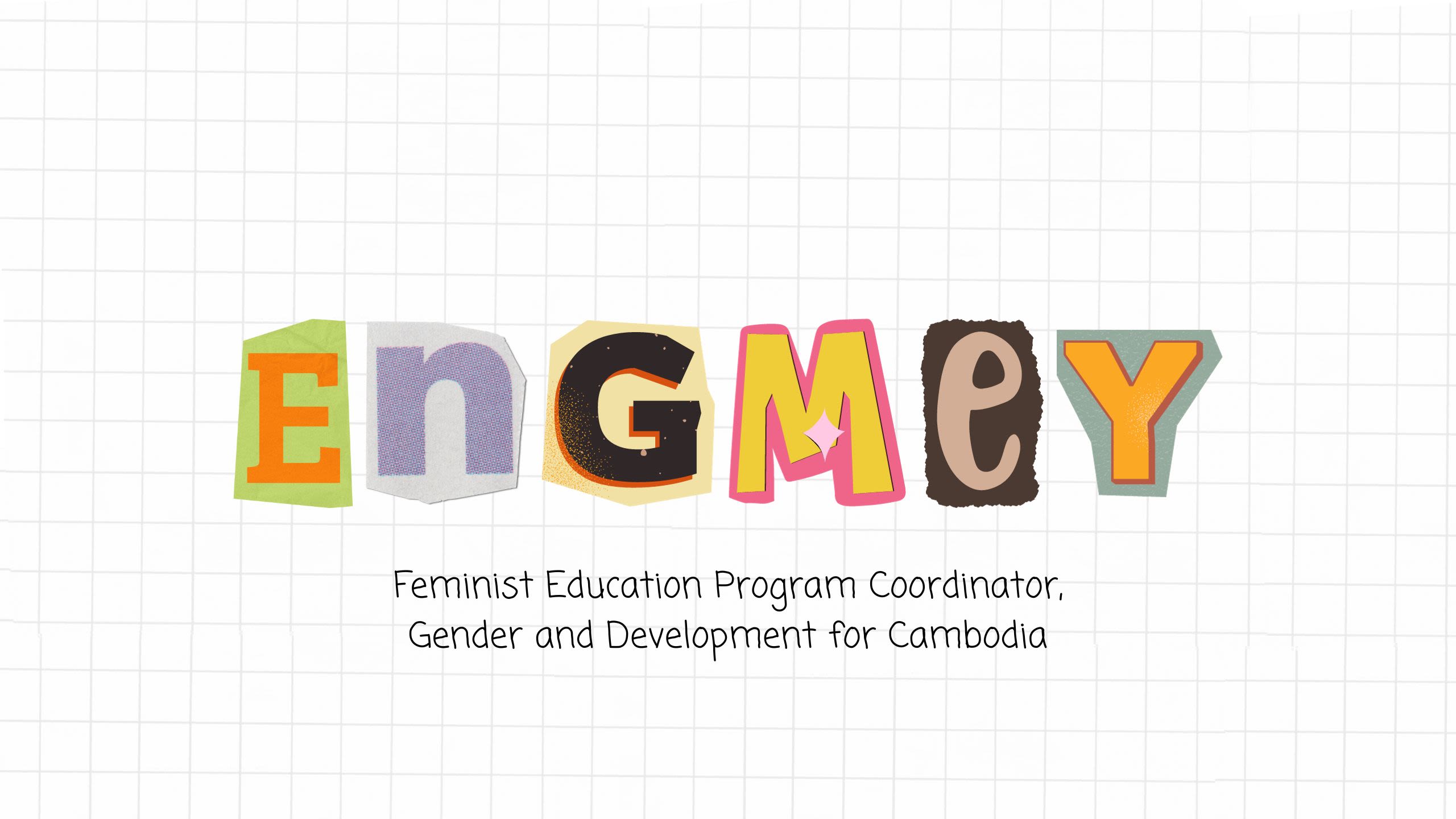 Engmey Chea is the Feminist Education Program Coordinator at Gender and Development for Cambodia (GADC). With a degree in education and experience in civic engagement and volunteering, Engmey's role is dedicated to promoting Substantive Gender Equality within GADC, their partners and networks through an explicitly feminist lens. In her letter, she shares her journey to identifying with the label 'feminist' and her hopes for Cambodia's young girls.
As a feminist and self-described of my gender identity, there were milestones and experiences that I have had since the beginning of my school journey, where there were bullies, harassments, sexual jokes I got quite often from my classmates and teachers of what I was wearing, where I should sit with girls and boys, which restrooms I would take and how I used the restroom. I do believe I am not the only one who has had these experiences, there are more people, especially young diverse girls, facing these similar issues or more in varied spectrums.
Along my adulthood journey, I came across the word "feminism" on social media, the first time my curiosity aroused to learn more of this movement and concept, yet I reluctantly claimed as a feminist where there were controversial perspectives and little did I know about feminist milestones back then. Things have changed now which I proudly call myself, a feminist, when I step in my career journey in gender development field where my exploration and curiosity go beyond the gender scripts and my core feminist value is always justice for the humanity, regardless of gender, sex, age, sexual orientation, ability, race, religion, nationality, location, ability, class, caste, or ethnicity.
Albeit the feminist journey has been like a roller coaster, I am still inspired and hopeful for the next generation that if we all truly put our true commitment and collective support, we all will thrive together living freely from kyriarchy system. Lastly, my message for my younger self and other young girls in this globe is "we don't just say it, we stand there with you; you all are valid."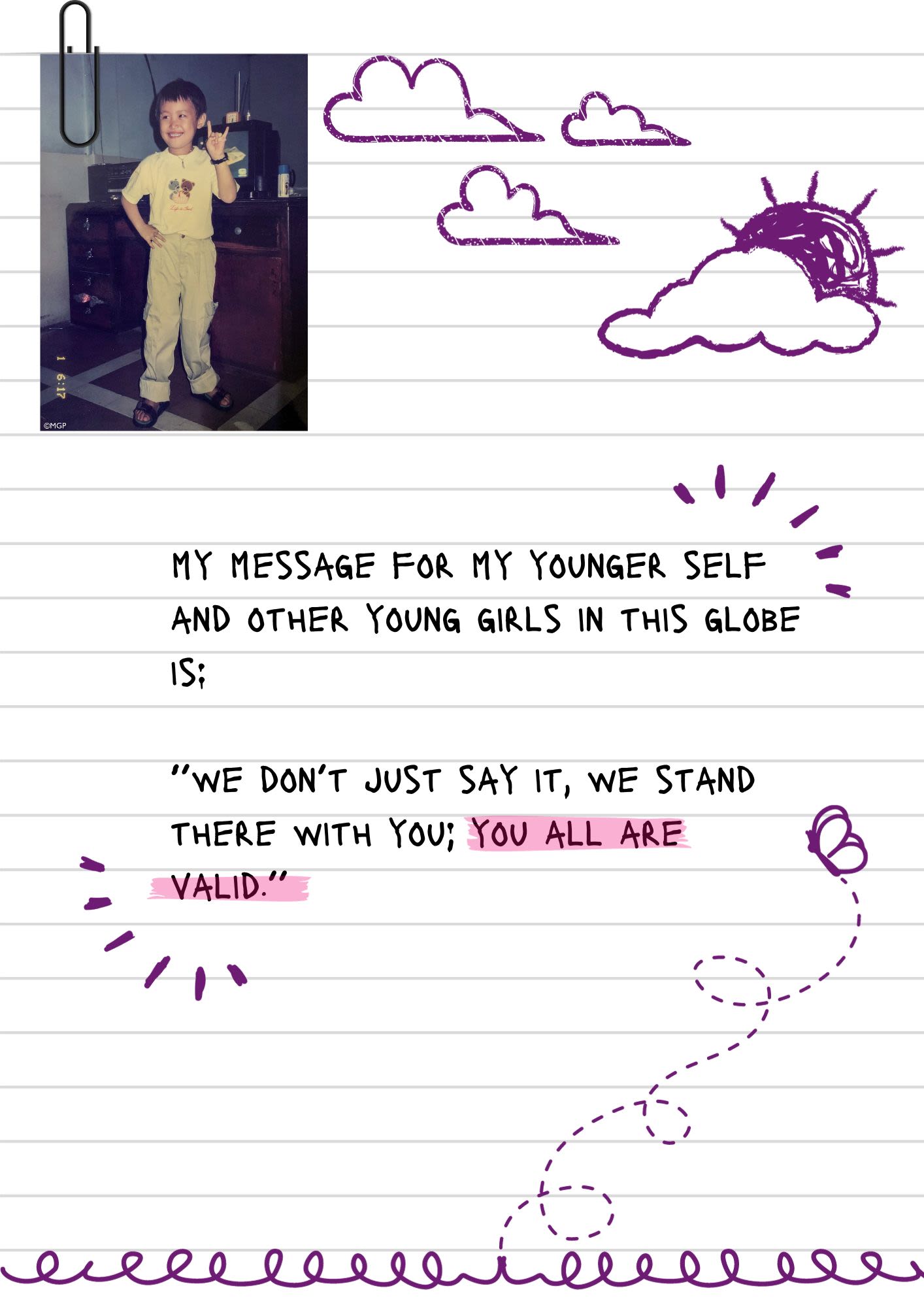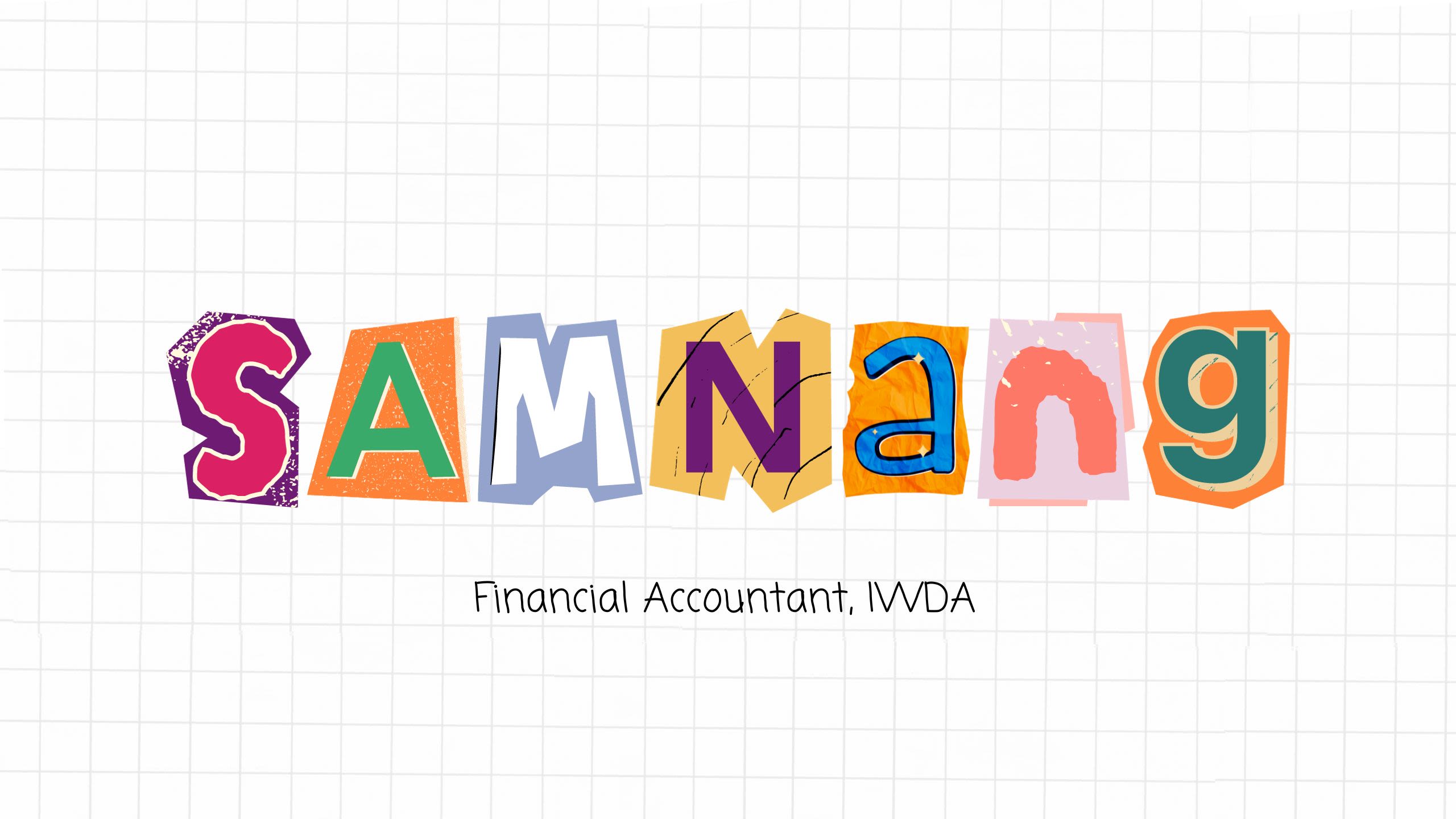 In her letter, Samnang Oum - Acting Financial Accountant at the International Women's Development Agency (IWDA) - shares her story of growing up as a young girl in Cambodia and the ways in which she challenged the gender inequality she faced throughout her life. Her letter ends with a powerful call to Cambodia's young girls and feminist activists.
Hello, I'm Samnang Oum, a Cambodian woman, and currently serving as the Acting Financial Accountant at IWDA. I'd like to share my personal journey through the feminist movement, the challenges faced, and the evolving landscape of gender equality in Cambodia.
Growing up in a single-mother household with two sisters, I learned early on about the strength of women. Despite my father's absence, my mother, who had survived the Pol Pot Regime, emphasized education. She sent us to school, even when resources were scarce. "Be independent," she'd say, "and don't rely on a husband."
I faced financial constraints common in Cambodia but excelled academically, securing a scholarship for higher education. Despite concerns from family, friends, and colleagues that pursuing education abroad might hinder my prospects for marriage or domesticity, I chose a different path.
Challenging societal norms was essential. I confronted family members who favoured sons over daughters in terms of education, and this inspired change within my extended family. My success encouraged my cousins and nieces to prioritize their daughters' education as well.
Furthermore, my contributions to women's empowerment extended to my professional life in Cambodia. In my role supporting Branch Accountants across 15 provinces within the Microfinance and bank sector, I actively worked to uplift the capacity of women in the workforce. Through mentorship, guidance, and advocating for gender-inclusive policies, I aimed to create an environment where women could thrive professionally.
My journey isn't just personal; it's about dismantling deeply ingrained biases. In Cambodia, women often face career barriers after marriage and childbirth, while men continue to advance. This bias must change for true gender equality to thrive.
My message to young girls in Cambodia is this: Your dreams are worth pursuing, and you have the power to break free from stereotypes. Embrace your uniqueness, challenge inequality, and be a catalyst for change.
I am inspired by the courage and determination of Cambodia's young girls and future feminist activists. My hope is to see a Cambodia where gender equality is the norm, where women are empowered to pursue their aspirations without limitations.
In closing, my journey in Cambodia's feminist movement continues. I am committed to breaking down barriers, challenging stereotypes, and inspiring change. Together, we can build a society where every woman and girl has the opportunity to achieve her dreams, regardless of societal expectations.
With unwavering determination,
Samnang Oum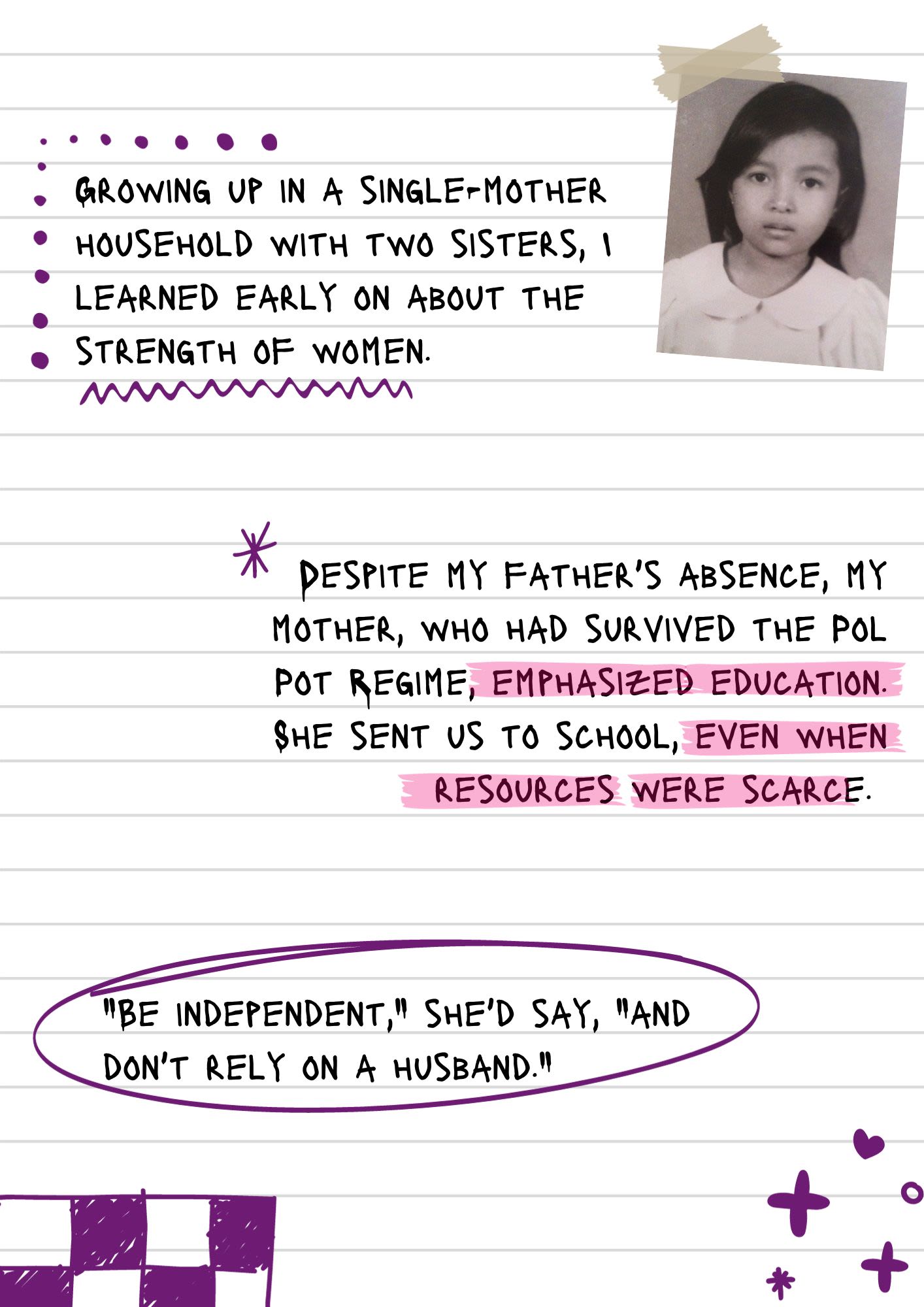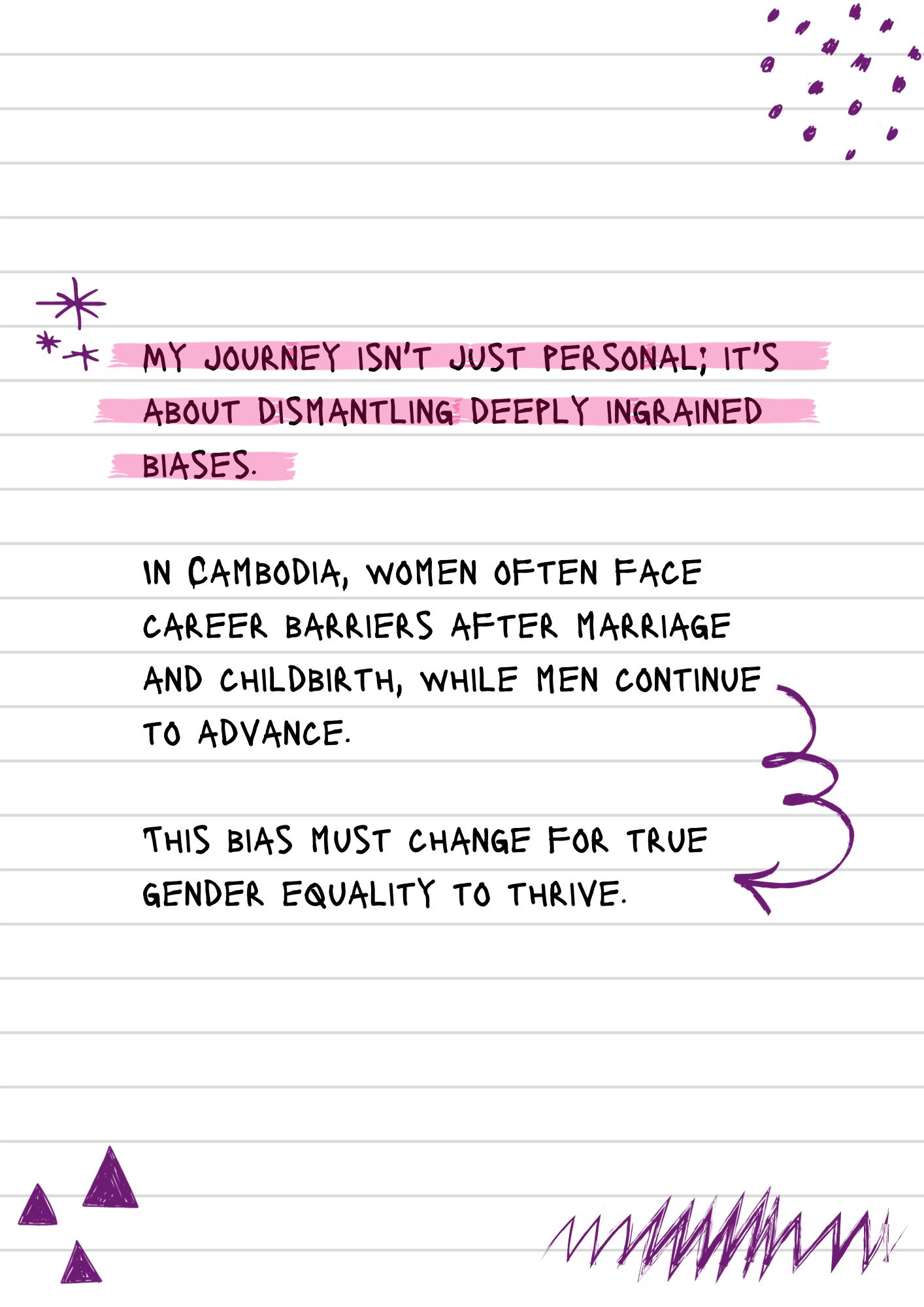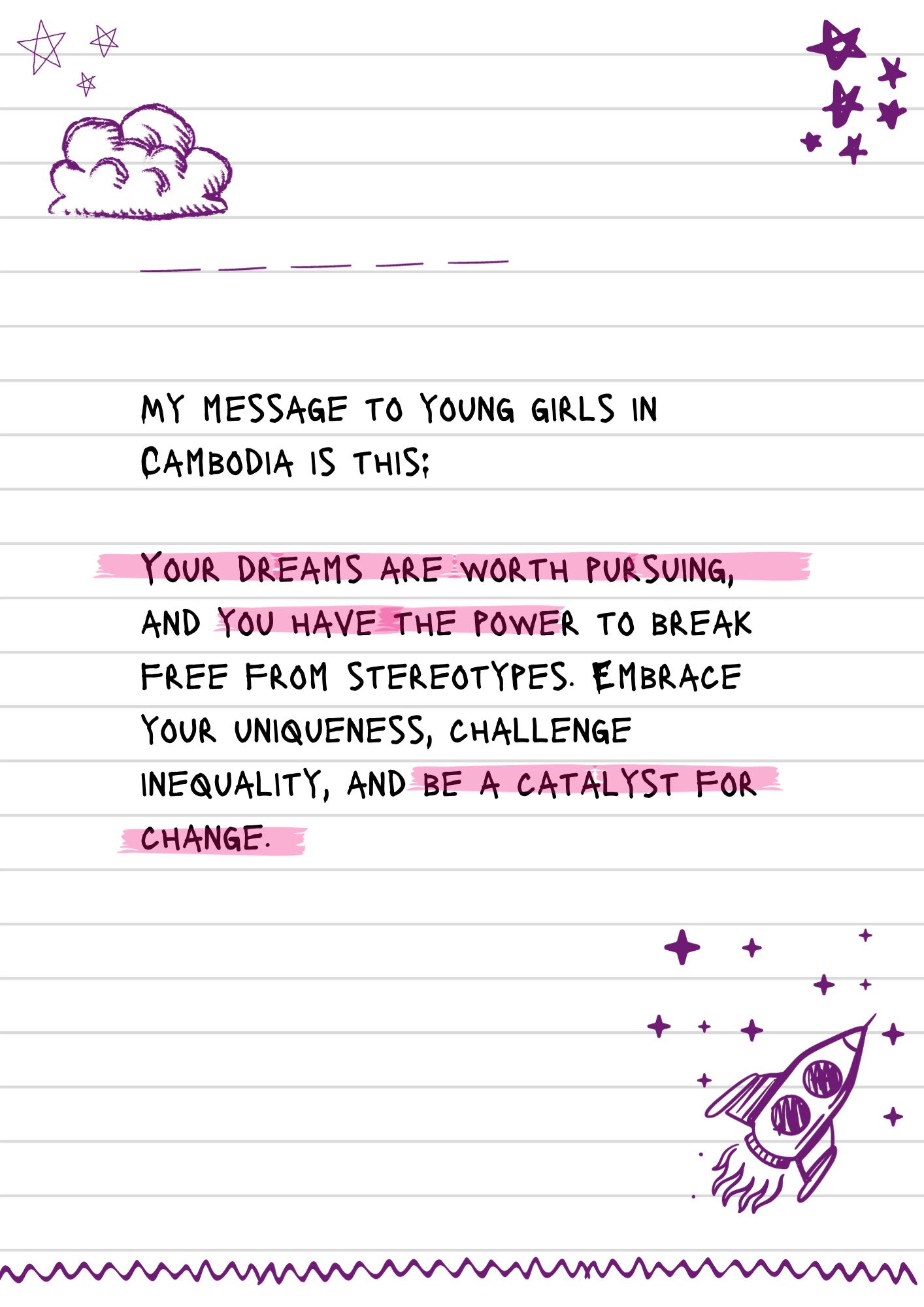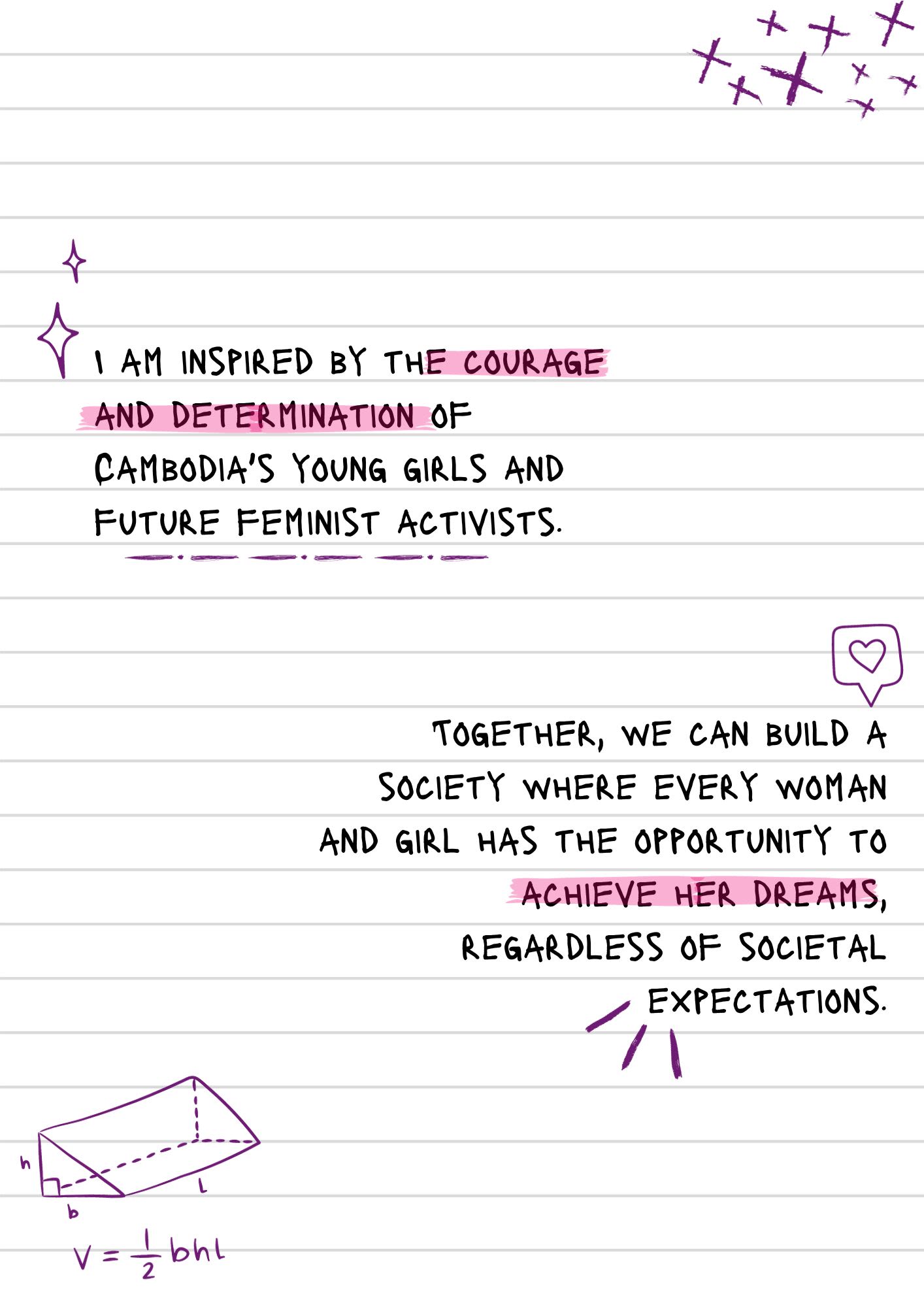 This International Day of the Girl Child, we send our love to fierce young girls all across the world who are standing up for their rights and creating positive change in their communities every single day. We celebrate their power and agency and recognise their contributions as the leaders of today and the future of our movements.
Find out more about the incredible work our partners are doing to defend and advance the rights of young girls in their communities at www.iwda.org.au.