Joining forces for change in Myanmar
February 22, 2014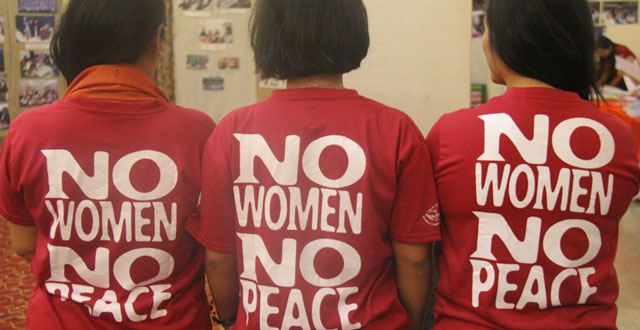 By Manon van Zuijlen, IWDA Program Manager for Myanmar, and Tin Tin Nyo, General Secretary for Women's League of Burma
In Burma/Myanmar, women's organisations – which have only recently become able to operate more widely and openly in the public domain – are joining their forces to influence and have a more significant role in the political change and peace-building processes which are taking place in the country.
Women's League of Burma (WLB) and the Women's Organisations Network (WON) organised the first ever Myanmar Women's Forum in Yangon on September 20-22, 2013 with the aim "to achieve strength of unity, to build initial solidarity and trust". The Forum successfully brought together more than 400 women from different ethnic backgrounds and organisations, including women's organisations based in Myanmar and across its borders as well as individual women leaders and parliamentarians. The Forum had some very significant outcomes related to women's political participation and brought higher visibility to the women's movement in Myanmar and its interest in peace and democratisation processes. In the words of WLB:
Being able to gather shared perspectives on women's participation in politics and decision-making, a women's protection law, gender equality and women's participation in the peace process, as well as agreement on federal democracy as the best governance model for Burma was a big success. These are key issues if we are to work towards an equal, just and genuine political reform and peace building in Burma. We were able to produce common agreements on policy, work plans and demands, which were expressed in a press statement and declaration.
The Women's Forum in Yangon issued a declaration which clearly states that:
The 2008 Constitution needs to be revised because "it does not guarantee equal rights and promotion of the lives of women";
"To achieve sustainable peace, the meaningful participation of women in the peace process is necessary and essential" and in accordance with United Nations Security Council Resolution 1325.
Detailed recommendations were made to the government, including greater participation of women in decision-making, requirements of a federal political system which guarantees women's equal rights, women's meaningful participation in the peace process and prevention and elimination of all forms of violence against women.
Another outcome of the Women's Forum was a petition to President Thein Sein and other State stakeholders for the immediate and unconditional release of Naw Ohn Hla, Daw Bau Ja, Daw Mi Mi Khine and Daw Myint Myint Aye, who are human rights defenders and gender activists who were arrested for their activism. The petition was signed by 370 women and some male representatives who attended the Forum. This kind of advocacy has not been possible in Myanmar until very recently.
Strength through unity, a beginning of solidarity and trust among border-based women's organisations, women's organisations located inside Myanmar and prominent women leaders has been achieved. This has resulted in a shared focus and further collaboration on women's participation in the peace process including in national reconciliation and transitional justice; promoting gender-inclusive and ethnically federal democracy; advocacy for a Women's Protection Law to address violence against women and gender-based discrimination, which is a crucial achievement. WLB is working in collaboration with the Women Organisations Network (WON) of Myanmar and other networks such as the 88 Generation Women and women parliamentarians in Myanmar to implement all the main recommendations of the Women's Forum.
The Women's Forum and subsequent cross-border collaborations clearly demonstrate that women's organisations on both sides of the Myanmar borders have a strong interest in working together as a collective women's movement. WLB and other women's organisations have increased their involvement in the official peace and reconciliation processes in Myanmar mostly through advocacy with the government (Myanmar Peace Centre, U Aung Min) and leaders of ethnic armed opposition groups and their networks (United Nationalities Federal Council and Working Group on Ethnic Coordination). These almost entirely male organisations have thus far strongly resisted women's involvement in what they see as a 'military-to-military process'.
In order to achieve a truly democratic, open, diverse and just society, women and men should have equal opportunities and rights to participate in the shaping of such a society. International Women's Development Agency, with the support of Foundation for a Just Society, is proudly supporting Women's League of Burma in their work to influence and change the political and civil society spaces accessible to women and women's organisations in Myanmar.