November 25th
INTERNATIONAL DAY FOR THE ELIMINATION OF VIOLENCE AGAINST WOMEN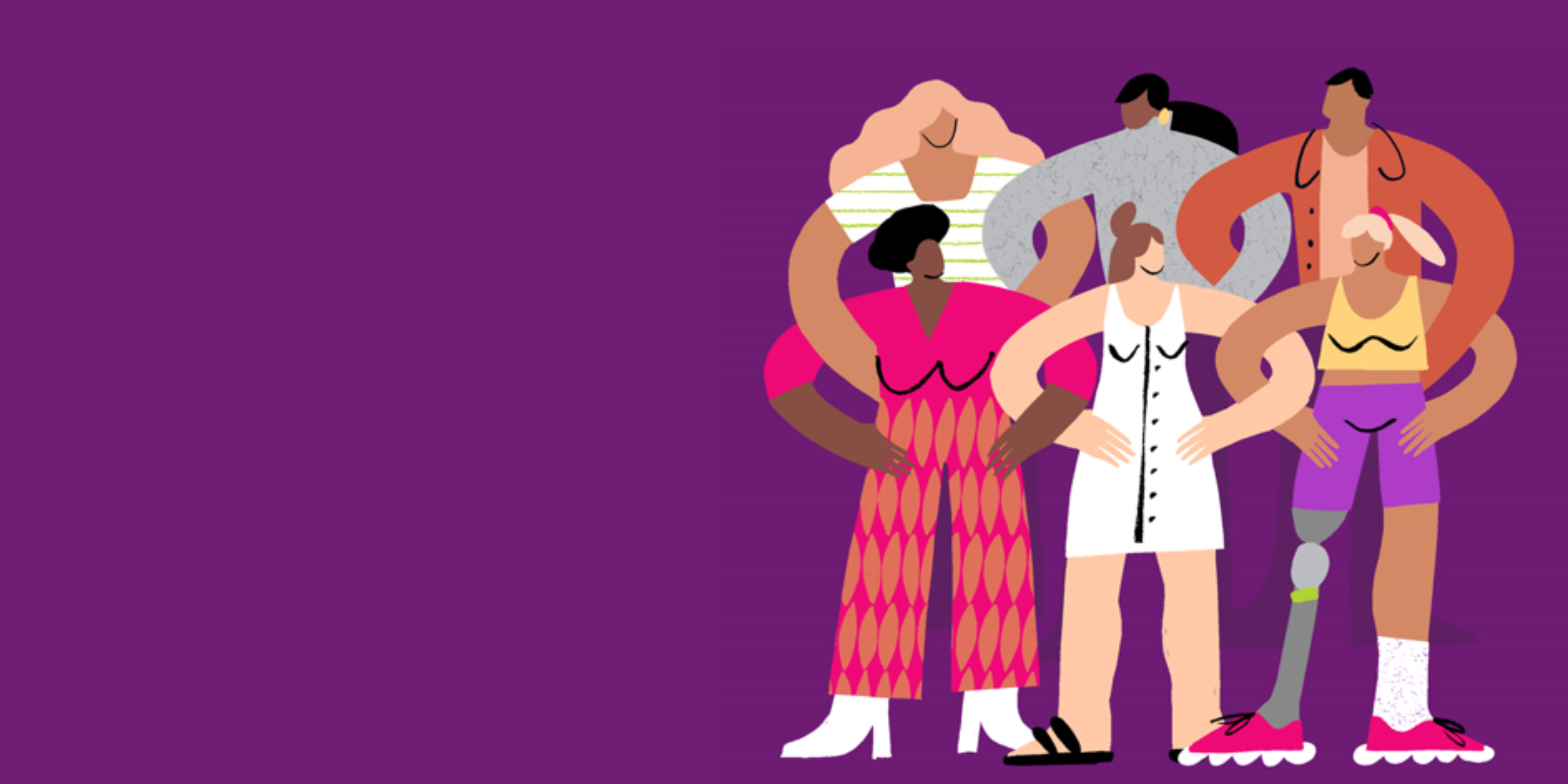 November 25th marks the International Day for the Elimination of Violence against Women. Feminists and women's rights activists across the world have observed the day since 1981, using it as an important time to amplify each other's advocacy and raise awareness of gender-based violence in their communities. The date also marks the start of 16 Days of Activism Against Gender-Based Violence – a campaign that, for the past 30 years, has called on people to challenge discriminatory attitudes and advocate for improved responses to end violence against women for good.
Led by civil society, the day and campaign have brought this too-often ignored issue to the international stage. It has shined a light on a problem that, until that point, had been ignored and compartmentalised as a purely private issue.
But how did all this start? Where do we stand now and what can you do to help?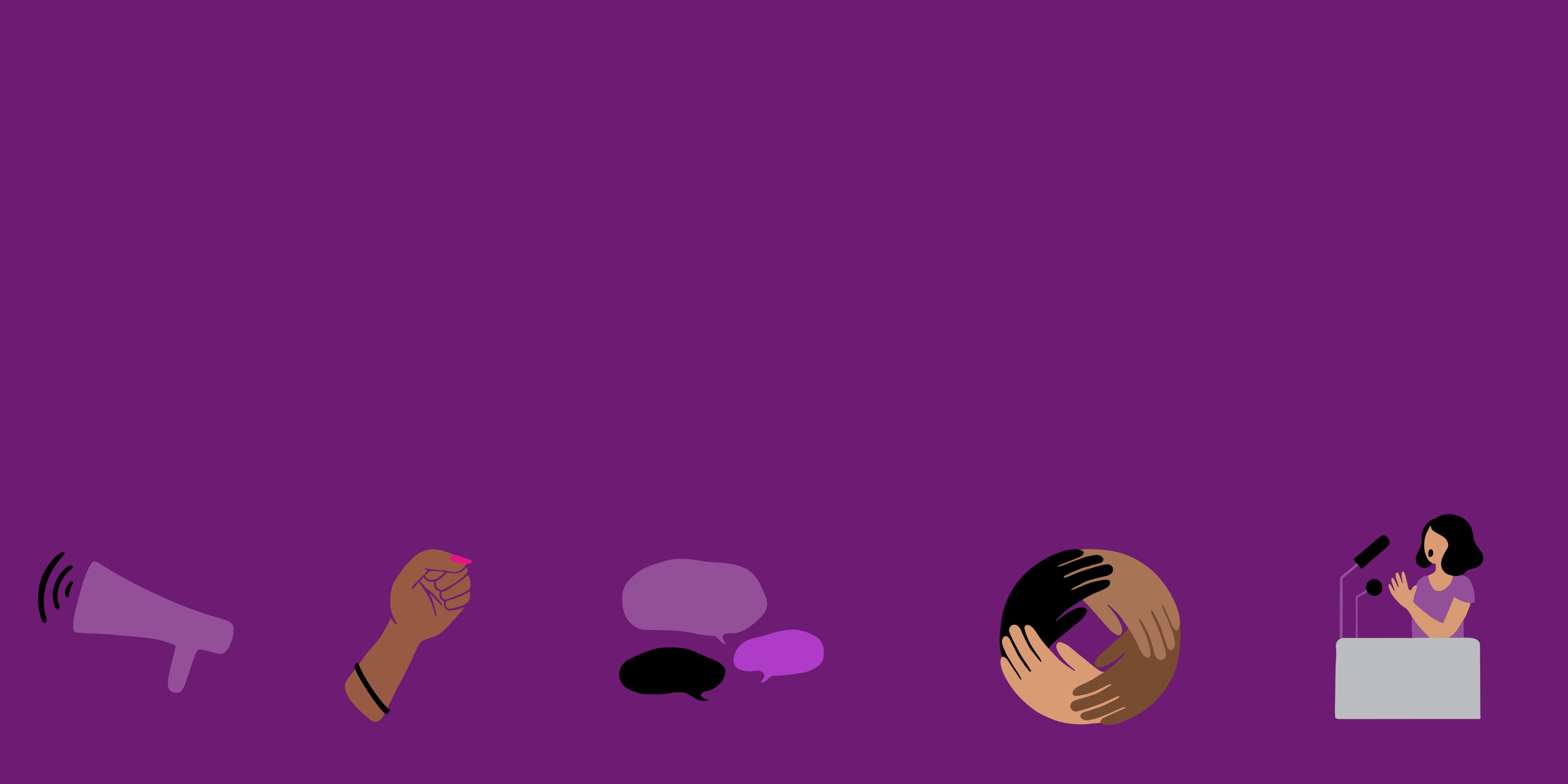 While domestic and family violence are most often highlighted in discussions of gender-based violence, the origins of the day actually commemorates a politically motivated act of violence against women. On 25 November 1960, sisters Patria, Minerva and Maria Teresa Mirabel – political activists who actively opposed the cruelty and systemic violence of the Trujillo dictatorship in the Dominican Republic – were brutally murdered and dumped at the bottom of a cliff by Trujillo's secret police.
It was an act of violence committed against them by the state because of their identity as both women and activists.
And one that turned them into symbols of the feminist resistance.
In commemoration of their advocacy and activism, November 25th was declared the International Day for the Elimination of Violence against Women in Latin America before being formally recognised by the United Nations in 1999.
While feminist and women's rights activists have successfully advocated for progress since then, gender-based violence remains one of the most pervasive forms of human rights violations in the world. Currently, we are also seeing in real-time how intersecting crises like the COVID-19 pandemic, climate change, global conflict and economic instability are worsening this.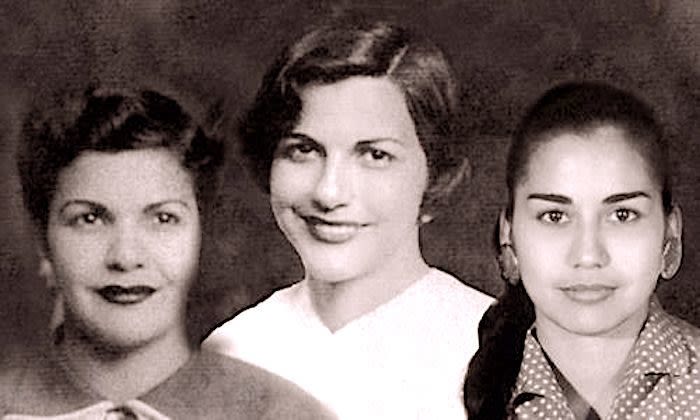 This is all happening in the context of rising anti-feminist movements and a broader backlash against women's rights around the world. From the overturning of Roe v Wade in the United States of America to governments in Iran and Afghanistan adopting increasingly regressive laws that are turning back the clock on women's rights – feminist movements and women's rights organisations are being increasingly targeted and marginalised around the world. With this comes a renewed use of force and gender-based violence against women, trans and non-binary people.
While gender-based violence can happen to anyone anywhere, it's also important to remember that discriminatory norms in our societies make certain people more vulnerable to this kind of violence. This includes young girls and older women, women who identify as part of the LGBTQ+ community, migrants and refugees, Indigenous women, ethnic minorities, women and girls living with disabilities and those living through humanitarian crises.
When committed against feminist activists, these kinds of gender-based attacks also limit the capacity of our broader movement to advance gender equality and bring an end to gender-based violence. With mounting evidence that the single most important driver of change is the presence of diverse and resilient feminist movements, building our strength and making sure that feminists across the world can mobilise to fight this anti-rights backlash together is more important than ever.
ADDRESSING GENDER-BASED VIOLENCE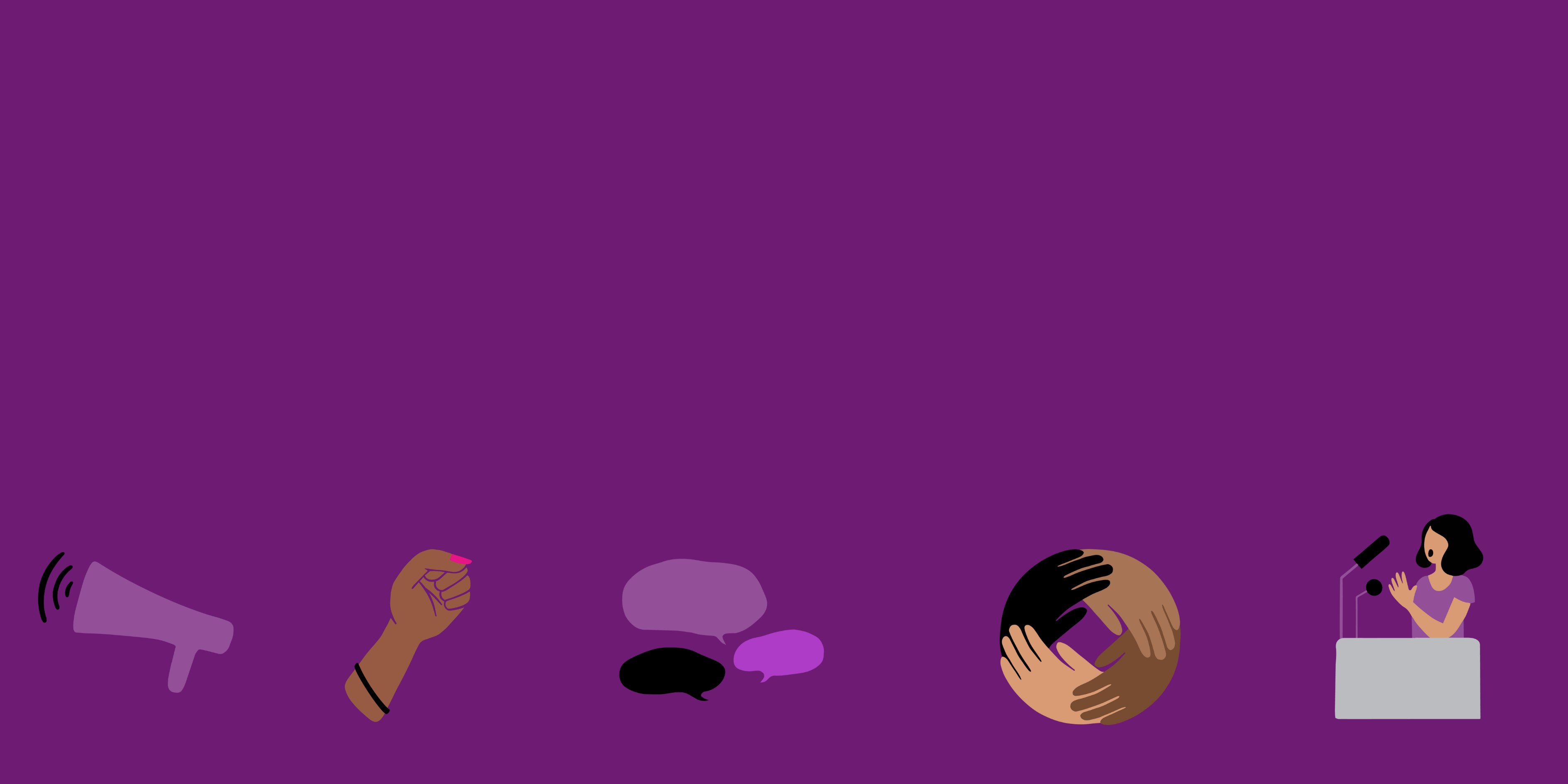 Combating gender-based violence requires comprehensive and holistic action from across our movements. It is a global problem made possible by a clash of different individual factors enabled by the norms, laws and policies of our societies. As a result, feminist actors and women's rights organisations have adopted multiple ways of preventing and responding to gender-based violence – all of which work together to address the issue at all levels of society.
This is reflected in the work of many IWDA partners across Asia and the Pacific.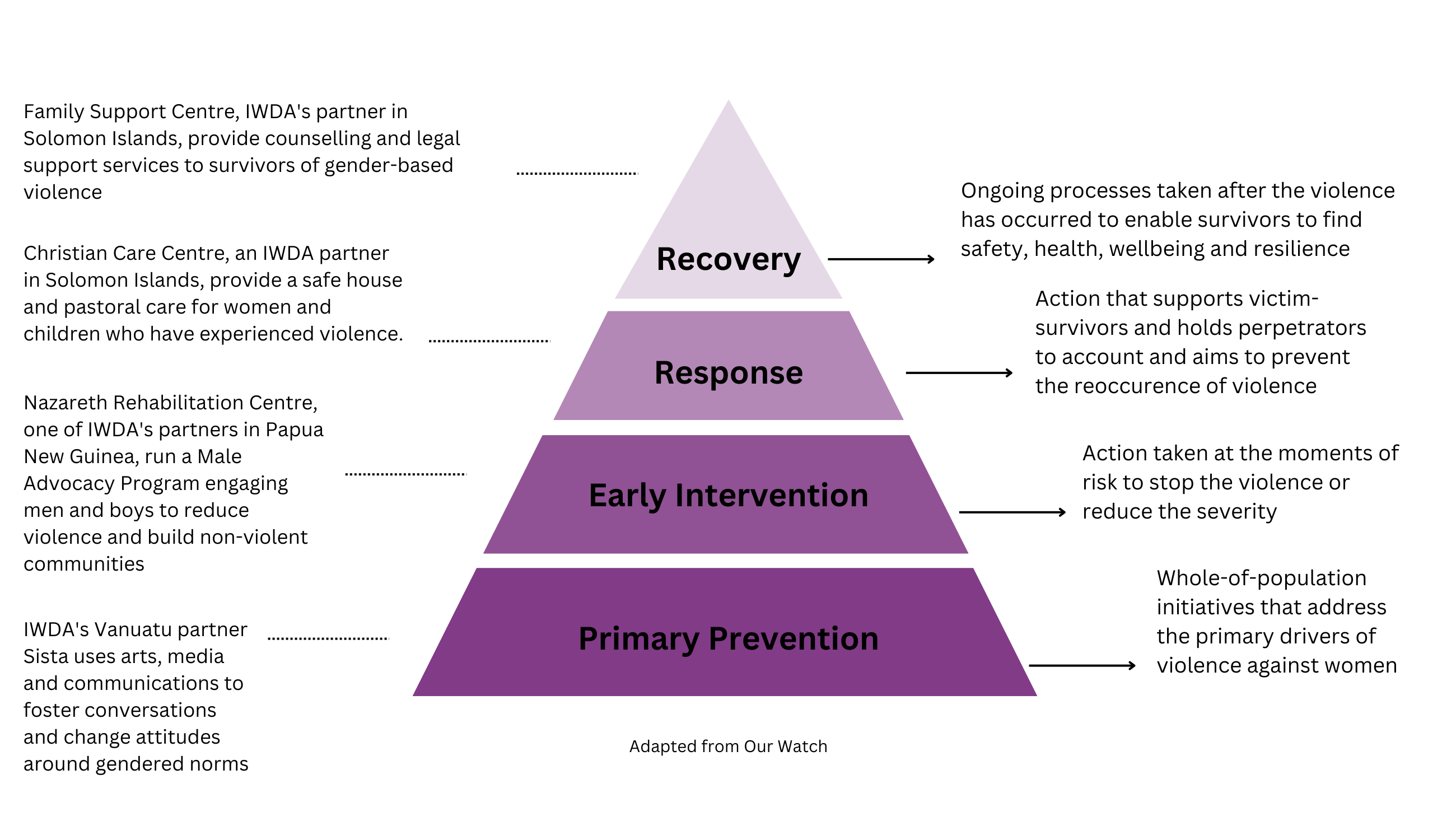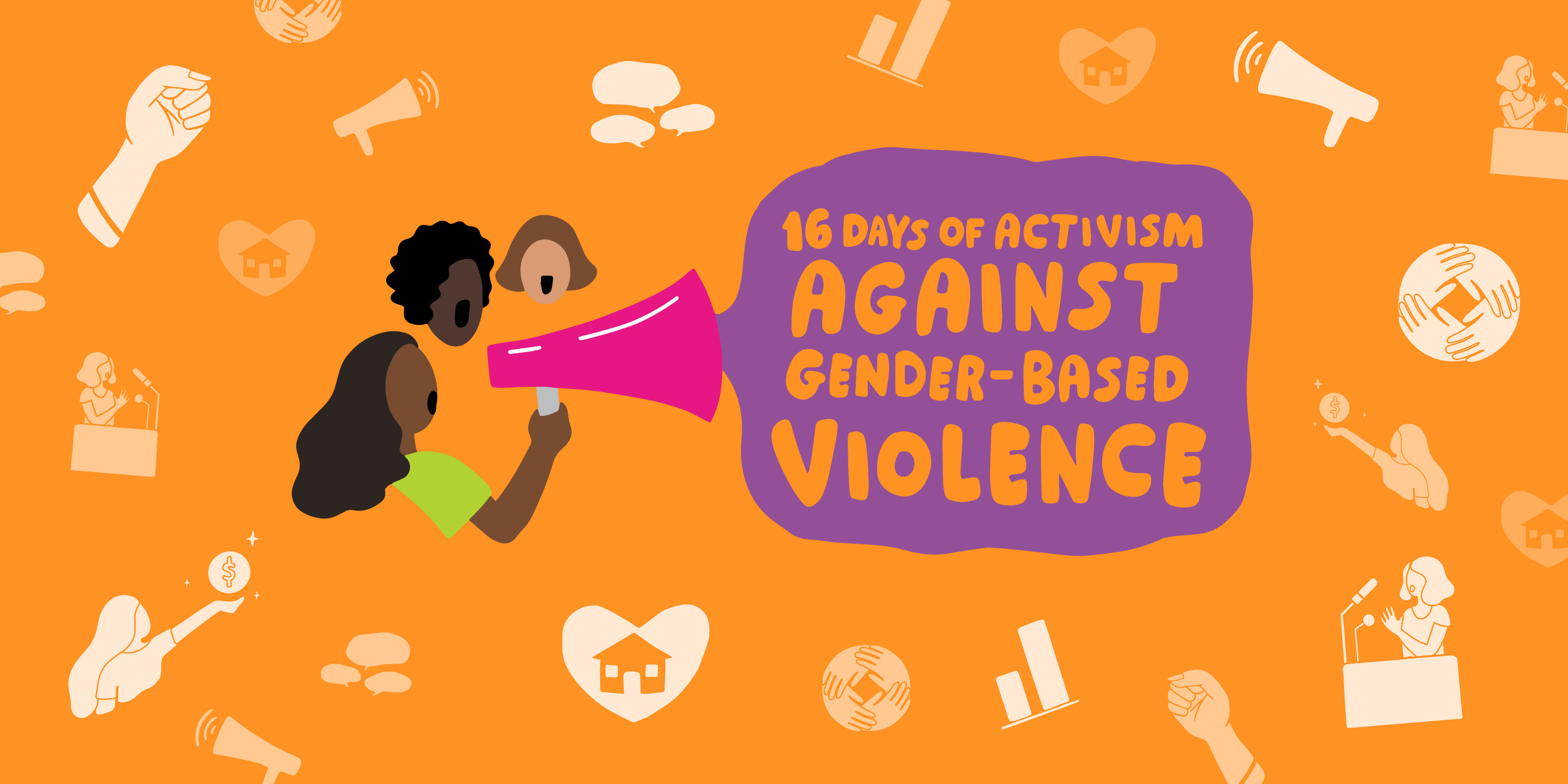 How you can join the fight to end violence against women: