IWDA CEO Joanna Hayter addresses Asia Pacific Journalism Centre fellows
May 20, 2014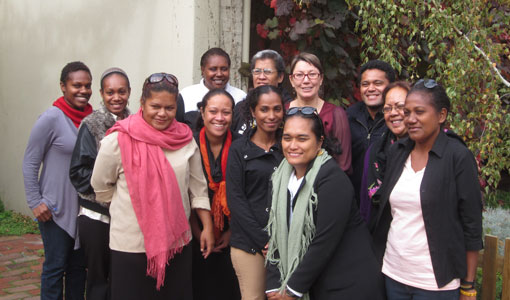 The Asia Pacific Journalism Centre (APJC) in Melbourne recently invited IWDA CEO Joanna Hayter to address guest journalists from Fiji, Papua New Guinea, Samoa, Solomon Islands, Tonga and Vanuatu.
The journalists are visiting Melbourne through a professional development fellowship program run by APJC. The fellowship program focusses on news media and the role of women in the economy, aiming to promote women as news media leaders and to support journalists in producing informed and gender-aware economic reporting.
Joanna Hayter spoke on the subject of women, media and economic literacy in the Pacific. Joanna shared with the fellows the Floating Coconut (PDF), an IWDA poster illustrating how women's informal and non-cash economic activities are hidden and thereby undervalued.
A huge thank you to APJC and the fellows for the invitation to share IWDA's experience, and for their contribution to women's economic empowerment in the region.