International Day of the Girl Child: Interview with Maraia Tabunakawai
October 11, 2013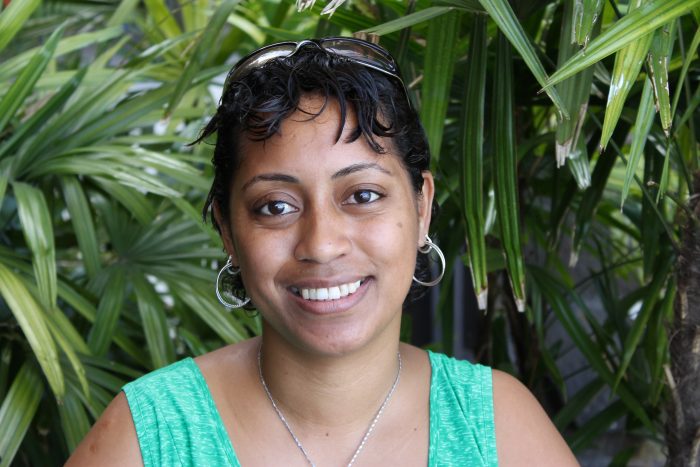 October 11 is the International Day of the Girl Child. IWDA's partner Fiji Women's Rights Movement is working to promote young women's leadership and provide age-appropriate gender training for girls aged 10-12. This week, IWDA Senior Program Manager for the Pacific Lee FitzRoy spoke with Maraia Tabunakawai, the Girls Officer at FWRM, about the work they're doing with young girls.
Maraia
Bula vinaka! My name is Maraia Tabunakawai, currently the Girls Officer at Fiji Women's Rights Movement (FWRM).
Lee
Can you tell us a bit about the work FWRM is doing with girls, and why it's important?
Maraia
FWRM has a young women's leadership program, where we work with 18-25 year olds. But just recently, with the support of Funding Leadership Opportunities for Women (FLOW) and IWDA, FWRM has started working with the lower age, which is the 10-12 year old age bracket. This is currently the program I'm carrying out.
Currently, we have 28 girls from very diverse socioeconomic backgrounds, from 15 different schools, which is incredible. From the very privileged kids, to the not so privileged, and we've been meeting for the past 8 months, doing yoga. Initially we met with a soccer match, which was to commemorate International Women's Day in March. And then we had to meet to do yoga, script writing, storytelling, sharing experiences, getting to know each other. It's been really helpful, because this program would not be possible without another partner called Women's Action for Change. They have the expertise in theatre, script writing and that kind of component of the program. It's very helpful in bringing out the girls' experiences, and the kinds of things they experience in their daily lives. Despite the different socioeconomic and cultural backgrounds that they come from, there are common themes around physical violence, sexual violence, that form of abuse is very prevalent in this very young age.
And we've also noticed that given the young age, girls have been socialised to different norms. For example, restricting girls' movement through giving them more household chores. And we found out that boys are given more freedom, as they will be outdoors, and it's less restrictive for boys compared to girls. And in my opinion it is very important working in this area of empowering young women's leadership, with 10-12 year olds. Because we need to affirm that girls are leaders. Not simply leaders of tomorrow, but they're also leaders amongst their own peers.
And working with this group of girls is very important to raise their capacity in terms of confidence, recognising there are gendered norms around them, and they need to have some kind of awareness around their human rights, giving them access to support networks, telling them that they're not alone in their experiences and their struggles. And it's also to breed a new generation of feminists, which is very important in order to sustain the movement, the program and our organisation as a whole.
Lee
Are there any stories of girls in the program that stand out to you?
Maraia
I'd like to share a significant success story from the program, where a 12 year old girl shared her experiences. In the winter we had been collecting stories whilst carrying out the program. And she shared that she's not so much a vocal person, not so outspoken in terms of raising queries with her teachers and stuff like that. She has been brought up by her caregiver, like a nanny, and she doesn't meet with her parents, even though her parents have split up. And being part of a program helped her to verbalise her emotions, her thoughts, and her experiences.
She realised that she needs to raise whatever she's facing, for example her experience with her nanny, who's always belittling her, always verbally abusing her, and to a certain extent neglecting her needs, even though the nanny is paid for by the father. That had effects on her academic achievement as well as her development as a whole. So we encouraged her to share more about her experiences. Through the girls' program, she realised that the police will help her, for example. She felt the police were a support network, so she raised the issue with her dad, and her dad got the police to deal with the situation of the nanny. So now she's much happier with a new nanny. Given that simple example, it is very empowering and it's a good experience for these young girls.
And really if I could just add on, because of the sensitive nature of the issues we deal with the girls, for example, bullying, sexual violence, and stuff like that, this is not only common within the school communities, but also at home, so we thought that we needed to work with their parents and caregivers. So as a sideline event, it has prompted us to work with parents and caregivers, like having information sessions on a very informal basis, but having certain topics to suit the girls. So it's not so much for the parents' benefit, but also to sustain the girls' empowerment once they leave the program as it's just for three years.
The topics include child protection, alternative forms of discipline – positive forms of discipline. The Education Ministry has just imposed a zero tolerance on corporal punishment, so this is very important and is a very new and tender age to be having this kind of policy to be implemented. Obviously teachers are not used to the positive forms of discipline, and corporal punishment seemed to be the only form of discipline. So this kind of thing is very important in educating the parents and caregivers. Just reinforcing what their roles are, and to be accountable for their actions.
---
Learn more about Fiji Women's Rights Movement on their website, and follow them on Facebook and Twitter.