How Can We Move From Rhetoric to Reality After CSW59?
March 23, 2015
Last fortnight, as delegates from around the world gathered at the 59th session of the United Nations Commission on the Status of Women, there was much to celebrate. There was cause for pride and optimism in the strength of the women's movement and the progress we have made.
But, as Association for Women's Rights in Development Executive Director Lydia Alpizar highlighted in a powerful and critical speech at the Opening Session, that progress towards women's rights has been far too limited. Two decades after member states agreed to the visionary Beijing Declaration and Platform for Action, the Declaration's mandate is far from being fulfilled. Lack of action, insufficient resourcing and a shortage of political will have held back the agenda.
This is not because the agenda is impossible or uninspiring. The explanation lies more in the fact that the Beijing Declaration does not embed a clear framework to hold member states accountable for making progress to eliminate gender inequality.
Without accountability frameworks, progress stalls. Signing on to declarations is important as a public commitment to ideals and goals. But for governments with many priorities competing for attention and resourcing, translating commitments to action can slip when there is no formal accountability. Over time, gaps emerge, and advocates for women's rights and gender equality find that governments aren't reflecting rhetoric in their actions, such as by passing and upholding legislation.
For example, the Beijing Declaration calls on member states to 'prevent and eliminate all forms of violence against women'. The Declaration was adopted by 189 states – nearly every country in the world. Yet violence against women remains a worldwide epidemic. In 73% of countries, rape within marriage is still not explicitly outlawed.
In the weeks preceding this year's session of CSW, IWDA campaigned for an end to this impunity through our petition End the Right to Rape. On 11 March in New York, IWDA CEO Joanna Hayter handed over the petition with 25,000+ signatures to the Australian Ambassador and Permanent Representative to the United Nations, Gillian Bird. The voices of those 25,000+ have now joined the other women's rights advocates demanding change at the Commission on the Status of Women at UN Headquarters this week.
Violence against women is not the only area where we see a persistent gap between rhetoric and reality. The Beijing Declaration highlights the importance of gender disaggregated data about poverty and economic activity. It calls for the introduction of systems that collect such data. Disaggregated data would allow us to assess how economic activity is benefitting women and men and enabling them to move out of poverty. But 20 years later, global poverty is still measured at the household level, making it impossible to assess the distribution of poverty between women and men.
IWDA along with international research partners has taken action to support change in this area, developing the Individual Poverty Measure. This measure can assess the poverty of individuals, allowing us to see who in the household is poor, and in what ways. IWDA and the Australian Government co-hosted a side event at CSW on 18 March to introduce the measure to an international audience. By using the Individual Deprivation Measure to measure poverty, governments, multilateral institutions and civil society organisations will be implementing an important commitment in the Beijing Declaration and Platform for Action.
We can also see the gap between rhetoric and reality in relation to the Convention on the Elimination of All Forms of Discrimination Against Women. Countries signed on to the Convention have taken only limited steps to bring it into their national law. A total of 188 member states of the United Nations accepted the Convention, committing to act to end discrimination against women in the law, public institutions and workplaces.
Yet gender inequality and human rights violations remain persistent and significant. A survey of legislation from 143 countries last year found fewer than half had legislation mandating equal pay for equal work, or mandating non-discrimination based on gender in hiring. In a world where one in three women will experience sexual violence in her lifetime, where women earn 10-30% less than men in the same jobs, and where globally only one in five parliamentarians is female, it is time for action, not just words. It is past time to address the gaps between public commitment and measureable action to realise women's rights. It is past time to hold governments accountable for progress towards gender equality.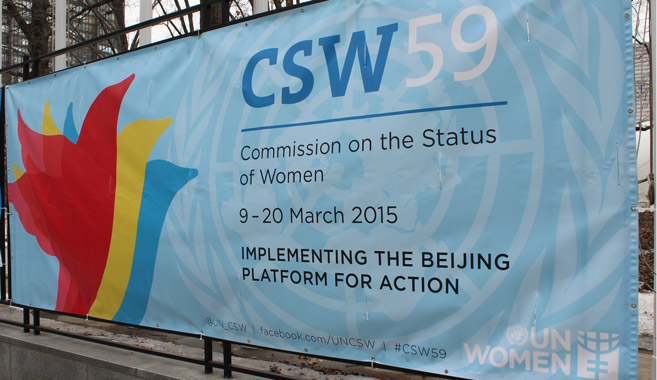 The negotiation of the post-2015 Sustainable Development Goals is a key opportunity for the global community to solidify commitments to gender equality and women's rights. IWDA was pleased to hear the clear public commitment of the Australian Government through Senator The Hon Michaelia Cash, Minister Assisting the Prime Minister for Women, in Australia's National Statement to CSW59:
We will not achieve sustainable development without a stand-alone goal on gender equality and gender mainstreaming across all of the sustainable development goals.

Australia is determined to ensure that gender equality, women's political and economic empowerment, sexual and reproductive health and rights, women's leadership and eliminating violence against women are central in the post-2015 development agenda.

Women's equality and the human rights of women and girls must stand at the centre of the post 2015 agenda – this is critical to achieving transformative change.
Accountability must be a central focus if global commitments made with the SDGs are to translate into action. Accountability frameworks have already been the subject of much discussion and debate. Critics sceptical of the potential power of the SDGs point to the challenge of binding governments to adhere to goals and policies.
Civil society has a key role to play. Civil society organisations can monitor government action and policy and keep pressure on actors of all kinds to fulfil commitments. IWDA will continue to advocate for gender equality to be both a stand-alone goal and a critical component of every goal.
Words matter. They set standards, define commitments, and name priorities. But action is what brings words into effect. And so we must always ask and challenge – how will each of us translate words into the action that creates change? How will we hold decision-makers accountable?
Sign up to receive future updates on CSW and the Sustainable Development Goals.