Her Story: Maly Sun and Danang Tep
October 2, 2013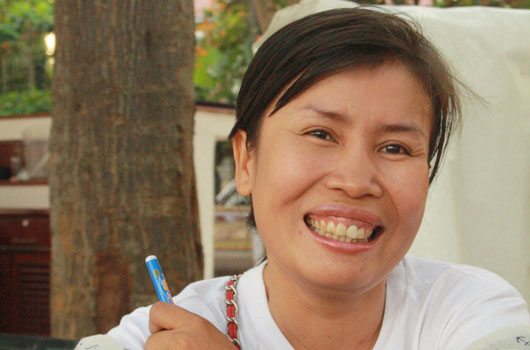 By Lauren Coutts, IWDA Executive Assistant
In August a diverse group of Cambodians from government and non-government organisations travelled to Australia as part of the Australian Leadership Awards (ALA) program. Hosted by IWDA and CBM Australia, the nine fellows attended a series of gender and disability workshops and made workplace visits to Australian peer organisations and government services.
Fellows Danang Tep and Maly Sun took time out of their ALA activities to speak to IWDA about their work with women in Cambodia and their experience of the ALA program. Danang and Maly work for Banteay Srei, an organisation that has worked with IWDA since 1985 to improve vulnerable women's political, economic and social opportunities. Banteay Srei operates the only safe house for women in Battambang, a province of 2 million people.
Danang is Banteay Srei's Program Manager for Siem Reap Province: "The part of my work I enjoy the most is working with strong women," says Danang. With the support of empowerment programs, "Women can cope by themselves, face issues and advocate for peaceful solutions. You can see them becoming stronger, approaching problems by themselves, forming networks, gaining more knowledge and experience."
Maly has worked with Banteay Srei for the past five years. She is a team leader with the Banteay Srei Safe House, the only emergency accommodation for women and girls in Battambang Province. Maly believes that one of the biggest obstacles to confronting domestic and gender-based violence in Cambodia is a disconnect between the law and lived reality of Cambodian women: "In Cambodia our law is excellent, but practice is different." While the law states that the government is responsible for bringing rape cases to court, in reality victims are often left without the resources and supports necessary to fully access their rights under the justice system.
Despite these challenges, Maly is continuously impressed by the impact their project has on the women they come into contact with. "You can see the difference comparing the first time and the last time you meet with a woman. The first time she is quiet, doesn't talk, but the last time you can see the change in her, she has confidence and courage."
Danang was particularly thrilled to meet with Women With Disabilities Victoria, an organisation run by women with disabilities. The approach, she says, is inspiring for Cambodia.
For both Danang and Maly, the ALA program has been a valuable and encouraging experience. Banteay Srei often comes into contact with women with disabilities, and Maly says: "The first thing I will do when I go back is talk with our team about the accessibility of our program and how we can provide a better quality service to disabled women."